Son Doong is the world's largest cave and one of its greatest natural wonders, comparable with the Great Barrier Reef, the Grand Canyon and Mt. Everest. The four-day, three-night Son Doong Expedition is one of the world's top bucket list adventures. Cross underground rivers, explore two gigantic cave ceiling collapses, traverse through underground rainforests and sleep in some of the world's most magnificent campsites. This tour is for adventurous travelers who want to join a once-in-a-lifetime experience.
Uncover the world's largest cave with a specialist.
Marvel at two gigantic cave ceiling collapses.
Explore unique underground rainforests.
Traverse rivers – both above ground and below.
Tuck into three freshly cooked meals per day, plus snacks.
Plunge into an underground river (optional).
Scale the 90-meter "Great Wall of Vietnam" with ropes and ladders.
Sleep in some of the world's greatest campsites.
Discover Hang En and camp nearby an emeral lagoon.
Four days exploring, three nights cave camping, 1 night stay at Son Doong Bungalow before the trek, 1 night stay at Chay Lap Farmstay after the trek.
Only available January – August due to annual flooding.
Group size: 10 people maximum.
Age: 18 years and above.
Distance: 17km trekking, 8km caving, 800m elevation change, 90m climb of the "Great Wall of Vietnam".
Difficulty: Level 6 – hard.
Itinerary (below) is subject to change with the weather. Paths can be slippery and muddy after rain.
Itinerary
Due to the weather conditions the itinerary may need to be changed at short notice. The paths can be muddy and slippery after rain.
DAY 1: BRIEFING
Important: Make sure you reach Dong Hoi no later than 15:00 on the afternoon of your briefing day. Transfer to Son Doong Bungalow in Phong Nha.
17:30 Meet in the hotel restaurant before moving to Oxalis Headquarters. Meet your cave expert and guide for your safety briefing and equipment check. This briefing is mandatory. Anyone who doesn't join the briefing may be eliminated from the tour without refund.
Before dinner, you will be given your helmet for the trip. This is your responsibility for the duration of the tour. Please note that the release form needs to be signed at the safety briefing.
19:30 Enjoy a welcome dinner with your team at Oxalis headquarters, then transfer back to your hotel.
DAY 2: PHONG NHA - BAN DOONG VILLAGE - HANG EN CAVE
08:00 Breakfast. Please make sure you have all required belongings prepared before 7:30 AM. Your belongings will be collected in individual large bags and sent to our porters. You will receive this bag each evening upon reaching the campsite. Keep anything you want to take with you during the day in a separate backpack (cameras, tripods, sun cream, etc.).
Oxalis staff will come to the hotel to collect your luggage and valuables. They will store this for you, and it will be waiting in your hotel room after the tour.
09:00 Depart for the first leg of the expedition. After a 45-minute drive along Road 20 of the Ho Chi Minh Highway you'll reach the trailhead, where you'll start trekking for approximately 1 hour downhill through the forest, which is quite steep. Walk for half an hour along a small stream to the minority village of Ban Doong, which is a highlight for many on this expedition. Learn more about this unique ethnic group and enjoy lunch in the village.
After this point, you will be in the sun all afternoon for about 3 hours along a river, with very little shade. You'll cross the river many times so expect to have wet feet for the whole day. Important: In the summer, the water is only usually knee deep, but Gore-Tex boots will fill and hold the water so are not recommended (please see our detailed FAQ for footwear recommendation).
You'll then reach the entrance to Hang En, home to thousands of swifts. Here you'll be given your headlight and you will trek/climb approximately 20-30 minutes to your campsite inside the cave. The group should arrive at camp around 15:00 - 16:00 where you can enjoy swimming and showering in the underground river. Dinner will be served at the spectacular campsite with numerous photographic opportunities.
Important: Anyone unable to complete any stage of this first day comfortably will be turned back to Phong Nha and will not be permitted to continue the expedition. This will be the decision of the safety team on your tour. Should you be turned around, all tour costs will be forfeited.
DAY 3: HANG EN CAVE - SON DOONG ENTRANCE - HAND OF DOG - SD CAMP 1 - FOSSIL PASSAGE
08:00 Delicious breakfast inside the cave. You're in for a tough day today so it's best to enjoy a big breakfast, as you'll need your energy!
09:00 Trek through Hang En for about 30 minutes to reach the magnificent exit, made famous by many photographers. You'll scramble down to the river valley and then it's an hour walk through the river, so your boots are going to be wet for most of the day; it is unavoidable, yet part of the fun.
You'll then start climbing a steep hill for about 45 minutes with some rocky sections. At the top of the hill you'll enjoy lunch, a safety briefing and fit your safety harness to prepare for your big journey underground. A steep descent with a couple of short rope climbs brings you at last to Son Doong entrance.
With your safety harnesses, you'll start the 80m descent into the cave by making a number of short descents using ropes and safety lines with your guide's assistance. There is no rappelling or abseiling at any point during the expedition. You'll then enjoy a few more climbs to reach the first and second river crossings inside the cave, which are no more than knee-to-thigh deep depending on the water levels. You may have a wash here, as it will be the last washing place for the day.
On your way to the first campsite in the first large passage of the cave, you'll have to be extra careful as there are a number of big drops and scrambling over boulders along a rocky path -- but don't worry as our safety team will always be there to support you. Soon you'll reach one of the most spectacular views in the biggest part of the cave. You will then scramble down to the first campsite of Son Doong, arriving at around 15:00 - 16:00. After a tea and coffee break, head down to view ancient fossils. Here there is a chance for a short and cool swim, but no washing. You're in for another big meal with your team before turning in for the night.
Important: Please note that there are no washing facilities at camp on this day.
DAY 4: SD CAMP 1 - WATCH OUT FOR DINOSAURS – GARDEN OF EDAM – SD CAMP 2
08:00 Breakfast.
09:00 Departure towards your second campsite in Son Doong Cave. You'll start with some rocky climbs, which are quite steep in some places, as you reach the first jungle within the cave at Watch Out for Dinosaurs. It will take about 1.5 hours to travel within the cave from Camp 1 to Watch Out for Dinosaurs. We will spend some time here taking photographs and then you'll be going down the rocky path to reach the enormous Green Gours, one of the most magnificent and famous photography spots on the tour! A light lunch is provided with an incredible backdrop of the first doline. If you are lucky you may even catch some sunbeams, which make for truly spectacular photos.
Walk through the cave past gigantic formations and plenty of cave pearls towards the light of the second doline and main jungle within the cave. Follow the path past the beautiful foliage reaching towards the light to reach the underground jungle, unlike anything else on the planet! Cross the jungle for around 30 minutes to reach the steep and sometimes slippery path down to your second campsite within Son Doong Cave. You will reach camp around 14:00.
After a short rest at your campsite, you are back on your feet and heading deeper within the cave. You'll pass through a very large dry passage with huge stalagmites and great views back to the second doline. Many new creepy crawlies have been discovered within this passage including white spiders, fish, woodlouse and shrimp species, so be sure to keep your eyes open. You will have many great photography opportunities here.
You'll be back at camp again at around 17:00 to enjoy a sensational dinner with your team in one of the best campsites in the world.
Important: you may use a pair of dry boots on this day, as aside from the mud, there are usually no water crossings! Also, there are no washing facilities at camp on this day.
DAY 5: SD CAMP 2 - WALL OF VIETNAM - SON DOONG EXIT - CHAY LAP FARMSTAY
After refueling with another hot breakfast you'll pack up camp and start heading towards the "Great Wall of Vietnam." Scaling this wall will use a combination of ladders and ropes in three sections, but there are always safety lines and people to look after you. After this strenuous ascent, you will see the light from the exit. At the top of the Wall, enjoy your picnic lunch before passing more flowstones and cave pearls, see the calcite covered animal skeleton and then emerge into the jungle.
A short but steep and rocky path leads down to the bottom of the hill, followed by a short hike to the road. Cold drinks await you at the top of the hill before a 45-minute drive back to Chay Lap Farmstay where cool towels and a refreshing swimming pool are waiting for you. You will have time to relax after your long trek before enjoying a group farewell dinner with your fellow expedition team members.
Important: Please advise our sales team in advance of your departure time so that they can arrange the logistics of your transfer back to the airport or train station. If you would like to extend your holiday in Phong Nha, let our team know so that we can assist you in booking extra nights at Chay Lap Farmstay.
DAY 6: EXTEND STAYING OR TRANSFER TO TRAIN STATION/AIRPORT
Enjoy breakfast at the hotel and the check-out time of the hotel will be 12:00 regardless of your departure time. Why not take this as your opportunity to get to know more about Phong Nha beside the expedition, by staying for some extra days?
You will be blown away by the remarkable scenery, being surrounded by karst mountains, idyllic green rivers, rustic villages with beautiful local people. There are so many places to go and see (Chay Lap Water Sport Center, Paradise Cave, Phong Nha Cave, Mooc Ecotrail, Dark Cave..); sensational local pubs (Easy Tiger, Moi Moi, Pub with Cold Beer..); motorbike/bike tours through the National Park, Bong Lai Valley.
If you are still in the mood for the wild, our one to two-day adventure tours in another marvelous area – Tu Lan Cave System, are highly recommended (see more here). Since the cave system is the home of the Hollywood blockbuster movie Kong: Skull Island, you will have a great experience enjoying the landscape and imagining the legendary King Kong!
Our driver will pick you up according to your departure time and don't forget to let us know in advance if you would like additional night(s) at the hotel and we can reserve that for you.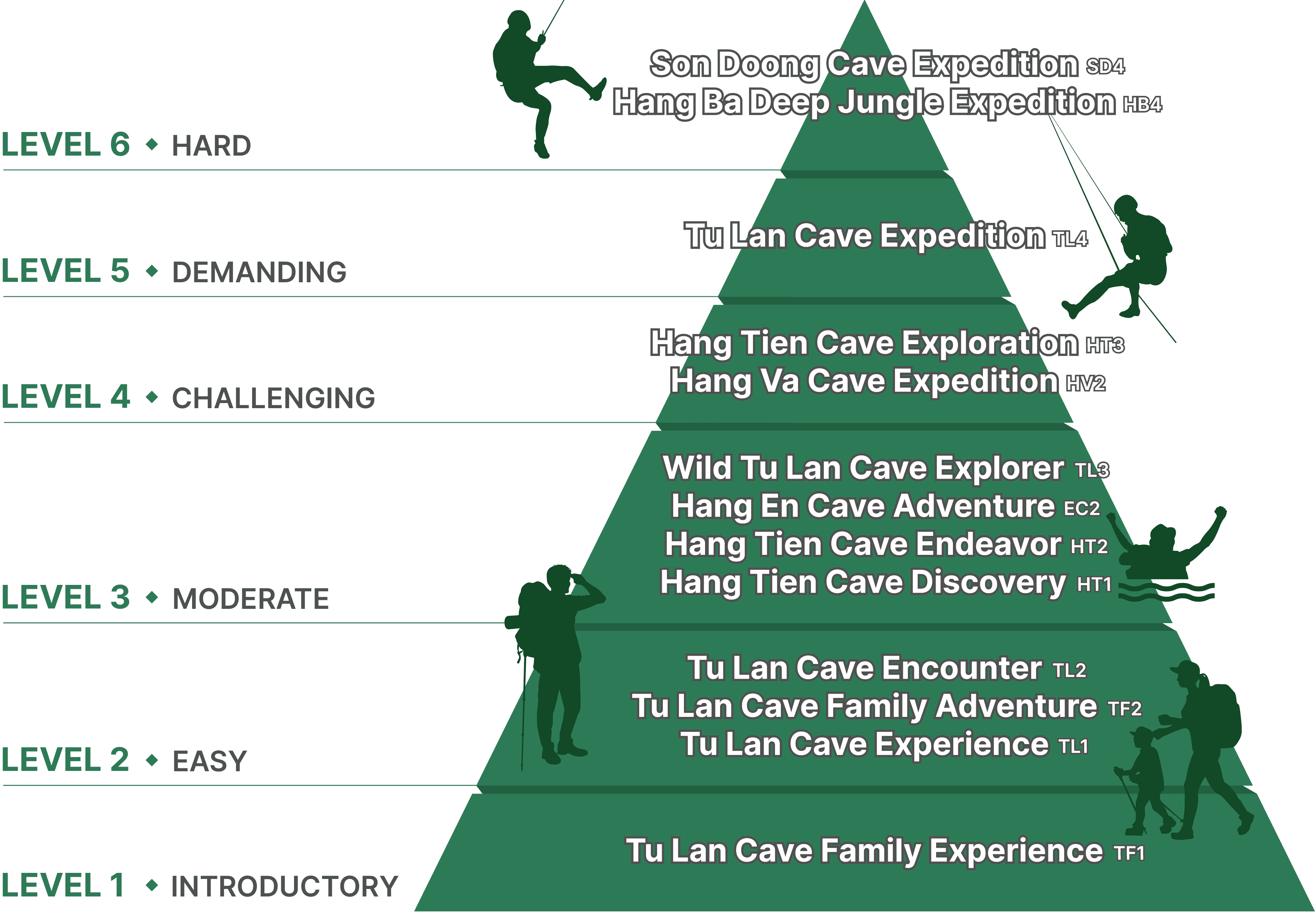 Son Doong Expedition
Adventure Level 6 · Hard
Requires: Good level of fitness; previous trekking experience
Expect: Multiple river crossings, extensive rocky terrain, and multiple technical sections.
17km trekking, very rocky terrain
8km of caving which includes rope climbs, rocky scrambling, and the 90m ascent of the Wall of Vietnam (technical sections with instruction, supervision and safety equipment)
Surface and underground river crossings
3 nights camping underground
What if I am a solo traveler, can I join a group?

Solo travelers are most welcome and make up a large percentage of most groups.

Why do I have to sign your Release Form?

We require customers to sign our Release Form to confirm they accept this is an adventure tour and they have to follow our guide's instructions and safety rules. Customers also accept they have some responsibilities for their own safety.

Why Son Doong Cave tour is USD$3,000 per person?

Son Doong Cave is currently the world's largest cave and it is environmental sensitive therefore the Government of Quang Binh province issued a regulation that allows only 1000 tourists can visit the cave each year, each tour normally 10 tourists. In order to manage the cave sustainably, only one operator to be appointed to run tours to Son Doong and Oxalis Adventure was appointed as the only operator since 2013. Oxalis Adventure has been collaborating with the British Cave and Research Association in maintaining safety and conservation. Below are the reasons why Son Doong Expedition cost US$3000:

In this $3,000 tour price, 10 percent of tax is already included, $660 is the environmental service fee that will be transferred to the management of the Phong Nha – Ke Bang National Park.
The fees also go to the 22 porters, five safety assistants, one international tour guide, a cave expert, two cooks and a forest ranger who accompany every 10 people who take a tour.
Other expenses include transportation, hotel, food and drinks, management and administration during the tour. (Not including international and domestic airfares).
Preparations
Please visit our Son Doong Cave FAQ page to read our specific What to Bring list before departing for Vietnam and your cave expedition.
WE WILL PROVIDE
Use of 3 x 43,000 lumen LED filming lights
Camping gear: tent, sleeping mat, pillow and sleeping bag
Caving & safety gear: caving helmet, caving headlight, harness and gloves
Meals: breakfast (day 2, 3, 4, 5, 6), lunch (day 2, 3, 4, 5), dinners (day 1, 2, 3, 4, 5)
Water filters (application by guide and porters)
Basic camping facilities with eco-friendly compost toilet using western toilet seat
First Aid Kit, Rescue Equipment & Satellite Phone (application by safety advisor and tour guides only)
1 Safety advisor (member of the British Cave Research Association)
1 Professional English-speaking tour guide, 5 safety assistants and 2 chefs
Porter team to carry all gear and prepare all meals
Accommodations (single or twin-shared) at Son Doong Bungalow before the tour and at Chay Lap Farmstay & Resort after the tour
Round-trip transfer Dong Hoi – Phong Nha before and after the tour
YOU WILL NEED TO BRING
Trekking pants and shirts for 4 days
1 – 2 pair of shorts and t-shirt to wear at campsite; warmer camp clothes suggested for colder months
1 Fleece and 1 lightweight windproof/jacket (February – April only)
Trekking boots/shoes – difficult terrain, good footwear necessary
4-5 pairs of calf length close weave socks
Slides/Sandals, towel, wet wipes, water bottle, small head torch for camp
Re-hydration tablets, any required medication, anti-fungal foot powder, mosquito repellent, sunscreen and hat
Medium sized rucksack/backpack for daily belongings
Personal items (underwear, toiletries, medication, toiletries should also include feminine hygiene products for ladies, even if it's "just in case")
Phone, camera,...
Important Notes: We will have porters carry any of your gear that you will not require during each day (e.g. camera equipment/clothes you do not need during the day can be taken ahead to the campsite for you). You will not be able to access this until you reach the campsite. Please respect our porters and do not bring too much luggage for them to carry (7 kg per person). No outdoor equipment is available in Phong Nha, and only limited items in Hanoi or Saigon.
From 2019, all tours will benefit from extra photographic opportunities and equipment. Using our 38,000 lumen lights, we will enable you to take photographs only available previously on designated photography tours. We will light up the darkest parts of the cave to enable everyone, even iPhone users to create awesome images.
NICE TO HAVE
The following items are not required but highly recommended
Dry bag in the event of rain (for camera, clothing, and personal items within your daypack)
Gloves, as ours are one-size-fits-all (if you bring your own, please choose gloves with fingertips)
Cotton or silk sleeping bag liner
Swimwear (for Hang En)
If you are serious about photography, please remember to bring your tripod (this must be able to fit in your daypack)
Ear plugs (If you are a light sleeper)
Bandana to wear under the helmet, this will help to stop the helmet getting sweaty/smelly throughout the journey
Power bank/pack for your personal use.
The days in bold below are available (Day 1 in the itinerary).

This tour is operated from Jan to Aug (closed from Sepr to Dec).

This tour price includes VAT, Public Liability Insurance, and a total of 21% tour fees will be paid to the National Park and Quang Binh Gov, in which 8% (230USD/pax) for forest restoration, wildlife conservation and protection of Phong Nha - Ke Bang National Park and 13% (390USD/pax) for admission fees of Quang Binh Gov.

10% off for Xiều (returned customer).