Howard Limbert is the UK cave expedition leader in Vietnam since 1990. He and his team explored and mapped more than 500 caves in Vietnam from 1990 to 2020. Today Howard shares his story about his first trip to Vietnam.
By 1989, I had explored caves in many parts of the world and I was looking to visit somewhere new. Asia was the obvious part of the world as very few cave explorers had visited. In the world of caves book, there were only three lines about Vietnam and no information was known about the caving potential.
I wrote to three counties, Vietnam, Laos and Myanmar asking for permission to explore caves. Laos and Myanmar refused my request but Vietnam and the Hanoi University of Science approved my request and invited our team from the UK to visit and check the potential of caves in Vietnam in March and April 1990.
We selected a team of 10 persons all very experienced in cave exploration for this unique opportunity. We were very excited and had no idea what Vietnam was like or the potential for caves, so it was going to be a big adventure.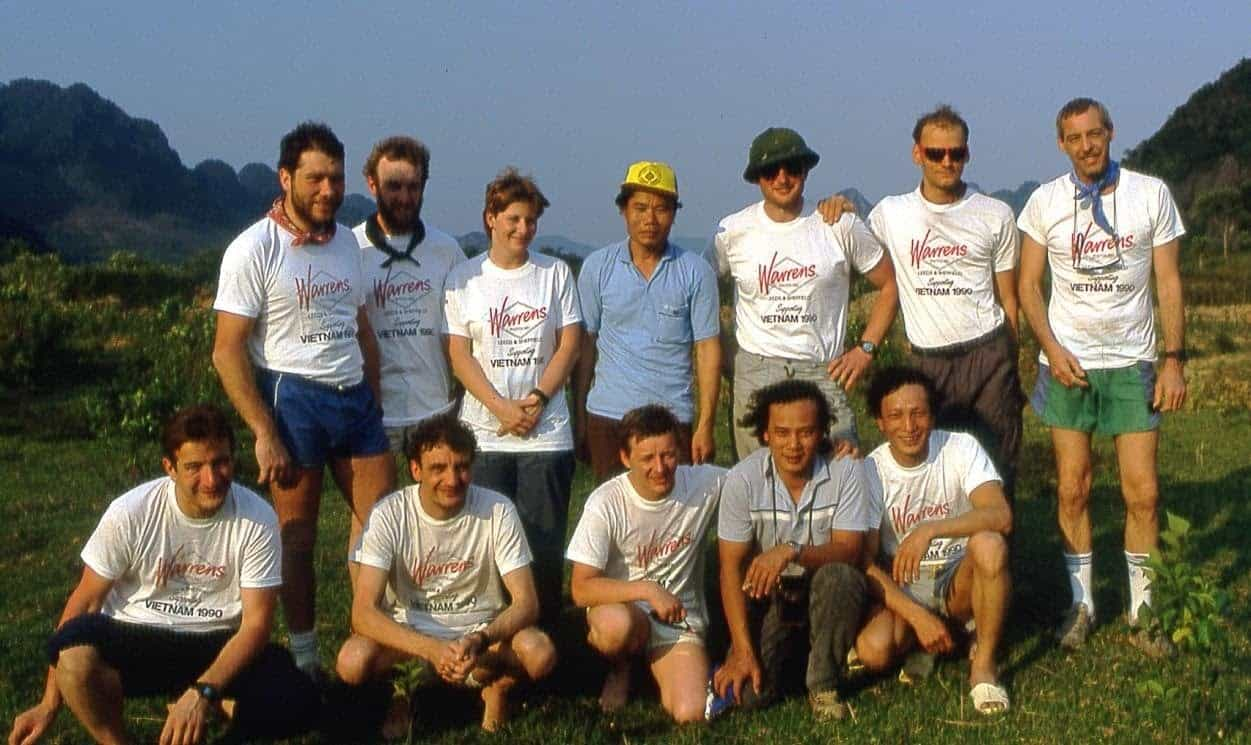 The first team to visit Vietnam in 1990
We arrived in Hanoi and was shocked to see just how basic the infrastructure was at that time. A very nervous group of geologists from the University met us at the airport, and transported us on a big yellow school bus to get to the centre of Hanoi. We gazed out of the windows of the bus staring wide-eyed at the amazing rural scenes of water buffalo carts and bicycles on all the roads and very little motorised transport.
We stayed in a government guesthouse in Hanoi, and prepared our equipment for cave exploration for the next 6 weeks. Firstly, we made a visit to the bank to change money. This was very interesting and it took a long time to persuade the bank to change our 2,000 us dollars into local currency. When they finally agreed they gave us five huge bags of money because the largest note we could obtain at the time was a 2,000-dong note. Therefore, we walked through Hanoi with our team as guards, carrying these huge sacs filled with money back to our guesthouse.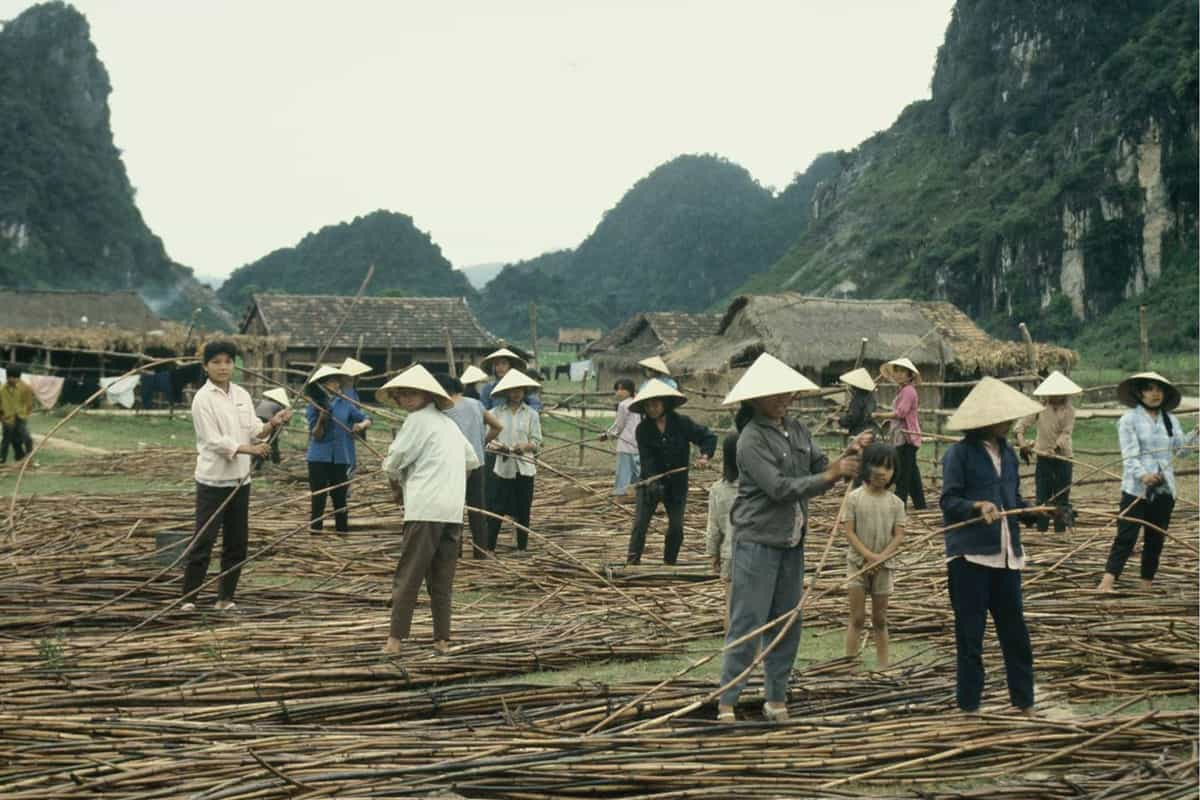 The village of Phong Nha in 1990
The next day we started our adventure. We were first to visit a province called Quang Binh where two of the University people were born and they knew of a river cave in the province. The journey down to Quang Binh was a real epic in those days and it was five days of long travelling all on rough roads before we reached a small village called Phong Nha. Here we prepared our equipment including two small inflatable dinghies before we visited the river cave that gave the village its name. All our team embarked in a large boat and set off upstream. After around an hour, passing beautiful limestone mountains we turned left up a river and saw Phong Nha Cave for the first time. We were stunned at its size and even more amazed when our large boat continued in the cave for around 1 km. We had not seen anything like this in all our years of cave exploration and therefore all our team was very excited at the prospect of exploring this cave and the other caves, which must surely be present in this area.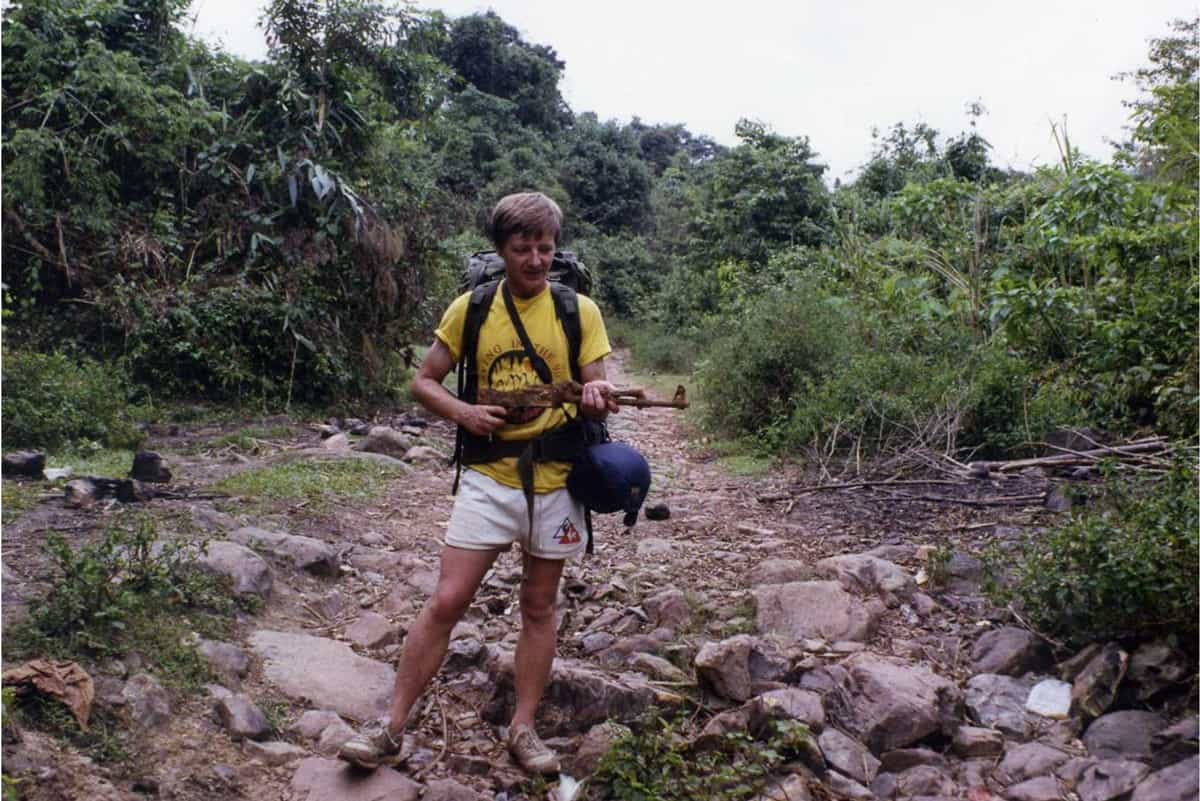 Myself on road 20 with an AK47 I found lying on the road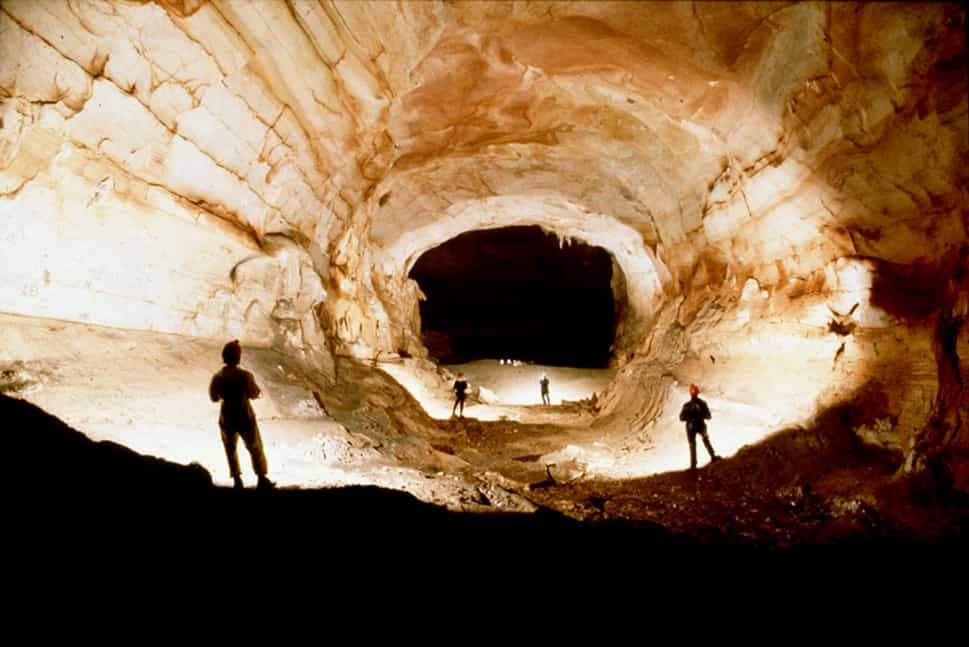 Phong Nha cave 1990
Our first real cave exploration day was so thrilling for all our team and we explored over 2km of the huge river with the cave continuing to be very large. The next day our team divided into 2 teams one to continue exploration of Phong Nha cave and the other to visit another cave called Hang Toi further upstream. This also was an unbelievable cave with a huge chamber and again it continued in massive dimensions. Our team had never experienced such large and beautiful caves in all our expeditions in many other countries in the world. We knew we had discovered an area of huge caving potential and that many important caves could be present deep in the limestone mountains of the Ke Bang Massif. Little did we know just what we would discover in these mountains until much later, but that is another story for later.
Howard Limbert
Related posts: Howard Limbert and his caves expeditions in Vietnam: 1992-1994