Hang Va Expedition Tour
Journey 4 days 3 nights to explore Hang Va Cave, the most unique cave in the world with lakes with thousands cone-shaped stalagmites inside. Explore turquoise lakes in Nuoc Nut Cave, campsite keeping primeval forest and 2 nights stay at Chay Lap Farmstay.
Located in the core zone of Phong Nha – Ke Bang National Park, close to the exit of Son Doong Cave, Hang Va (Va Cave) was discovered by Mr. Ho Khanh in 1992 and surveyed by the British - Vietnam Cave Expedition team led by Howard Limbert in 2012.
Hang Va is considered a special cave in the world of cave formations, with a river passage below and a large high-level passage above with dozens of tower cone formations. There are cones of different sizes and shapes, with the tallest tower cones being around 2 meters high. Geologists yet cannot confirm how these cones have formed. They are located in giant gour pools behind huge gour dams.
The Hang Va Expedition will take you to explore 2 caves: Hang Nuoc Nut and Hang Va.
Explore Nuoc Nut Cave with fresh pools, large passages with sandbanks and many cave formations.
Explore around 700 meters of Hang Va underground river passage with hip-deep water with little waterfalls from the cave ceiling.
Experience the use of safety equipment to cross some technical sections in Hang Va.
Explore the unique cone towers in Hang Va with the tallest ones being more than 2 meters. Experience the jungle campsite with fresh air and the beauty of Mother nature.
Enjoy 2 nights at Chay Lap Farmstay with a variety of services such as kayaking, cycling… You can also visit Paradise, Dark Caves, and Moọc Eco-spring nearby or take the river cruise tour from Chay Lap Farmstay.
Itinerary
The Oxalis Hang Va tour schedules can be changed due to weather conditions. The jungle trail can be quite muddy and slippery when raining. Hang Va Cave Expedition itinerary, booking process, fees and other information is detailed below.
Arrival
From Dong Hoi City or Phong Nha Town, you can book a taxi to Chay Lap Farmstay for the first night of the Hang Va Expedition. Your dinner is not included, so please arrange this yourself. Dinner is available at Chay Lap Farmstay restaurant. (Refer to the Travel Guide).
Nuoc Nut Cave - Hang Va Campsite
On the morning of the departure, the driver will transfer you from Chay Lap Farmstay to Oxalis Phong Nha office (taking only your trekking items) for the safety briefing. After signing the Release Form and finishing packing for the trek, you will set off for the hike to Hang Va, a famous cave in Vietnam.
From the drop-off point, you will collect your helmet and walk through the jungle for about 30 minutes to reach a stream, following this to arrive at the entrance of Nuoc Nut Cave. Lunch will be served here before going on to explore Nuoc Nut using the helmet, headlight, and gloves provided. After stooping through the small cave entrance, a mysterious underground world will appear in front of your eyes with beautiful cave formations, sandbanks and the chance to see and learn about albino insects that are living in the caves of Vietnam. Explore the narrow connection between Nuoc Nut and Hang Va. After the large cave passage of Nuoc Nut, and the squirming connection you will enjoy swimming in the cool water of the Hang Va stream passage before donning a safety harness to climb out of the cave to the campsite located in the deep jungle. A delicious dinner will be served soon.
Hang Va - Chay Lap Farmstay
You will continue to explore the upstream section of Hang Va. From the entrance, there are many narrow sections where you have to work your way through the rocks. Then follows a beautiful stream passage with many small water spouts from the roof. You will again be equipped with safety harnesses to climb into the Tower Cone Passage. Follow the specially designed footpath to protect this unique area. Hang Va will amaze you with this mysterious zone of stalactites, stalagmites, and tower cones. Returning from the high-level passage you will exit the cave, and return to the campsite for lunch. Finally, trek out over a rocky pass and down to the valley leading back to the road and the pick-up point.
The driver and tour guide will bring you back to Chay Lap Farmstay. There are extra services here that you can enjoy such as foot massage or body massage and herbal sauna.
Dinner is included and will be served at 6 pm at Chay Lap Farmstay's restaurant.
Departure
After breakfast available from 6:30 am at Chay Lap Farmstay's Restaurant, you can leave for the airport or train station or experience the services of Chay Lap Farmstay such as cycling, Chay Lap Water Sports Centre with kayaking and swimming, or Paradise Cave, Phong Nha Cave, Moọc Eco-Spring... The check-out time will be 12.00 midday. The included transfer will take you back to Dong Hoi airport/train station, ending your cave tour in Vietnam and Hang Va journey of 4 days and 3 nights. Please inform our customer service if you would like to stay a few more days.
If you still want to experience other trekking tours in Quang Binh, Vietnam, Oxalis has 1 to 4-day caving tours to the Tu Lan Cave System which was the location for filming Kong: Skull Island. For more information about other cave tours in Vietnam, please have a look here.
Weather and Climate in Hang Va Cave
Hang Va - Phong Nha has 4 seasons in a year (spring, summer, autumn, and winter), the same as many northern provinces of Vietnam. Due to the rainy season and to ensure the safety of visitors, Hang Va Expedition is only operated from January to August. From January to March, the weather will sometimes be cold interspersed with sunny days. April and May are warmer months, and June to August, are the warmest months of summer. However, most of the trek is under the forest canopy or inside the cave with a temperature of 22 to 25 degrees Celsius. Summer is a good time to enjoy swimming inside Hang Va.
Preparation for the Hang Va Expedition
The Hang Va Expedition tour includes 2 nights at the hotel and 1-night camping in the forest, so the items you need to prepare are quite simple. However, for a caving and camping tour in Vietnam, visitors will be asked to prepare suitable clothing for safety and comfort. Clothing should be good for trekking in the jungle, river crossings, or exploring the cave as well as avoiding dangers and risks from sharp rocks, snakes, insects, or poison ivy.
Long trousers and long-sleeved tops should be worn. Trekking shoes play a very important role in adventure tours like the Hang Va Expedition. Visitors need to choose a good, well-fitting pair of shoes for steep rocky terrain and they should not be waterproof, as during river crossings they will hold water inside. Besides, they also need to prepare personal items for 1 night's camping in the jungle. The Oxalis tour consultant will give you helpful advice before joining the Hang Va tour in Quang Binh, Vietnam.
Adventure level on tour
Adventure level: 4 · Challenging
Requirements: Regular exercise, sports
Activities: Trekking with rocky terrain, swimming and rope climbs
The number of guests per tour: Maximum of 10 guests; 16 years of age or older
8km of mountain trekking with rough terrain
7km cave exploration
100m underground swimming
Trekking through underground stream passages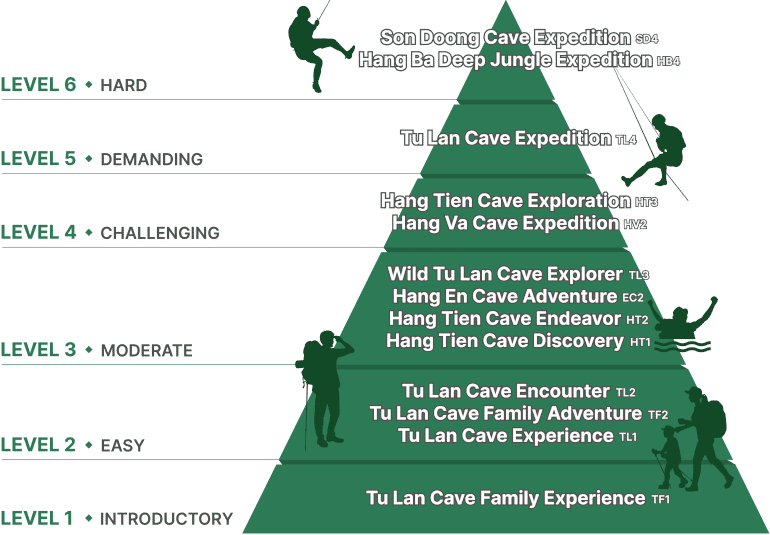 Safety on the tour
This is always the top priority of all Oxalis Adventure tours to ensure the safety of both visitors and Oxalis' staff on any trip. We only use high-quality equipment meeting international standards, mainly imported from France, the UK, and Switzerland. The guide team must undergo professional training and be tested for skills regularly. Only qualified Oxalis guides are allowed to lead Oxalis tours. Visitors can learn about the "safety management" and "safety equipment" that Oxalis uses here.
Risk prevention and management
Any adventure activities will always contain risks and these must be carefully managed. Oxalis tours take place in remote locations without easy access to medical care. Hence a lot of work goes into managing and reducing risks to the lowest level possible.
Hang Va Campsite
Located in a small valley next to the entrance of Hang Va Cave, this campsite is surrounded by primeval forest, where you can feel and touch nature, especially on moonlit nights, or waking in the early morning to the dawn chorus. The campsite is fenced with protective nets to prevent snakes from entering the camp at night. It is also located in a high valley which is not affected by floods. You must not go outside the campsite without your guide
Bathing at the campsite
Hang Va Campsite is in the middle of the forest 50m away from the cave entrance. Therefore there are no bathing facilities in the camp. Swimming and refreshing yourself can be done in the river passage inside Hang Va before you exit. However, no soap or shampoo is allowed.
Toilet at the campsite
For hygiene and conservation reasons, Oxalis has created eco-friendly toilets for our campsites, called "Oxalis Composting Toilets.".
The toilet consists of a normal toilet seat on top of a box. Inside the box, is a bucket and waste bag to collect all waste and toilet paper which is provided. Nearby is a container of rice husks. After finishing, cover the waste with a generous scoop of rice husks. This ensures a dry composting process, which does not smell, and covers the waste from insects.
When the buckets are full, the porters will change them and bury the waste in a designated location in the jungle. This will biodegrade and turn into fertilizer.
Visitors are required to use the composting toilets for both urination and defecation. Urination outside the toilet or inside the cave is not allowed because of the smell and impact on cave formations and the cave ecosystem.
Hand washing facilities are provided.
How to get to Phong Nha - Hang Va
Phong Nha is located 45 km from Dong Hoi City, Quang Binh, Vietnam (about 40 minutes by car). From there you can book a shared or private transfer from Oxalis or rent a taxi to get to Chay Lap Farmstay resort.
* Visa: Vietnam provides visa exemption for citizens of ASEAN countries (30 days), and 15 days for citizens of (United Kingdom, Sweden, Denmark, Finland, Norway, France, Germany, Spain, Italy, Belarus, Russia).
* International airports: There are 3 main international airports for international flights: Tan Son Nhat International Airport (SGN), Noi Bai International airport (HAN) and Da Nang International Airport (DAD). From Ho Chi Minh City (Saigon) or Ha Noi, travellers can book domestic flights to Dong Hoi Airport (VDH). From Da Nang, traveler can catch a train or bus to Dong Hoi/Phong Nha.
Airplanes: There are many flights with Vietnam Airlines, Vietjet, Pacific Airlines, and Bamboo Airways, daily from Hanoi and Ho Chi Minh to Dong Hoi.
Trains: Many SE trains run daily from Hanoi and Ho Chi Minh City stopping at Dong Hoi Station.
Bus: There are many day or night buses from Hanoi, Da Nang, and Hue to Dong Hoi or Phong Nha daily.
You can see more details of "transportation to Phong Nha" here.
Hang Va tour booking process
This is an adventure tour in Vietnam and requires a lot of logistic support. To avoid disappointment and complications, guests should choose the best tour for their fitness, abilities and interests. Reading the tour information carefully will help visitors make the right choice for their trips. The booking process includes the following steps:
Visitors carefully read the tour program and self-assess their health and physical fitness. Appropriate training and preparation may be necessary.
Guests carefully read the tour highlights and activities to ensure they choose the tour that most interests them.
Guests fill in the personal information on the booking form themselves. They are asked to give honest answers about their fitness and health.
After the reservation is made, the Oxalis consultant will contact you within 48 hours to review the information and give guidance for the next steps. If you have not received any news from Oxalis' within 48 hours, please give us a direct call or check the spam box in case Oxalis' emails are in there.
After approval, guests will be asked to pay 100% of the tour cost to confirm the booking.
Leading up to the departure, your Oxalis consultant will regularly contact you to support you with the preparation of items as well as physical fitness. Or you can contact us for questions.
45 days before departure, guests are asked to update their health and fitness to Oxalis.
Tour price and available dates for booking
The Hang Va Expedition tour price is 9,900,000 VND (US$426) per guest. For conservation and safety, the Hang Va Expedition has a maximum of 1500 guests per season from January to August. Hang Va tours depart on a fixed schedule and each individual can book and join with others. In addition, Oxalis also has a small number of tours for special groups or filming crews. Please see the Hang Va tour departure schedule in the calendar below, the dates in bold are available. If you don't see the calendar appear, please wait a few seconds or press F5.
The date in bold is the first date of the tour schedule.
The tours are operated from January to August (closed from September to December).
Tour costs include VAT, environmental fee, sightseeing ticket, and travel insurance fee.
A discount of 10% for Xieu (Xieu return customers).
Terms of cancellation
The Hang Va Expedition tour has only 1500 guests each year, so available slots are booked quickly. To confirm reservations, visitors will be required to pay 100% of the tour cost after approval. Guests can receive a full refund if the cancellation is 7 days before departure.
Cancellations after 7 days are non-refundable. Please see the cancellation terms here.
Tour price includes
This cost includes VAT, sightseeing, environmental and national park fees. The cost also includes the following services:
Transfer to the airport/train station in Dong Hoi after the tour.
Logistics team: Each 10-guest tour will have 1 tour guide, 3 safety assistants, 1 chef, 4 porters carrying luggage, food, and camping equipment, and 1 park ranger.
Food: Oxalis provides food, drinking water, tea, and coffee during the journey (not including extra requirements). Dishes are based on fixed menus, vegetarian and vegan menus will be provided if ordered. Please inform us of any food allergies.
Accommodation: Oxalis offers 2 nights at Chay Lap Farmstay before and after the tour and 1 night camping in the middle of the forest.
Safety equipment: Oxalis will provide safety equipment such as helmets, harnesses, headlights, gloves etc.
Travel insurance: Oxalis provides travel insurance for all guests participating in the tours with a maximum compensation of VND 10,000,000. Visitors are asked to buy comprehensive travel insurance for themselves before joining the tour.
Hang Va Expedition Tour • HV2
USD 426 • VND 9,900,000/pax
Book now