Hang Va contains some of the world's rarest and most incredible formations – numerous tower cones rising up from emerald green waters. Nuoc Nut is an adventurous underground passage with dry and wet passages and clear blue pools. This tour combines them both and is for adventurous travelers who want to experience two contrasting caves, rope traverse, and sleep in a jungle campsite. The experience is particularly rewarding for photographers.
Explore two of the most interesting caves in the national park.
Marvel at otherworldly cave formations – a real highlight!
Harness up for the rope traverse.
Trek up jungle hills and climb over sharp rocks.
Swim in gorgeous natural jade lakes inside the caves.
Sleep deep in the jungle surrounded by trees.
Tuck into freshly cooked meals during the journey, plus snacks.
Two days exploring, one-night camping and 1 night stay at hotel before the trek.
Available January to August. Tours depart five times a week
Difficulty: Level 4 · Challenging
Group size: 10 people maximum
Age: 16 years and above
Distance: 8km trekking, 7km caving, 150m elevation gain, 50-100m cave swimming, 20m rope work
Hang Va Expedition in 2023 is now available with many enticing extra services to enhance your trip's experience. Check out here:
Itinerary
Due to the weather conditions, the itinerary may need to be changed at short notice. The paths can be muddy and slippery after rain.
Arrival date in Phong Nha
After arriving in Dong Hoi City by plane/bus/train, you can transfer to hotel in Phong Nha area by taxi (see Arrival Departure Guide here). Don't miss the opportunity to cycle along the rustic countryside. At night, you can enjoy local dishes at Restaurant (at your own expense) and rest early for a long journey awaits tomorrow.
Day 1: Nuoc Nut Cave - Hang Va Jungle Campsite
On departure day, our tour bus will pick you up in the morning from Chay Lap Farmstay to the Oxalis office. Here you will have a tour safety briefing, sign the release form, and receive the required equipment for the tour.
The route starts with a short steep drop down from the road to the valley floor.
A nice easy half-hour trek in the forest brings you to a dry rocky stream. Follow the rocky path carefully to climb down over boulders to the Nuoc Nut Cave entrance. Enjoy a picnic lunch and then with your caving light and helmet enter into the darkness. Initially quite small, the cave soon opens up into impressive dimensions. Plenty of stalactites and stalagmites can be seen on the way. After a rocky section, you will meet the underground river. Follow this to the point it enters the water-filled passage. Take the passage connecting to Hang Va on the return and join in activities such as scramble through narrow passages, admiring unique stalactites. Another 100m of swimming with a lifejacket and guideline leads to a climbing point. Harnesses will be used to climb out of the entrance to the camp. Enjoy dinner served by your team, and the experience of a night deep in the jungle.
Day 2: Hang Va Cave - Phong Nha
The following morning you will have a safety briefing on how to use the harnesses and ropes.
You will then descend the steep rocky entrance using the equipment. Hang Va is a beautiful stream cave where you will experience narrow passages, rocky climbs, and some deep pools with very nice opportunities for photography. After exploring the river passage, you will use your harnesses and traverse across to the high-level passage using the ropes. Follow the path up into this large dry passage. Notice the huge gour dams as you climb over to finally reach the amazing tower cone formations. As yet no one knows exactly how these have formed. Return the same way to camp for lunch. Trek out through the jungle over a rocky hill to another stream valley, and back to the road. Enjoy a cold drink.
Transfer to Phong Nha arriving at around 17:00. You will be transferred to your hotel in Phong Nha, or you can stay at Oxalis Home to take a hot shower and get change before your next destinations.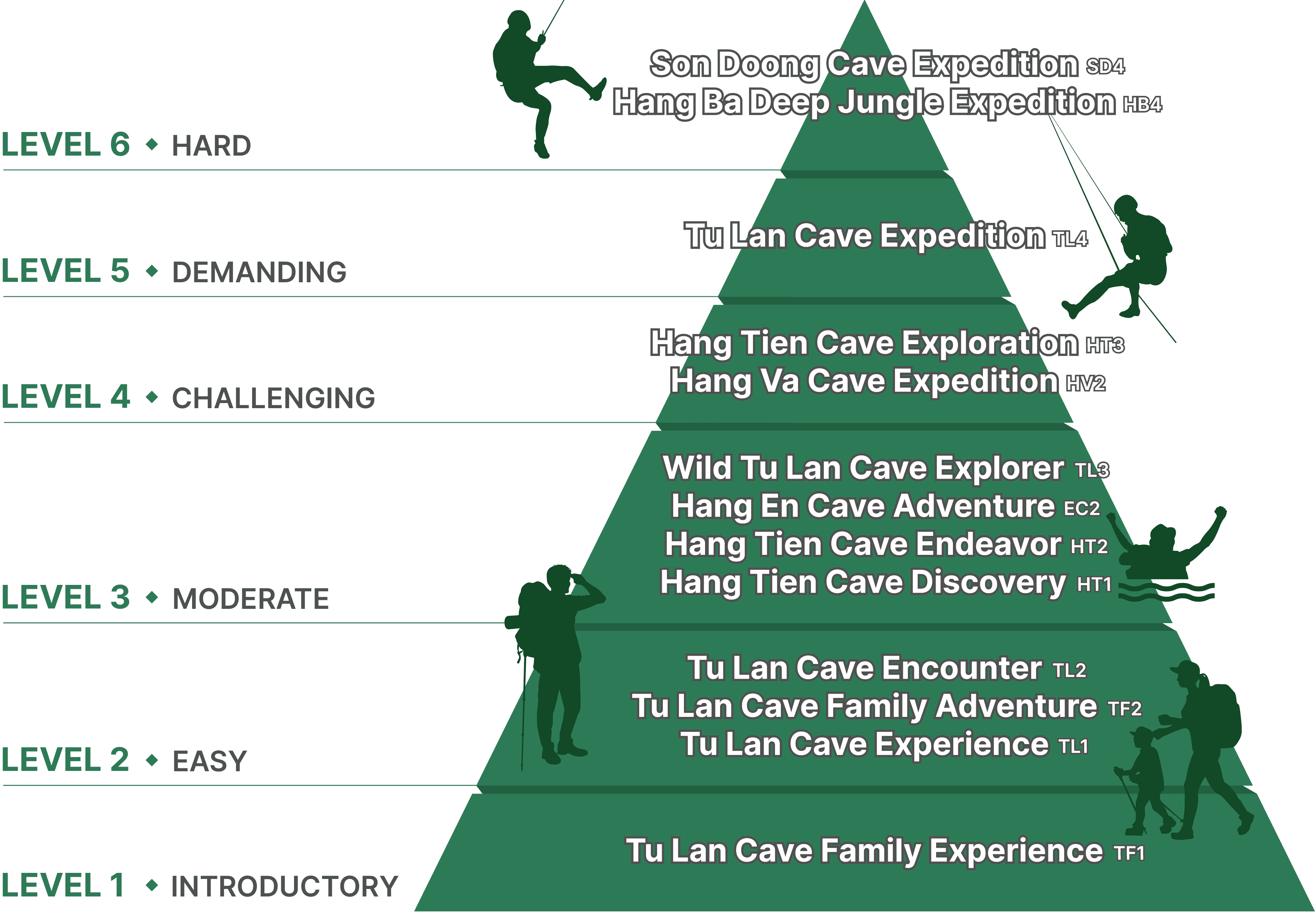 Hang Va Expedition
Adventure Level 4 · Challenging
Requires: Regular physical activities or sports
Expect: Rocky terrain, long trek or technical rope work
Moderate trekking - very rocky terrain
8km of trekking including 7km of caving
River crossings
Swimming in caves (100m)
There will be some rocky terrain, steep hills and several sections using ropes and harnesses.
Preparations
Please visit our FAQ general page to read our specific What to Bring list before departing for Vietnam and your cave expedition.
WE WILL PROVIDE
Includes one night stay at hotel before tour departures
Camping gear: tent, camp light, sleeping bag, mattresses, pillow
Caving & safety gear: caving helmet, caving headlight, gloves, harness, ropes
Basic canvas trekking boots (only if you do not have your own pair) sizes 36 – 46
Light PVC backpack 20L (if you do not want to take your own, as it will get wet)
Meals on tour: breakfast, picnic lunch, dinner (Day 1); breakfast and lunch (Day 2)
Professional English-speaking tour guide and safety assistants
Porter team to carry all camping gear and prepare all meals
1 medium-size dry box for phones and small cameras - 6,4L
Water bottles and water filter (used only by guide and porters)
Basic camping facilities with eco-friendly compost toilet using the western toilet seat
First Aid Kit and Medical Rescue Equipment (application by guides and porters only)
Satellite phone (for emergency use only)
YOU WILL NEED TO BRING
1 long (easy to dry) pants and 1 long-sleeved shirt to wear during the trek (quick-dry)
1 pair of trekking boots/shoes – difficult terrain, good footwear necessary
2 pairs of calf length densely woven socks (not ankle socks!)
1 backpack to hold personal items
1 small towel
1 pair of shorts and T-shirt to wear at the campsite.
1 pair of flip flop (sandals) for the campsite
1 change of clothes for after the tour
1 set of camp clothes (shorts are okay for around camp; please bring a fleece in winter)
Personal items: mosquito repellent, sunscreen, sunglasses, hat, camera, underwear, toiletries
Thermal jacket and long pants for nightwear (if tour departs from February to March).
Pricing and availability
Please choose your departure date using the calendar below.
Please choose your departure date using the calendar below to book your tour with us. The date shown on the calendar is the briefing day for your tour

This tour is operated from Jan to Aug (closed from Sep to Dec)

The days in bold are still available

2022 tours are available for booking, please check calendar box below

This tour price includes: VAT, environmental service fee, entrance fees, travel insurance cost.

See departure in 2023 here: Hang Va Expedition in 2023