Son Doong Expedition tour: What to expect
Overview of Son Doong Expedition: The expedition is designed for people who have a passion for nature, a love to discover new things and enjoy a physical challenge.
There are people who hardly ever exercise, but once they decide to go to Son Doong, they exercise more often, participate in more outdoor activities to improve their health and physical fitness.
The itinerary of the Son Doong Expedition is designed to make each day of the tour have a similar duration as well as same number of challenges so that most of the guests who are well prepared should complete the trek comfortably. Besides, to be temporarily disconnected from computers, internet, smart phones or daily business, visitors will have more time to enjoy nature and harmony. So, what is in the Son Doong cave Expedition tour? Apart from the fact that Son Doong Cave is the biggest cave in the world, on this tour, customers will not only have the opportunity to participate in some exciting activities, such as rope climbing, river crossing, rocky scrambling, but also walk beneath two gigantic cave ceiling collapses (Doline 1 and Doline 2), traverse through underground rainforests and sleep in three of the world's most magnificent campsites. During the tour, guests will be expected to complete these activities themselves.
This tour requires a huge amount of logistics and preparation to make sure that guests will have a comfortable trip.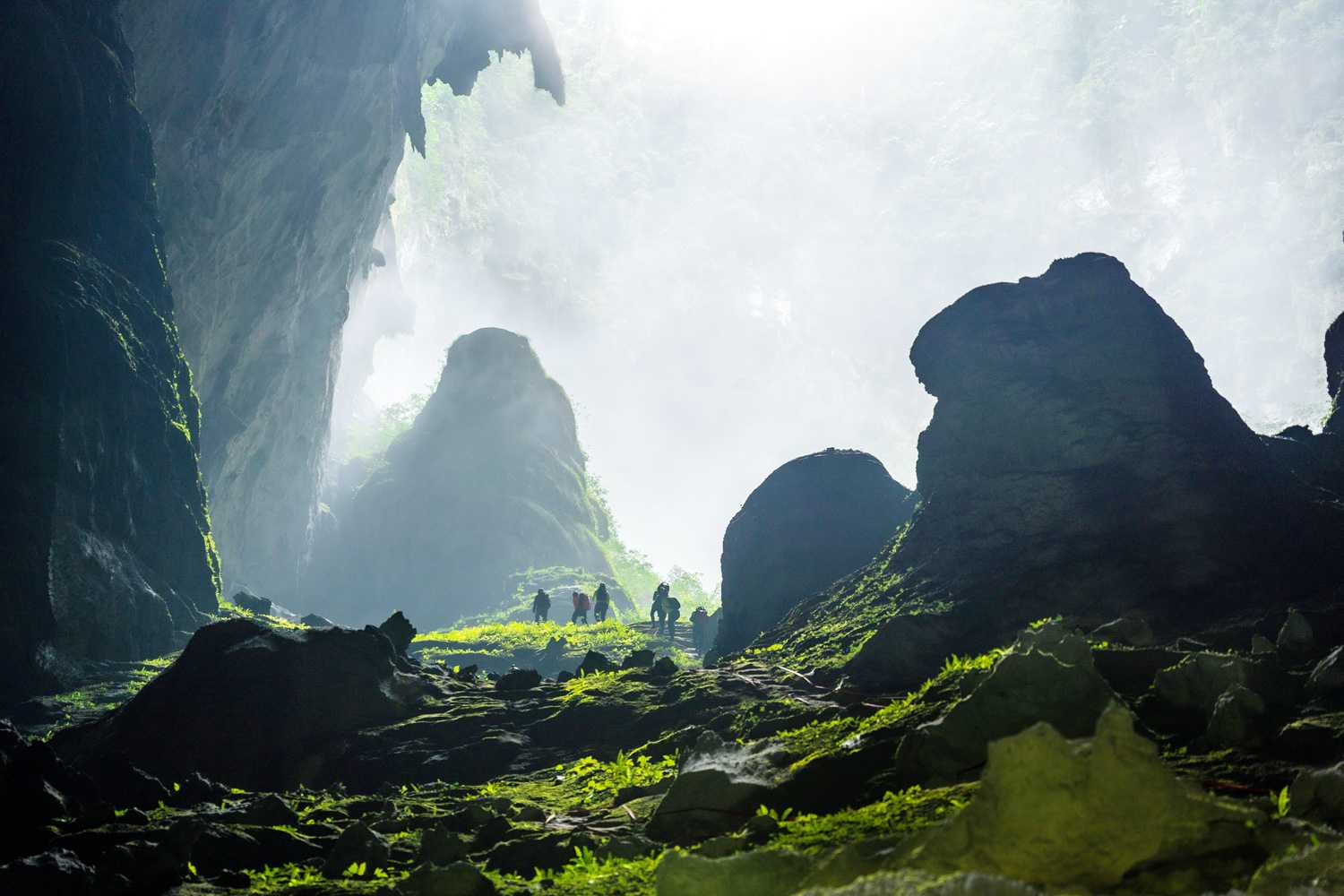 The walk to Doline 2 - Garden Of Edam in Son Doong Cave.
Features of Son Doong Expedition tour.
Only 1000 participants are allowed to join this tour per year, divided into 100 tours of 10 guests each. Most of the Son Doong tours per year are scheduled in advance. Guests traveling alone or with a group can visit Oxalis Adventure's website to find a suitable departure and make a reservation. In addition, if there are separate groups of guests (with 10 people) or film crews with special needs, then please contact Oxalis team directly for further information. The tour season of Son Doong Expedition is from the end of January to the end of August every year. Other months of the year, this cave will be closed for weather and conservation reasons.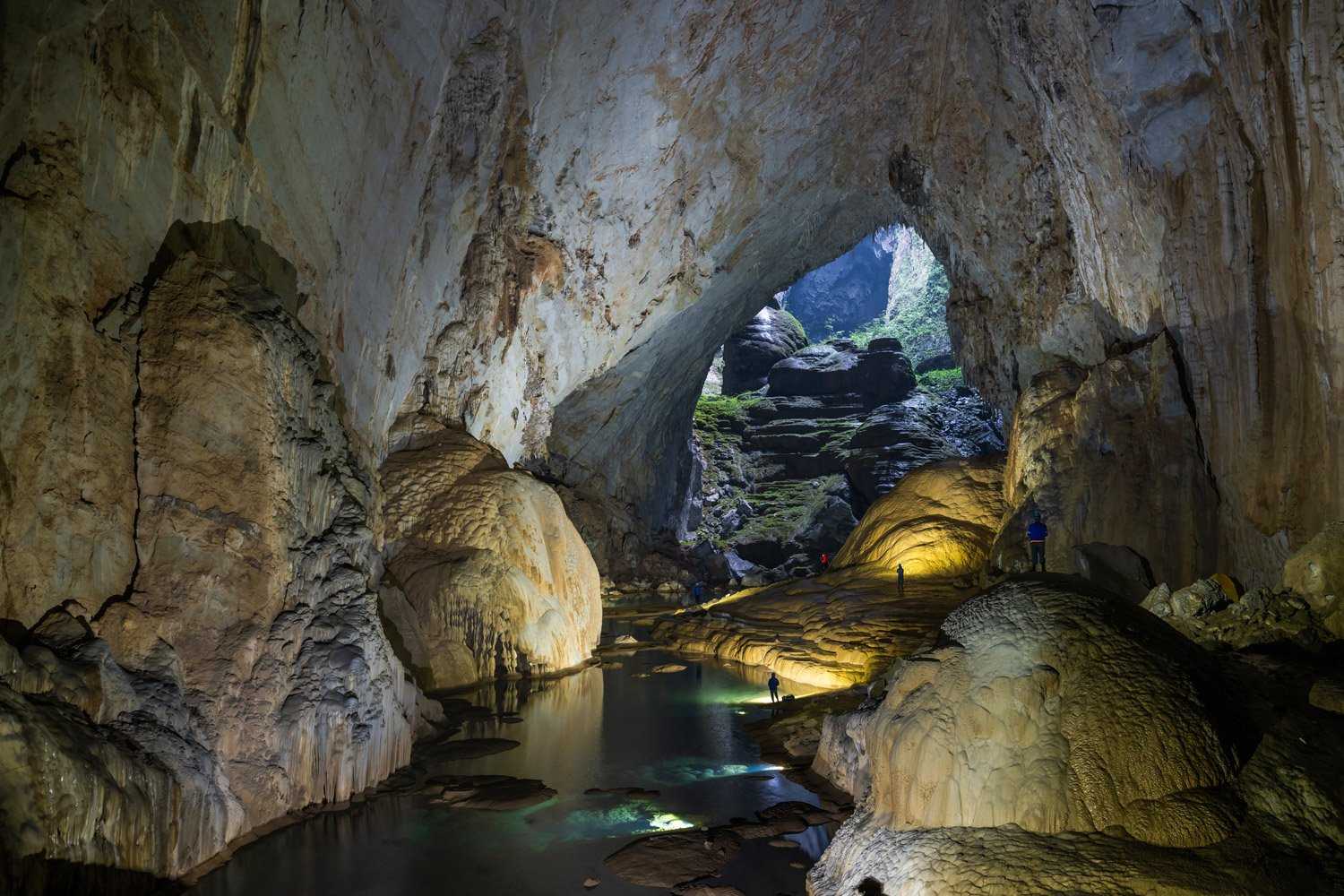 Looing back to Doline 1 - Watchout for Dinosaur.
Various activities
The Son Doong Expedition is full of activities and highly challenging experiences. In the 6 levels of tours operated by Oxalis, this tour is at 6 – Difficult, which includes: 17 km trekking on mountain trails on a rocky terrain; a lot of river crossings (inside and outside the cave); 800m of steep climbing; 3 nights camping in the cave; 8km of caving requires climbing and walking with ropes; and scrambling over large rocks; 80m climbing down from the cave entrance to the bottom of the cave; 90m climbing up from the bottom of the cave passage to the top of "The Great Wall of Vietnam" (a huge flowstone wall) with specialized equipment for caving imported from the UK and France... These are the reasons why the adventure level of Son Doong Expedition Tour is ranked at the highest. To successfully complete the conquest of Son Doong, guests need to have good physical and mental preparation.
Climbing 90 m of Great Wall of Vietnam in Sơn Doong.
Rules and regulations
In order to meet expectations and experience the tour to its fullest, all guests and Oxalis' staff have to be aware of and strictly follow the rules and regulations of the Son Doong Cave Expedition tour.
Primary forest
This is an adventure tour to experience nature, the route of the trip is into the primary forest area, far away from human habitation. This is home to many rare species of animals listed in the Red Book of Vietnam such as: Chamois, HaTinh langur, 7-color langur, Great Hornbill and many others. Therefore Oxalis has some regulations for Son Doong guests; do not shout, laugh or scream loudly, play loud music, throw rocks or any other activities which will make the animals move away from their natural habitat. As well as making it more difficult for them to find suitable food and living conditions, they may be more susceptible to hunters.
Services and facilities on Son Doong Tour
Son Doong Expedition is considered as a world-class adventure tour. However, due to the nature of an adventure tour, guests are recommended to do most of the activities themselves throughout the trip with minimal assistance from Oxalis' staff. The clean equipment for overnight camping such as tents, mattresses, sleeping bags, pillows will be provided throughout the trip. Bathing will be carried out in natural streams and lakes during the tour. Shampoo or soap is not to be used in any streams or lakes. Filtered water is only used for cooking, drinking, eating, or brushing teeth.
Terrain and weather
The main terrain of Son Doong Cave Expedition is under the forest canopy with a lot of walking, climbing rocky slopes, crossing streams and rivers. Especially on rainy days, the trail becomes slippery and muddy. Guests may see a few forest leeches appearing where the ground is damp (this creature just lives on damp ground, not in the water). The Son Doong route is one-way, which means guests will continue each day on a new route without repeating any part. So, if any visitor cannot easily complete the first day without assistance, they will be asked to return by the safety expert. The terrain and challenges of Son Doong Cave would be too great a risk for such a person.
Wifi and phone services in Son Doong Cave Expedition
There is no wifi or phone signal during the journey of 4 days and 3 nights because the Son Doong tour occurs in a very remote location. Guests need to inform relatives and friends that they will not be able to contact them, so they should not worry. There will be a satellite phone managed by the guide and only used in emergency situations. The Oxalis' staff will communicate via the radio. Should any relative of a guest need to contact them in an emergency, they should contact Oxalis office, who will arrange for a message to be sent.
Activities at the campsites in the evening
Usually, after dinner, guests will have time together for some tea and chatting about the trip, sharing the experiences of the day, or listening to stories about the cave system, local life, local culture… with the tour guide and safety expert or safety assistants. Guests are advised not to drink a lot of alcohol (rice wine) to ensure physical fitness for the next day of the trip. Guests are also not allowed to bring alcohol without informing the guide. No drugs or stimulants allowed during the journey.
Regulation on Taking the Videos and Photos
The Son Doong Expedition is usually composed of both domestic and international guests. The tour guide will arrange suitable opportunities for guests to enjoy the beautiful scenery and take pictures and videos. The safety team will use high-powered lights to illuminate the cave passage to assist guests in taking photos at some memorable locations in the cave. However, due to the characteristics of a join-in tour, it is important to consider everyone's needs. We ask that guests work together to enable everyone to get the kind of picture they would like. It is also important to follow the itinerary as closely as possible, to achieve all the activities each day. Guests are responsible for taking photos of their own/ by themselves. Staff may assist in some locations, but cannot take all your photos for you. Their main focus is on the guests' safety.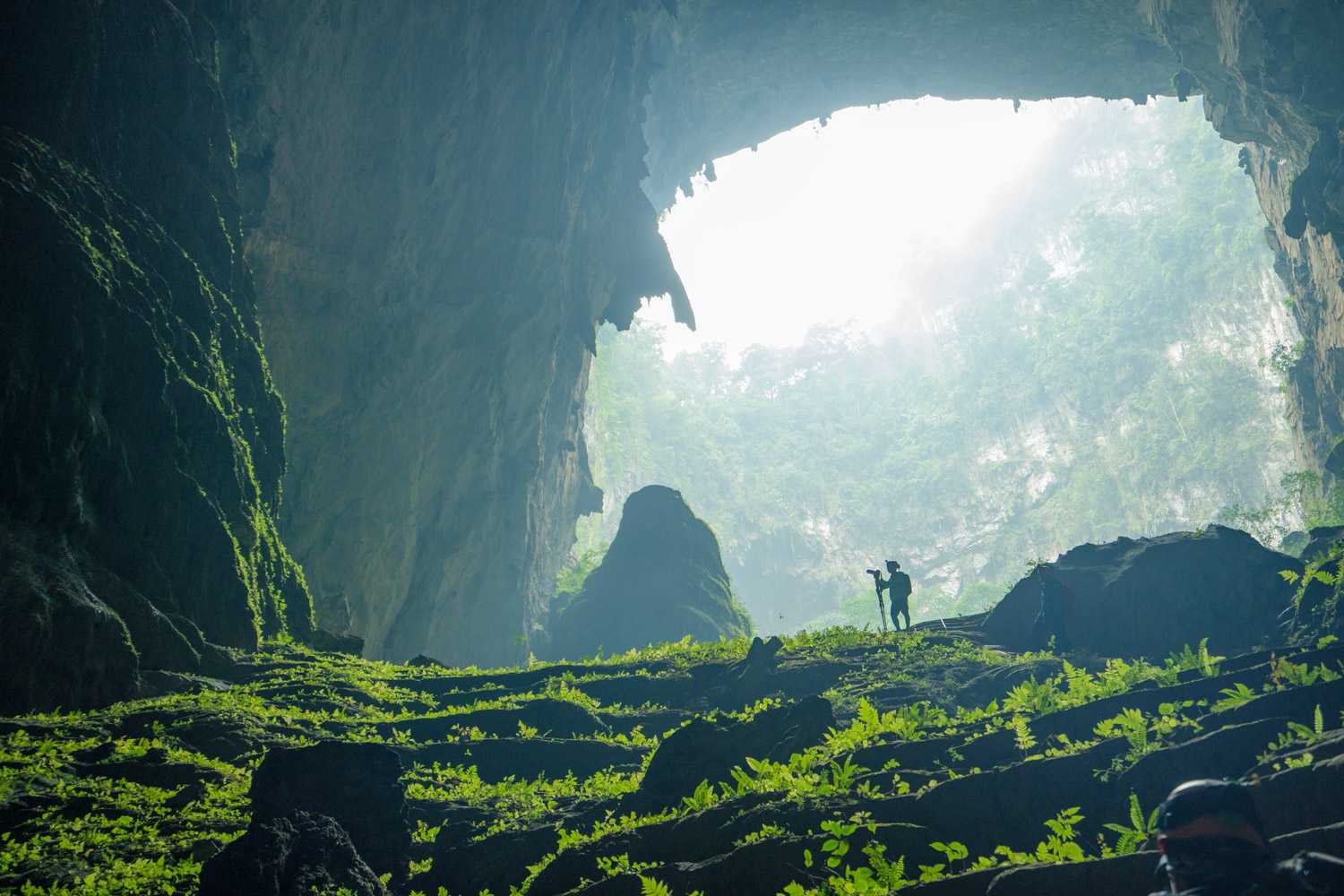 Những đèn pin công suất lớn sẽ được sử dụng để phục vụ cho việc chụp ảnh.
Today, the Son Doong Expedition tour has become a symbol of the world natural heritage site of Phong Nha – Ke Bang. So guests are not permitted to take pictures with clothes that are inappropriate for an adventure tour such as: bikinis, colorful dresses etc.
Rules and regulations of the campsite
To ensure the safety of guests when staying at the campsite, Oxalis has introduced a number of regulations during the Son Doong Tour as well as in all tours as follow:
Do not leave the camp area without notifying the tour guide or the safety expert.
Do not go alone when leaving the camp area, guests must be accompanied by staff.
Swimming is only allowed in designated places.
Do not swim at night.
Do not swim after drinking.
Life jacket must be worn when swimming.
You must be supervised by the tour guide or safety assistant when swimming.
Do not jump from high and dangerous places.
Do not push, tease or play risky water sports.
Nature experience
Son Doong Expedition is a trip to experience nature; go to enjoy the grandeur of Son Doong and En caves, which are gifts from mother nature to mankind. This is an adventure tour, not a race. This is a unique opportunity to experience the actual reality of Son Doong Cave. Therefore, guests should not be in a hurry. Let's spend time looking around and enjoying the natural scenery, learning useful information… You can take photos, record short videos at suitable locations but should not spend too much time on this because no camera can take better pictures than your own eyes.
Son Doong is now becomes a symbol of the world heritage site - Phong Nha Ke Bang National Park
With its mysterious and majestic beauty, Son Doong is a "must" to explore once in a lifetime. If you are a nature lover with a passion for adventure and exploration, the unique activities and experiences of the Son Doong Expedition tour will surely satisfy you. The beautiful and magnificent scenery of the underground world of Son Doong Cave is definitely a well-deserved reward for adventurers after a long journey.
The Oxalis Experience.
FAQs
Can I hire an assistant/porter to film for me personally?

During the Son Doong Expedition, there will be a team of 8 people supporting the group of 10 guests throughout the journey: 1 Tour Guide, 1 Safety Expert and 6 Safety Assistants. The support group is there to ensure your safety and provide all the information about the cave and tour to ensure customers will enjoy every moment of this once in a lifetime experience. They will not privately take photos and videos for any individual, but will assist the whole group. Therefore, you CANNOT hire more people to accompany you to film or take pictures.

Can I bring a wedding dress / Ao Dai / bikini / other dresses for a photo during the Son Doong Expedition tour?

NO, as mentioned above, Son Doong Expedition Tour today has become a symbol of the world natural heritage, so guests cannot take pictures with clothes that are inappropriate for the tour such as: bikinis, elaborate dresses for posing on the iconic spots of Son Doong.

Due to the 4-day trekking tour, do I have to hire a porter to bring my personal belongings?

You DO NOT need to hire a porter separately. In the tour you will be provided with 1 dry bag with a name tag for personal belongings, the night before departure (with a maximum of 7kg per guest). The porters must receive these bags at 7:00 am on the day of departure and will bring them to the campsites in advance for you. In addition, you have to bring by yourself a personal backpack (20-30 liters) to carry helmets, water bottles, phones and personal items that you need to use on the way. Note that the helmet is required to be carried inside the backpack and not tied on the outside. You can find out more information in the article: WHAT GUESTS NEED TO PREPARE FOR THE SON DOONG EXPEDITION to have the best preparation.