An action-packed day to discover the magnificent caves of the Tu Lan cave system, including trekking, climbing, swimming and picnic lunch by a waterfall. This tour is for travelers who are short on time or don't want to sleep in the jungle – but still want to explore the caves.
Discover the Tu Lan caves in just one day!
Trek over jungle hills and mountains
Marvel at the beauty of 2 dry caves and unusual cave formations
Swim and wade at waterfall
Picnic lunch next to a natural stream
One day exploring
Tours depart every day except Friday
Group size: 12 people maximum - Age: 16 years and above
Distance: 8km trekking, 500m caving, 60m elevation gain
Difficulty: Level 2 • Easy
Itinerary
Due to the weather conditions the itinerary may need to be changed at short notice. The paths can be muddy and slippery after rain.
Morning: Tan Hoa - Little Rat Cave - Rat Waterfall
07:00 - 07:30 Pick up and one-hour drive to the Oxalis Adventure office in Tan Hoa, located 70km from Phong Nha. Here you will have a tour safety briefing, sign the release form and receive the required equipment for the tour.
The trek starts after the briefing with a flat path past peanut fields and grazing buffalo and cows. A river crossing leads to a 60m rocky uphill section. Here you will visit Little Rat Cave with numerous unique challenges and opportunities to capture wonderful photos await. Pass through the cave exit and drop downhill into the Rat Waterfall, where you will have lunch, and lots of time to swim in the wilderness.
Afternoon: Rat Cave - Tan Hoa
After lunch, trek back along the river and pass over a short climb to explore Rat Cave, a small but beautiful cave. Exit Rat Cave and back over the buffalo fields to the office where a cold drink awaits. Take a shower and transfer to Phong Nha between 18:30 and 19:30.
Note
1.Guests are required to arrive in Phong Nha no later than 07:00 on the day of the booked tour departure and also recommended not to participate in any activities that might cause a delay.
2. To reach Phong Nha at a good time from the North, we recommend catching the SE3 train from Hanoi/Ninh Binh to Dong Hoi. If you're down South, it is recommended to book a flight from HCMC/Da Nang/Hue to Dong Hoi (You are expected to arrange your own travel from Dong Hoi to Phong Nha).
3. Two complimentary dorm rooms (8-bed & 6-bed) at Oxalis Home are offered for our adventurers who arrive in Phong Nha early in the morning, a few hours ahead of their booked tour departure. You can rest here before your tour departs. Please inform us in advance if you request to stay in this room!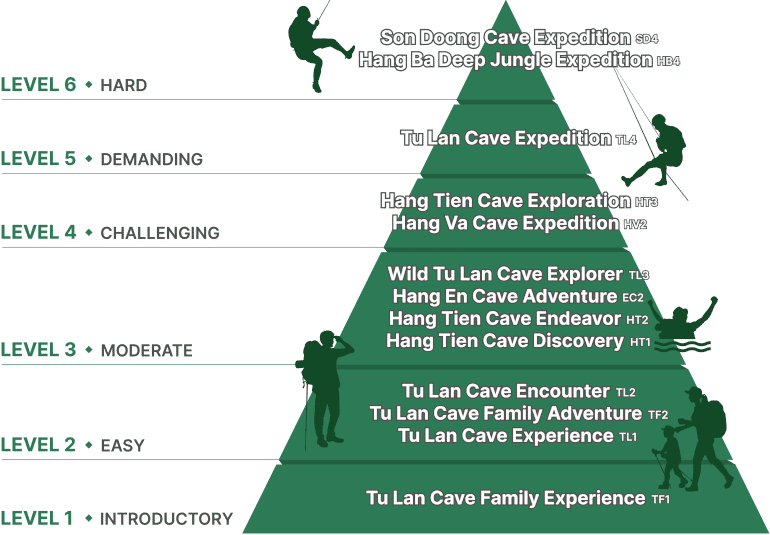 Tu Lan Experience 1 Day
Adventure Level 2 · Easy
Requires: Basic fitness, some sports activities
Expect: Easy trails, some rocky sections & optional swim
1-day tour
Easy to moderate trekking
8km of trekking including up to 500m of caving
60m elevation gain
Swimming and wading at the waterfall
River crossings
Preparations
Please visit our FAQ general page to read our specific What to Bring list before departing for Vietnam and your cave expedition.
WE WILL PROVIDE
Caving & safety gear: caving helmet, caving headlight, life jacket, gloves
Basic canvas trekking boots (only if you do not have your own pair) sizes 36 – 46
Meals: picnic lunch
Professional English-speaking tour guide and safety assistants
Porter to prepare meals and pump water
Shared dry box for phones and small cameras (limited availability for larger cameras)
Water filter (used only by guide and porters)
Eco-friendly compost toilet using western toilet seat at lunch site.
First Aid Kit and Medical Rescue Equipment (application by guides and porters only)
Secure Storage Facility at Oxalis Headquarters to store all luggage you will not be taking on the trek
YOU WILL NEED TO BRING
1 long (easy to dry) pants and 1 long sleeved shirt to wear during the trek (quick dry)
1 pair of trekking boots/shoes – difficult terrain, good footwear necessary. Gore-Tex/waterproof boots are NOT recommended as they do not drain well (if you prefer your own comfortable pair)
1 backpack (15-20l) to hold personal items
1 change of clothes for after the tour
1 pair of calf length densely woven socks (not ankle socks!)
Personal items: mosquito repellent, sunglasses, hat, camera
Tour price is USD 78 or VND 1,800,000.

The days in bold below are available.

This tour is operated from mid-Nov to mid-Sep next year (closed from mid-Sep to mid-Nov).

This tour price includes: VAT, environmental service fee, entrance fees, travel insurance cost.

10% off for Xiều (returned customer).