Those who join the Hang Ba Deep Jungle Expedition will receive a totally new experience from Oxalis Adventure. Renowned for sustainable tourism, Oxalis will now step up to actively promote conservation of biodiversity.
A one and only cave adventure has more than 95% of the trek under the canopy of ancient trees in the primeval forest. It is the most beautiful trekking route to explore the outstanding primitive forest in Phong Nha Ke Bang National Park. The path will lead you to very diverse tropical forests in the highly protected core zone of the national park. This area has many big old trees and precious trees such as ebony, fragrant rosewood, etc.
For the first time, Oxalis guests will engage in early morning activities. Immerse yourself in nature by sitting and listening to the birdsong heralding the new day; gibbons whose calls echo through the forests that sound like a concert of wildlife found nowhere else.
Of course, any tour with Oxalis will include spectacular caves and campsites. You will be tucked away in caves on this tour, leaving the beaches and streams undisturbed for the wildlife. The camping sites are all located inside the beautiful cave entrances of this area, cool and comfortable with great views, considered the most beautiful campsites of all Oxalis tours.
A unique tour that respects the habitats of the best wildlife in the world. On this tour, you will learn about the rare and protected wild animals of Phong Nha Ke Bang National Park. You will see them in their native habitat without disturbing them. How? Oxalis staff will show you animal prints and other signs of activity, and best of all, images and videos collected from multiple motion cameras hidden around the jungle. By observing the wildlife in this way, we will not drive them away or force them to change their habits.
A tour where visitors can become true cave explorers. This expedition takes you to discover six incredible caves, including Dai Cao Cave, Maze Cave, Hang Ba Cave, Vinh Dai Cave, Light Cave, and Circle Cave.
It is the best chance to catch a good view of the Milky Way and the Moon with your own eyes, enjoy the dark skies filled with stars and unpolluted by lights.
For this tour, our staff of porters, guides and cooks will be specially trained to work with minimal impact. No unnecessary noise or activities will take place. Our experience has shown that a regular presence of Oxalis teams will also drive away potential poachers and hunters.
With a maximum of 6 participants, this exclusive expedition is designed to provide the best experience with minimal impact and improve wildlife conservation in Phong Nha Ke Bang National Park.
Play to listen to jungle sounds on tour:
To ensure that the tour is designed in accordance with international conservation criteria as well as the provisions of Vietnamese law. Oxalis Adventure has invited Mr. Christian Manhant - the representative of UNESCO to Vietnam, Mr. Jake Brunner - the representative of IUCN - the International Union for Conservation of Nature and the representative of the management board of Phong Nha - Ke Bang National Park to experience and evaluate this tour prior its official operations. This video is the reviews from UNESCO and IUCN representatives about Hang Ba Deep Jungle Expedition.
Four days exploring, three nights cave camping, 1 night stay at Son Doong Bungalow before the trek, 1 night stay at Chay Lap Farmstay after the trek.
Only available from January to August
Tour type: Join-in tour; Private tour
Group size: 6 people maximum
Age: 18 years and above
Distance: 20km trekking, rocky scrambling, caving
Difficulty: Level 6 · Hard
Transport from Dong Hoi airport to Chay Lap Farmstay and vice versa
Itinerary
Due to the weather conditions, the itinerary may need to be changed at short notice. The paths can be muddy and slippery after rain. Hang Ba Deep Jungle Expedition tour has the one of the highest adventure levels of Oxalis Adventure's tours.
Day 1: Dong Hoi – Phong Nha – Briefing In Oxalis Office
Important: Make sure you reach Dong Hoi no later than 15:00 on the afternoon of your briefing day. Transfer to hotel/homestay in Phong Nha.
17:30-18:00 Meet in the hotel restaurant before meeting your guide for your safety briefing and equipment check at Oxalis Home or your hotel. Good trekking shoes are essential. This briefing is mandatory. Anyone who doesn't join the briefing may be eliminated from the tour without refund.
Please note that the release form needs to be signed at the safety briefing.
19:30, enjoy a welcome dinner with your team at Oxalis headquarter and then transfer back to your hotel.
Day 2: Phong Nha - KM23 Road 20 - Deep jungle trek - Dai Cao Cave - Camp
08:00 Make sure you have a hearty breakfast in Son Doong Bungalow. Fill your water bottles.
Please make sure you have all required belongings prepared before 7:30 AM. Your belongings will be collected in individual large bags and sent to our porters. You will receive this bag each evening upon reaching the campsite. Keep anything you want to take with you during the day in a separate backpack (cameras, tripods, sun cream, etc.).
Oxalis staff will come to the hotel to collect your luggage and valuables. They will store this for you, and it will be waiting in your hotel room after the tour.
09:00, Your guide and safety team will pick you up. After a 20 minute drive you will reach the Botanical Gardens for a brief stop to learn about the animals in the National Park. A further 30 minute drive will bring you to the trekking point.
10:30, Start the trek with a short steep uphill section to warm you up for the day ahead! Trek through this amazing tropical forest with its ancient trees. Look out for the signs of wildlife activities. After about 3 kilometers of trekking which is generally uphill, you will reach the high point, and then it's downhill for most of the way. Enjoy some snacks and a light lunch along the way.
15:30, Arrive at the exit of Dai Cao Cave. Here you will see animal prints, learn about the animals visiting this cave. Swim through the cave to reach the main passage of Dai Cao Cave. Here you can observe white cave fish and shrimps adapted to living in the cave. Trek out to the cave entrance and your first night's camp.
17:00, Enjoy a hot drink at the side of this beautiful valley.
18:00, Enjoy dinner. After dinner, relax with tea or coffee, watch the sunset, and wait for the stars to come out. Listen to the nighttime jungle noises. Enjoy a good night's sleep in your comfortable camp.
Day 3: Camp - Deep jungle trek - Hang Ba Cave - Light Cave - Dark Sky Circle Lake - Camp
05:00, Rise early and enjoy tea or coffee on the beach. Listen to the chorus of bird and animal songs as the dawn arrives.Observe the animal prints along the sandy valley.
08:00, Enjoy a hearty breakfast.
09:00, Trek and swim to reach Maze Cave. This unusual cave has exceptional fossils, circular cave passages, and sometimes sunbeams. Look out for animal prints on the way.
12:00, Continue along the forest trail for 2 kilometers to reach Hang Ba. We do not follow the valley as this is the domain of the wildlife. Have a light lunch and explore Hang Ba, with its large passage, formations, swims, and beautiful views of the exits. Good opportunities for photography. Emerge on the edge of Circle Lake, and cross to the other side to reach the camp.
15:30-16.00, Arrive at the camp in the middle of Light Cave, a short but stunning cave with an entrance on either side of your camp. Enjoy a hot drink and relax.
18:00, Enjoy dinner. After dinner, take a short boat ride to reach the beach. Quietly relax with tea or coffee, watch the sunset, and wait for the display of stars and the Milky Way at Dark Sky Circle Lake. Listen to the nighttime jungle noises. Return to your comfortable cave camp.
Day 4: Morning Nature Concert - Circle Cave - Vinh Dai Cave - Camp
05:00, Arise before dawn and paddle out of the cave to Circle Lake. Enjoy tea and coffee with another concert of bird and animal songs. Listen out for the musical calls of Gibbons. Check for animal prints.
08:00, Another hearty breakfast to start your third day.
09:00-10.00, Enjoy some time in the campsite. The morning light through the double entrances is well worth seeing.
11:00, Exit the cave for the trek to Circle Lake Cave. This spectacular 90m wide entrance is home to many animals. Here we can see many signs of the animal visitors, and check more camera traps for images. Explore the cave to see some of its many stalactites and stalagmites, and maybe some sunbeams.
13:30-14:00, Return to camp for a light lunch.
15:00, Trek the short distance along the river to Vinh Dai Cave. Settle into your unique campsite located on a ledge high above the river passage. Enjoy a hot drink and then explore the lower river passage and take some great photos. Examine the images from the camera traps.
18:00, Enjoy another delicious dinner. After dinner, relax at the entrance for your final night of stars and jungle sounds.
Day 5: Vinh Dai Cave Camp - Deep Jungle trek - KM23 - Phong Nha
09:00, Your final big breakfast for the final trek out.
10:00, The trek starts with a bang, with a long steep rocky section. Take your time and your safety team will support you all the way. Some sections require the use of ropes and harnesses to ensure your safety. Your team will operate this equipment. The next 3 kilometers are up and down through the forest to reach the highest point. Stop at the rocky outcrop to enjoy the views and a light lunch. After lunch the trail is generally flat or downhill through the tropical forest for a couple of kilometers, with just the occasional steep bit.
15:00-16:00, Arrive at the road for a welcome cold drink. Transfer to Chay Lap Farmstay.
18:00, Gala Dinner with your team and guide and safety assistants.
Day 6: Extend Staying Or Transfer To Train Station/Airport
Enjoy breakfast, rest at Chay Lap until your driver picks you up for the airport or train station to return home. Note: Check-out time of the hotel will be 12:00 regardless of your departure time.
If you have extra time, why not take this opportunity to get to know more about Phong Nha besides the expedition, by staying for some extra days?
You will be blown away by the remarkable scenery, being surrounded by karst mountains, idyllic green rivers, rustic villages with beautiful local people. There are so many places to go and see such as Chay Lap Riverside, Paradise Cave, Phong Nha Cave, Mooc Spring Eco-Trail, Chay River - Dark Cave, etc.
If you are still in the mood for the wild, our one to two-day adventure tours in another marvelous area – Tu Lan Cave System, are highly recommended (see more here). Since the cave system is the home of the Hollywood blockbuster movie Kong: Skull Island, you will have a great experience enjoying the landscape and imagining the legendary King Kong!
Our driver will pick you up according to your departure time and don't forget to let us know in advance if you would like an additional night(s) at the hotel and we can reserve that for you.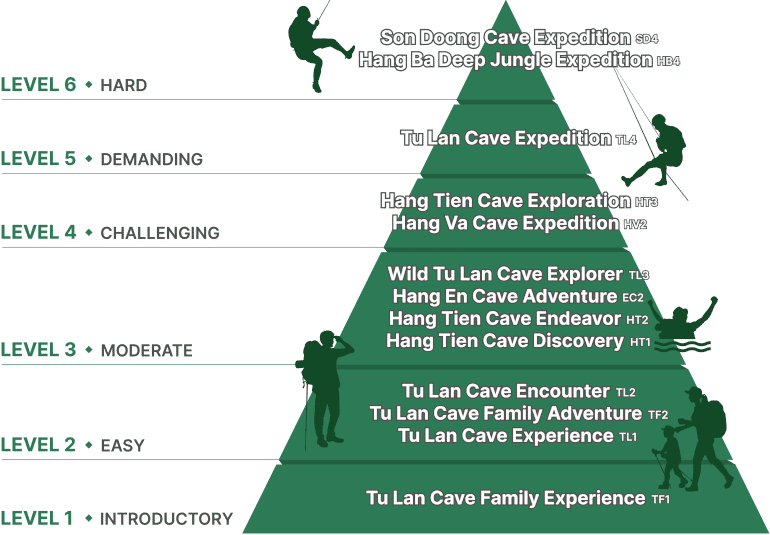 Hang Ba Deep Jungle Expedition
Adventure Level 6 · Hard
Requires: Good level of fitness; previous trekking experience
Expect: Extensive rocky terrain, and some technical sections, steep ascents and descents.
20 km deep jungle trekking
6 caves
Swimming in caves
3km of rocky hill scrambling
Total elevation gain: 1.678m
3 nights cave camping
Dark sky observations
Nature concerts: Bird and animal songs
What if I am a solo traveler, can I join a group?

For Hang Ba Deep Jungle Expedition tour, we set fixed departures every month so travelers can book tours independently. If the fixed departures cannot fit you, please contact us to book a private tour or request a specific date when you have found 6 members.

Why do I have to sign your Release Form?

We require customers to sign our Release Form to confirm they accept this is an adventure tour and they have to follow our guide's instructions and safety rules. Customers also accept they have some responsibilities for their own safety.

What is the weather like in the cave and jungle?

In Winter (November - next February), sometimes there are cold waves that last around 5-7 days or more, and the temperature could go to 8-18°C (47-65°F). When the temperature goes below 18°C (65°F), you will cross the river or go along the river inside the cave by boat, raft.
From March to May, most of the time the weather is cool. It can be hot and cold on some days.
In Summer (June - August), the temperature is around 32-38°C (90-100°F), so you can enjoy swimming in the river, stream, and inside caves.
The temperature inside the cave usually keeps at 18-23°C (65-73°F) in Winter, and 22-25°C (71-77°F) in Summer.
Preparations
Please visit our FAQ general page to read our specific What to Bring list before departing for Vietnam and your cave expedition.
WE WILL PROVIDE
Meals: breakfast (day 2, 3, 4, 5, 6), lunch (day 2, 3, 4, 5), dinners (day 1, 2, 3, 4, 5)
Camping gear: tent, sleeping mat, pillow, and sleeping bag
Caving & safety gear: caving helmet, caving headlight, harness and gloves
Professional caving headlight (Hope Technology headlights – 1500 lumens)
Night vision binoculars for nighttime activities
Light PVC backpack (if you do not want to take your own, as it will get wet)
Rain-proof bag (for clothing and personal belongings)
Basic canvas trekking boots (only if you do not have your own pair) sizes 36 – 46
Professional English-speaking tour guide and safety assistants
Porter team to carry all camping gear and prepare all meals
Porter team to carry all your personal belongings to camp
Shared dry box for phones and small cameras (limited availability for larger cameras)
Water filter (used only by guide and porters) and water bottle
Basic camping facilities with eco-friendly compost toilet using western toilet seat
First Aid Kit and Medical Rescue Equipment, satellite phone (application by guides and porters only)
Secure Storage Facility at Oxalis Phong Nha office to store all luggage you will not be taking on the trek
Accommodations (single or twin-shared) at hotel/homestay in Phong Nha before and after the tour
Gala dinner on day 5
Round-trip transfer Dong Hoi – Phong Nha before and after the tour
1 hour complimentary kayaking at Chay Lap Riverside
YOU WILL NEED TO BRING
2 long (easy to dry) pants and 2 long sleeved shirt to wear during the trek (quick dry)
1-2 pair of short and t-shirt to wear at campsite and swim suit(s)
Fleece and 1 lightweight windproof/jacket (February – April only)
1 pair of good-gripping and non-waterproof trekking boots/shoes (if you prefer your own comfortable pair)
1 pair of flip flop (sandals) for campsite
1 medium size towel
Rehydration tablets, any required medication, antifungal foot powder, mosquito repellent, sunscreen and hat
2-3 pairs of calf length densely woven socks (not ankle socks!)
Personal items (underwear, toiletries, medication, toiletries should also include feminine hygiene products for ladies, even if it's "just in case")
NICE TO HAVE
The following items are not required but highly recommended
Dry bag in the event of rain (for camera, clothing, and personal items within your daypack)
Gloves, as ours are one-size-fits-all (if you bring your own, please choose gloves with fingertips)
Swimwear
If you are serious about photography, please remember to bring your tripod (this must be able to fit in your daypack)
Power bank/pack for your personal use.
Tour price is USD 2,200 or VND 50,000,000.

The days in bold below are available (Day 1 in the itinerary).

This tour is operated from Jan to Aug (closed from Sep to Dec).

This tour price includes VAT, Public Liability Insurance, and a total of 10% tour fees (5 mil VND/pax) is paid to forest restoration, wildlife conservation and protection of Phong Nha - Ke Bang National Park and admission fees of Quang Binh Gov.

10% off for Xiều (returned customer).