Tu Lan Cave Encounter Tour
On joining the 2-day Tu Lan tour, visitors may experience firsthand the ecosystem of a tropical forest and admire the beauty of the Tu Lan Cave system, Quang Binh. Swimming in the underground river of a cave carved out millions of years ago, trekking along forest trails, and enjoying the night camping in the wild by the side of a waterfall, will help you temporarily forget the hectic city life and immerse yourself in nature.
On this tour, visitors will have unique experiences such as:
Swimming in an underground river inside the cave: The valleys are connected by a system of underground caves. Visitors can experience the magical feeling of swimming in the total darkness of the cave. This is one of the most unique experiences of Tu Lan tours. If you don't want to swim, you can sit on the raft.
Exploring many remarkable caves: The caves you will explore are: Hang Ken, Hang Tu Lan, Hang Kim, Hang Hung Ton. All four have dry and river passages, hence to explore the caves you will need to swim and hike.
Camping in the most beautiful area of Tu Lan: Guests will have a night camping at Tu Lan Valley deep in the forest. The campsite is located in the most idyllic location, with waterfalls and natural swimming pools surrounded by the vast primeval forests and limestone mountains.
Culinary experience in the tour: During the two days one night trip, visitors can enjoy delicious dishes prepared by local chefs.
Itinerary
The Tu Lan Cave Encounter tour schedule may be adjusted according to the weather conditions. The trek can be quite muddy and slippery when it rains.
Phong Nha - Tan Hoa - Ken Cave - Tu Lan campsite
Between 07:30 to 08:00, the guide and driver will pick you up at your hotel in Phong Nha town and take the group to the Oxalis office in Tan Hoa Village, which is 70km from Phong Nha. At the office, the guide will give you a short briefing about the trekking itinerary and safety regulations; pack your bag, sign the Release Form and receive essential safety equipment (The transportation cost to Tan Hoa is included in the price of Tu Lan 2 days 1 night trip).
The group will hike around 2.5km through corn and peanut fields to reach the Rao Nan River bank. From there, you will need to cross the river and climb over a small hill (around 50 m) which is rocky in places. Continuing down the other side the group will reach the flat Hung Ton Valley. After crossing the valley, the group will rest and enjoy lunch at the entrance of Hung Ton Cave. After lunch the trek is a bit more challenging with some steep hills leading to the Tu Lan Valley campsite by the waterfall.
Afternoon activities include swimming and exploring Ken Cave, which is located close to the campsite. Then return to the campsite and enjoy a wonderful dinner prepared for you by the chefs. As you immerse yourself in the peaceful natural scenery of mountains and forests as well as the sound of the waterfall, you will feel calm and have a peaceful night's sleep.
Tu Lan cave - Kim Cave - Hung Ton Cave - Tan Hoa
The next day, you will trek, explore and swim through Hang Tu Lan and Hang Kim to reach To Mo Valley, two spectacular caves. You will have lunch at To Mo campsite before swimming into Hung Ton Cave, at the side of the waterfall. Inside the cave, the group will have to climb up a 10m high ladder with safety harnesses. A short hike leads to the cave entrance. In front of the cave entrance is the beautiful scene of the Hung Ton Valley, a great spot for beautiful photos. From there the group will return to Oxalis Tan Hoa office along the Hung Ton Valley, crossing the Rao Nan River and the peanut corn fields one last time. At Oxalis Tan Hoa office, everyone can relax, take a shower, enjoy a drink and say goodbye to your team before getting on the car back to Phong Nha town.
The group goes back to Phong Nha and the Tu Lan Cave Encounter tour ends at about 18:00.
Notice
You need to arrive at Phong Nha before 06:00 AM on the day of the tour and avoid being late for departure to ensure the tour starts at the correct time.
If you want to get to Phong Nha by train on the morning of the tour departure, it is recommended to book the SE3 train departing from Hanoi/Ninh Binh to Dong Hoi station; or the SE8 train departing from Da Nang/Hue to Dong Hoi station (It is recommended to book an additional shuttle bus from Dong Hoi to Phong Nha). Then, the tour minibus will take you from Phong Nha to Tu Lan. The Tu Lan Cave System is about 112 km from Dong Hoi, please contact Oxalis for specific travel advice if required.
Oxalis has free dorm rooms with 6 comfortable beds available at Oxalis Home (Oxalis Office) for those who arrive in Phong Nha early in the morning of the tour and want to rest a bit before the tour. Please inform us in advance if you want to use the free dorm room service. Please scroll down to the Price and Availability section to view the schedule/register for Tu Lan 2-day tour.
Weather and Climate in Tu Lan - Tan Hoa area
Tu Lan - Tan Hoa has 4 seasons in a year (spring, summer, autumn and winter) like many northern provinces of Vietnam. Due to the weather conditions, and because Oxalis Adventure wants to protect and conserve the Tu Lan Cave System. The Tu Lan Cave Encounter Tour will only be available from mid November to mid September every year. Weather conditions in the Tu Lan –Tan Hoa area are different in each season.
From January to March, there are some cold days, especially on rainy days but there are also many warm sunny days.
April and May are the warmer months, and this is the time when wildflowers are blooming.
From June to August are the hot summer months, but most of the time visitors are in the cave with the temperature from 22 to 25 degrees, or forest, so it should not feel too hot. In the summer months, visitors can comfortably swim in the streams and underground lakes inside Vietnam caves, so exploring Tu Lan is the ideal suggestion for you if you don't know where to go for 2 days and 1 night.
Each season will have its own unique features for visitors to explore, and find out more about the uniqueness of nature. In addition, visitors can check the weather in Tu Lan - Tan Hoa through Accuweather before joining this caving adventure tour.
Preparation for the Tu Lan Cave Encounter tour
Fitness preparation for the Tu Lan Cave Encounter tour
This caving adventure tour is rated as level 2 (easy) in the 6-level adventure scale of Oxalis Adventure. The tour is designed for all guests who enjoy outdoor activities and experiencing nature in general. The difficulty of the tour is based on the physical fitness and health of average active people, not runners or athletes or intensively active people. Anyone can join this Tu Lan Caves tour if they do some exercise or sport. You can learn more about "the Physical Activities" that Oxalis Adventure advises visitors to complete before the trek here.
Items to bring on tour
All adventure tours in Vietnam will cross a variety of terrains and customers will be asked to prepare suitable clothing for safety and comfort. Clothing should be good for trekking in the jungle, river crossings, or exploring the cave as well as avoiding dangers and risks from sharp rocks, snakes, insects, or poison ivy. Visitors need to choose a good, well-fitting pair of shoes for steep rocky terrain and they should not be waterproof, as during river crossings they will hold water inside. Customers should prepare personal items to use for 2 days and 1 night's trekking and camping such as: hiking pants (long trousers; quick-drying); long-sleeved shirts (quick-dry); T-shirts and shorts to wear at the campsite (in winter, bring warm clothes); swimsuits; 1 pair of non Gore-Tex (NOT- waterproof) hiking boots or trail running shoes; 1 pair of flip-flops for camping; 1 shower towel; 2-3 pairs of socks.
The Oxalis Adventure Consultant in charge of your tour will advise you carefully on the items you need to bring on the tour, and you can learn more about the "List of items visitors need to prepare" here.
Adventure level on tour
After many years of adventure tourism activities, Oxalis Adventure has created a Level of Adventure scale to help guests participating in Oxalis tours to visualize and choose the adventure tour most suitable for their fitness and health. This scale is not to be applied to other companies or tours with different conditions and terrains. The easiest level (level 1) anyone can join, and the most difficult level - 6 requires regular exercise and some trekking experience. Those who play sports or do some exercise can complete this tour.
Adventure Level 2 · Easy
Requires: Basic fitness, some sports activities
Number of guests per tour:Maximum of 10; 16 years of age or older
Expect: Easy trails, some rocky sections, short ladder climb and optional swim
2 days 1 night
Easy to moderate trekking
12km of trekking including up to 2km of caving
300m elevation gain
1km swimming in the caves
Descend 15m ladder in cave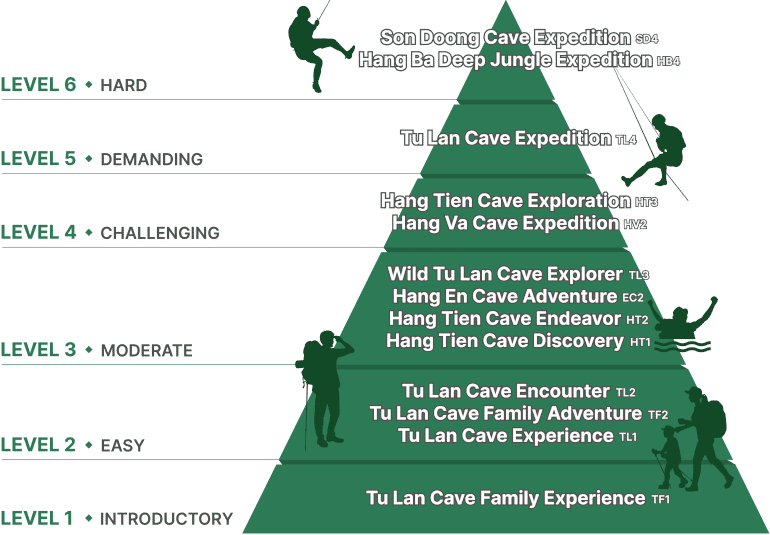 Communication on tour
The Tu Lan Cave Encounter Tour is a unique adventure tour with some difficulty, located deep in the forest, far from outside support such as medical assistance, hospitals etc.
The trekking tour follows jungle trails, with hills up and down, and no paths are suitable for vehicles. There is no phone signal, no wifi, and no charging facilities. Each Oxalis caving adventure is equipped with 1 satellite phone for the guide to contact the office in case of emergency. Guests can only use the internet and phone at the hotel before and after the Oxalis tours. While trekking in the mountains and exploring the caves, the safety team will communicate with each other by walkie-talkie if necessary.
Oxalis Adventure has an established "Emergency Response Protocol" that includes on-site first aid and rescue if an accident occurs during trekking or caving tours. We organize many training courses for first aid, rescue, and evacuation, and have rescue teams for each tour operation area. The specialized equipment is imported from abroad and complies with European standards. Due to the remote location, rescue teams and medical assistants will take from 30 minutes to 2 hours to reach the location. Therefore, the safety of visitors is the top priority of Oxalis in any activities related to caving in Vietnam. For Experts and Sales consultants to give suitable advice, guests are required to fill in their fitness and health information in the Booking form honestly. They are also required to update the information to the Oxalis consultant 45 days before the tour departure.
Safety on the tour
This is always the top priority of Oxalis Adventure to ensure the safety of both visitors and Oxalis' staff on any trip, including multi day adventures. We only use high-quality equipment meeting international standards, mainly imported from France, the UK, and Switzerland. The tour guides must undergo professional training and be tested for skills regularly. Only qualified guides may lead an Oxalis tour. Visitors can learn about the "safety management" and " safety equipmen" that Oxalis uses here.
Dangers, risks and how to avoid them on tour
Any adventure activities will always contain risks and these must be carefully managed. Oxalis tours take place in remote locations without easy access to medical care. Hence a lot of work goes into managing and reducing risks to the lowest level possible. Please always follow the instructions of the tour guide and safety assistants.
You can learn more about "Adventure Safety Tips" here.
Campsites in tour
The campsite for the Tu Lan Cave Encounter is located in the most beautiful camping spot of the Tu Lan area - Tu Lan Valley. The valley has a waterfall about 5m high pouring out from Ken Cave to form a large natural pool where you relax and enjoy the cool water. On the opposite side is a natural sandy beach where our campsite is located. Here deep in the valley of a primeval forest, you can hear the birds chirping, or watch the clouds hanging over the limestone cliffs above Ken Cave entrance.
The average temperature in winter is around 15 to 18 degrees, and in summer from 30 to 38 degrees Celsius. Customers are provided with warm sleeping bags in the winter or a battery-powered fan in the tent during summer months. More information about "The campsites at the Tu Lan Cave System ".
Bathing at the campsite
All campsites of Tu Lan Adventure tours are located close to a river, lake or waterfall. Customers are free to swim at the camps. Oxalis staff will carry out lifeguard duties to ensure the safety of customers. At the campsites, Oxalis has prepared a number of water tanks to store clean water in case the river water is brown due to heavy rain. To protect water resources, shampoo or conditioner are not allowed to be used in the river or pools, and must be discharged onto the sandy area of the campsite. Environmental friendly biological shampoo is required on tour.
Toilet at campsites
The Tu Lan Cave Encounter tour is situated in remote areas without electricity or modern infrastructure. To protect the environment and maintain hygiene at the campsites and throughout the tour, Oxalis has created an eco-friendly toilet called "Oxalis Composting Toilets".
The toilet is inside a tent, and consists of a normal toilet seat on top of a box. Inside the box, is a bucket and waste bag to collect all waste and toilet paper which is provided. Nearby is a container of rice husks. After finishing, cover the waste with a generous scoop of rice husks. This ensures a dry composting process, which does not smell, and covers the waste from insects.
When the buckets are full, the porters will change them and bury the waste in a designated location in the jungle. This will biodegrade and turn into fertilizer.
Visitors are required to use the composting toilets for both urination and defecation. Urination outside the toilet or inside the cave is not allowed because of the smell and impact on cave formations and the cave ecosystem.
Hand washing facilities are provided.
Directions to Phong Nha
Phong Nha is located 45 km from Dong Hoi City, the capital of Quang Binh Province (about 40 minutes by car). You just need to get to Dong Hoi, and Oxalis staff can arrange the rest. You can book a carpool/private car service from Oxalis to pick you up at the airport or train station, or you can hire a taxi. There are many ways to get to Dong Hoi such as a plane, train or sleeper bus.
* Visa: Vietnam provides visa exemption for citizens of ASEAN countries (30 days), and 15 days for citizens of (United Kingdom, Sweden, Denmark, Finland, Norway, France, Germany, Spain, Italy, Belarus, Russia).
* International airports: There are 3 main international airports for international flights: Tan Son Nhat International Airport (SGN), Noi Bai International airport (HAN) and Da Nang International Airport (DAD). From Ho Chi Minh City (Saigon) or Ha Noi, travellers can book domestic flights to Dong Hoi Airport (VDH). From Da Nang, traveler can catch a train or bus to Dong Hoi/Phong Nha.
Airplanes: There are many flights with Vietnam Airlines, Vietjet, Pacific Airlines, and Bamboo Airways, daily from Hanoi and Ho Chi Minh to Dong Hoi.
Trains: Many SE trains run daily from Hanoi and Ho Chi Minh City stopping at Dong Hoi Station.
Bus: There are many day or night buses from Hanoi, Da Nang, and Hue to Dong Hoi or Phong Nha daily.
You can see more details of "transportation to Phong Nha" here.
Tour booking process
This is an adventure tour in Vietnam and requires a lot of logistic support. To avoid disappointment and complications, guests should choose the best tour for their fitness, abilities and interests. Reading the tour information carefully will help visitors make the right choice for their trips. The booking process includes the following steps:
Visitors carefully read the tour program and self-assess their health and physical fitness. Appropriate training and preparation may be necessary.
Guests carefully read the tour highlights and activities to ensure they choose the tour that most interests them.
Guests fill in their personal information on the booking form themselves. They are asked to give honest answers about their fitness and health.
After the reservation is made, the Oxalis consultant will contact you within 48 hours to review the information and give guidance for the next steps. If you have not received any news from Oxalis' within 48 hours, please give us a direct call or check the spam box in case Oxalis' emails are in there.
After approval, guests will be asked to pay 100% of the tour cost to confirm the booking.
Leading up to the departure, your Oxalis consultant will regularly contact you to support you with the preparation of items as well as physical fitness. Or you can contact us for questions.
45 days before departure, guests are asked to update their health and fitness to Oxalis.
Tour price and available dates for booking
Due to limited capacity and to minimize the effect on the environment and ecosystem of Tu Lan, the Tu Lan Cave Encounter tour has a limited number of visitors each year. The tours are open for sale on a fixed schedule and individuals can join by themselves or in a group. In addition, Oxalis also has a few private tours for special groups or film crews. Please see the departure schedule in the calendar box below, the dates in bold are the dates available. If you do not see the calendar box appear, please wait a few seconds or press F5.
The date in bold is the first date of the tour schedule.
Terms of tour cancellation
To confirm the booking, visitors will be asked to pay 100% of the tour price. Guests may cancel the trip 7 days prior to the departure date and receive a full refund. For cancellations after 7 days, no refund will be given. Please see more refund and cancellation terms here.
Tu Lan Cave Encounter tour price includes
The Tu Lan Cave Encounter tour price is 5,500,000 VND (US$237) per person, this tour price includes VAT (10%), entrance fee and forest environment service fee. The tour includes the following services:
Logistics: Each tour of 10 guests will have: 1 guide, 1 safety assistant, 1 cook, 2 kitchen assistants and 4 porters, cleaning and maintenance costs for the whole route.
Meals: Oxalis provides food, tea and coffee for visitors during the journey (excluding extra requests by guests). The dishes follow a fixed menu. There are vegetarian or vegan options available. Please request in advance.
Safety equipment: Oxalis will provide safety equipment such as helmets, harnesses, headlamps, gloves and other safety equipment.
Travel insurance: Oxalis buys travel insurance for all guests participating in the tour with a maximum compensation of 10,000,000 VND. Visitors are advised to purchase their own comprehensive travel insurance prior to joining the tour.