XIỀU OXALIS
Quang Binh Province is located in a unique position at the narrowest part of Vietnam. It is only 50km wide from the Eastern coast to the Vietnam – Laos border.
During the Vietnam War, Vietnamese soldiers and Laotian people considered each other as family members. The making-friend ceremony is called Xiều. For years, the people of Phong Nha have been trading and exchanging with people from other villages along the Vietnam – Laos border, they also called each other Xiều (my friends, my brothers). Gradually, it has become a slang word local people use to call their friends and relatives in a dearest way. If you have ever joined Oxalis's tours, you may have heard Oxalis guides and porters call each other as Xiều.
The entire company is inspired by a unique motto that we hope our customers will experience when choosing Oxalis:
"Arrive as our guest, leave as our Xieu"
Indeed, at the end of every Oxalis adventure, many of our customers and staff became close friends and consider each other as their dear family members. It is with good will and a friendly nature, that Oxalis always wants to make Xiều with our adventurers, and always looks forward to our Xiều coming back to join another exciting adventure with Oxalis, to see how well Oxalis has grown and to see their dear friends again.
To create more of this precious cordiality, Oxalis Adventure has launched a programme called Xiều Oxalis. This offers special privileges that only Xiều Oxalis will get, such as a 10% discount for our tours, including:
How to become a Xiều?
You just need to join any of Oxalis's tours to become a Xiều and receive special gifts from us. If you have joined our tours before, now you are our Xiều!
Oxalis Xieu applies for all Quang Binh people (place of origin is in Quang Binh).
Contact us when you book a new tour to verify yourself as a Xiều and enjoy your benefits!
Once a Xiều, Always a Xiều!
5% Discount for Friends of Xiều Oxalis
Oxalis is excited to introduce the "5% Discount for Friends of Xiều Oxalis" program. If you are a friend of Xiều, and you have not participate in Oxalis' tours before, you can enjoy a 5% discount when you book an Oxalis adventure tour or use Oxalis Holiday services.
How to apply discount
Xiều will provide you their booking code which you can use when making a reservation. Simply enter the code in the "promo code" box to receive the discount.
Conditions
To be eligible for the 5% discount, you must be a new customer of Oxalis. If you have joined with Oxalis Adventure tours before, you will receive a 10% discount as part of Xiều's regular policy.
Once Oxalis confirms the valid promo code and your first-time participation in the Oxalis tour, you will receive the 5% discount.
Please note that this policy only applies to new bookings made from 1st March 2023 onwards. Bookings made before this date are not eligible for this discount.
Free service for Xiều
"Xiều" is a word that Phong Nha locals use to call their close friends and family members. At Oxalis, we call our guests who have been and will be participating in Oxalis tours as "Xiều" to show our goodwill in bringing the best experience to our customers. Therefore, once you become a Xieu, you are offered many free services that only Xieu Oxalis get.
Below are 3 free services for Oxalis Xieu that you should know to enjoy your adventure in Phong Nha, Vietnam at its best.
1. Free Dorm-room Beds in Phong Nha:
Oxalis offers free dorm-room beds for our Xieu who arrive early in the morning and need to rest for a couple of hours before tours.Oxalis dorm rooms are fully equipped with air-conditioner, bunk beds, TV, mini fridge, electric fans, wardrobe, toilet and bathroom. There is also a storage for you to leave luggage that you don't need on the tour. You need only notify Oxalis Adventure consultant before going on the tour. All of these services are free of charge for our Xiều.
Staying in the dorm rooms is very convenient for you since Oxalis tour van and guide will come and pick you up from here. To use this service, please notify your Oxalis Adventure consultant in advance.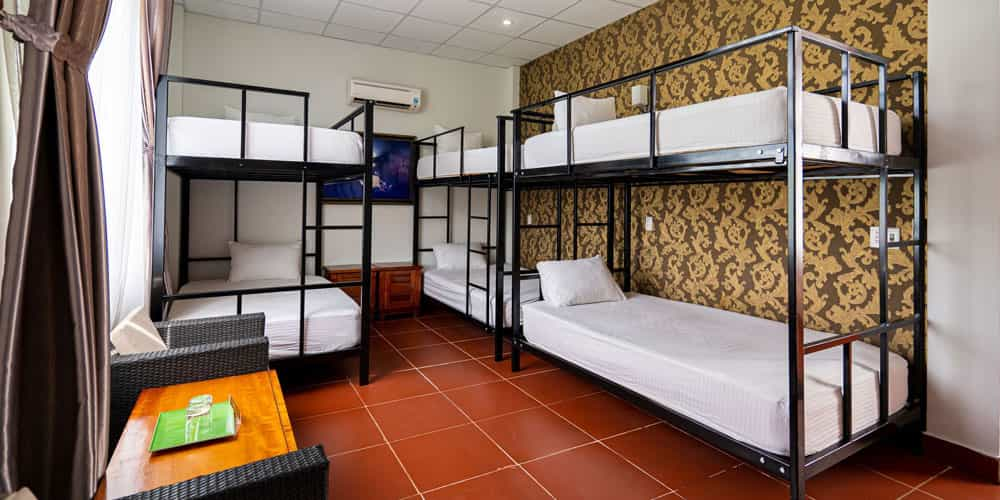 2. Showers After Tour:
When the tour finishes, you may have a shower before boarding the train or bus. You can use bathrooms and toilets at both Oxalis offices; in Tan Hoa and Phong Nha.
3. Free Son river beach - Phong Nha
The Son River is a highlight of Phong Nha, swimming in the river is truly refreshing while enjoying the scenery. However, there are only a few swimming spots. Fortunately, right in the backyard of the Oxalis Phong Nha office, you can go swimming at a private "beach" with a fantastic view of the mountains. Especially, if you are an Oxalis Xieu, you can swim here or use the sunloungers on the beach for free at any time.You can also order food, refreshing drinks and cold beer (with charge) at the Oxalis Home Cafe.
No reservation is required, just inform the staff of Oxalis Home Café when you arrive.