Getting Ready Oxalis Tour
It is essential to train and prepare for a good physical fitness before any Oxalis tours. Oxalis adventure tour is the combination of a variety of activities such as: jungle trekking, river crossing/wading, rocky mountain/vertical hills climbing, life lining/ abseiling, swimming in caves, trekking through different terrains in a certain amount of time. For instance, in order to conquer Hang En - one of the biggest caves in the world, guests will have an 11 km of jungle trekking; numerous time of river crossing; 1,6 km of caving in rocky terrains… Therefore, physical fitness is essential to Oxalis Adventure tour and that is the reason why Oxalis strongly suggest that customers need to be well training and commit to prepare physically to enjoy the tours to the fullest.
All Oxalis Adventure tours are designed based on a Level of Adventure system. This Adventure Level system is to help guests to visualize and choose the most suitable adventure tour for their fitness and health. These levels are based on several years of collecting information from guests, cave experts and Oxalis management staff.
This scale is not to be applied to other companies or tours with different conditions and terrains. The easiest level (level 1) anyone can join, and the most difficult level - 6 requires regular exercise and some trekking experience. Those who regularly practice sports or regularly participate in mountain climbing and trekking tours in the forest can complete these tours easily.
All Oxalis tours are designed for all who enjoy outdoor activities and like to experience nature in general. The difficulty of the tour is based on the physical fitness and health of average active people, not runners or athletes or intensively active people. Among the thousands of guests who have joined Oxalis Tours, there were many who thought that the tours were not really difficult while others thought thatt the difficulty level fitted them. However, many other people who completed the trip needed to expend a lot of effort and required support from the safety assistants. The important thing is to be honest about your fitness and experience, and do the necessary training.
To answer the question of how to prepare for the adventure tours of Oxalis, as well as how to make the necessary physical preparation to be able to complete all activities of the tour safely, Oxalis Adventure would like to present you with the following information:
Who can join the expedition tour?
Oxalis tour has 6 different adventure levels for different tours from Level 1 (Introductory) to Level 6 (Hard). For each level, customers will need to have different training and preparation.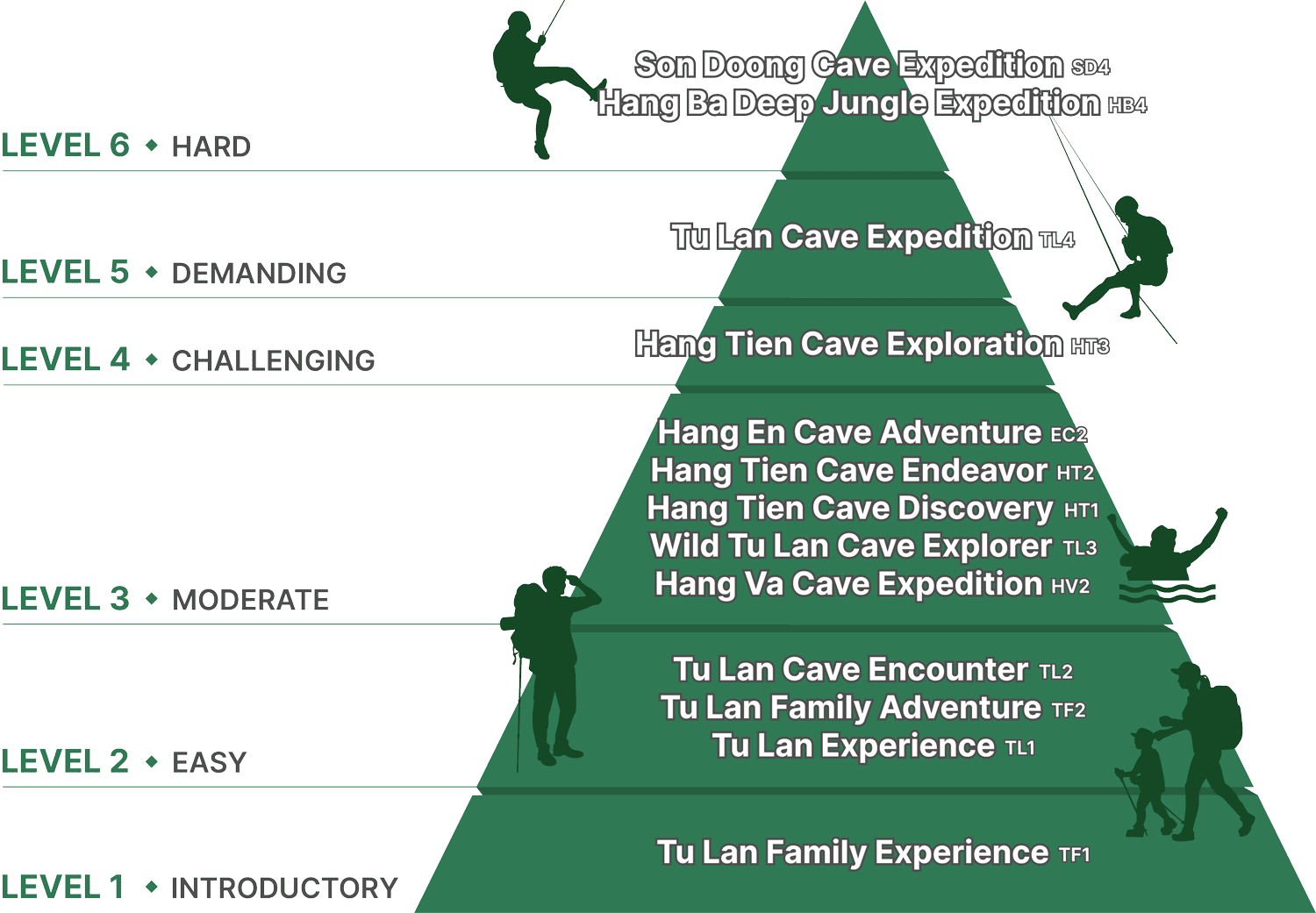 Those who regularly practice sports or regularly participate in mountain climbing and trekking tours in the forest can take part in tours from level 1 to level 4 such as Hang Tien Endeavor, Tu Lan Encounter, Hang Va Expedition and could easily complete these tours.
Tours from Level 5 to 6 like Son Doong Expedition, Tu Lan Expedition, Hang Ba Deep Jungle Expedition are for the individuals above the age of 18 years who are physically active with regular trekking experience. All those who have experience in trekking, have good physical strength and regularly practice sports, will not find it too difficult to complete the above tours. Some of the basic fitness requirements for Oxalis adventure tours are: exercise to improve cardio endurance, strength endurance, and being comfortable carrying a daypack uphill for long periods of time.
Specific examples of are:
People who runs 5-10km per day (pace 6-8 minutes/km)
Ironman 7.0, VMM athletes often complete trail runs or half-marathons (21km and completed in under 7 hours).
Visitors who regularly participate in hiking activities without physical or health problems: Easternmost point of Vietnam 2 days 1 night, Bach Moc Luong Tu, Pu Si Lung, Fansipan (trekking path), or other treks in Vietnam and abroad.
Visitors who participate in other strenuous activities such as mountain biking, rock climbing, ski touring.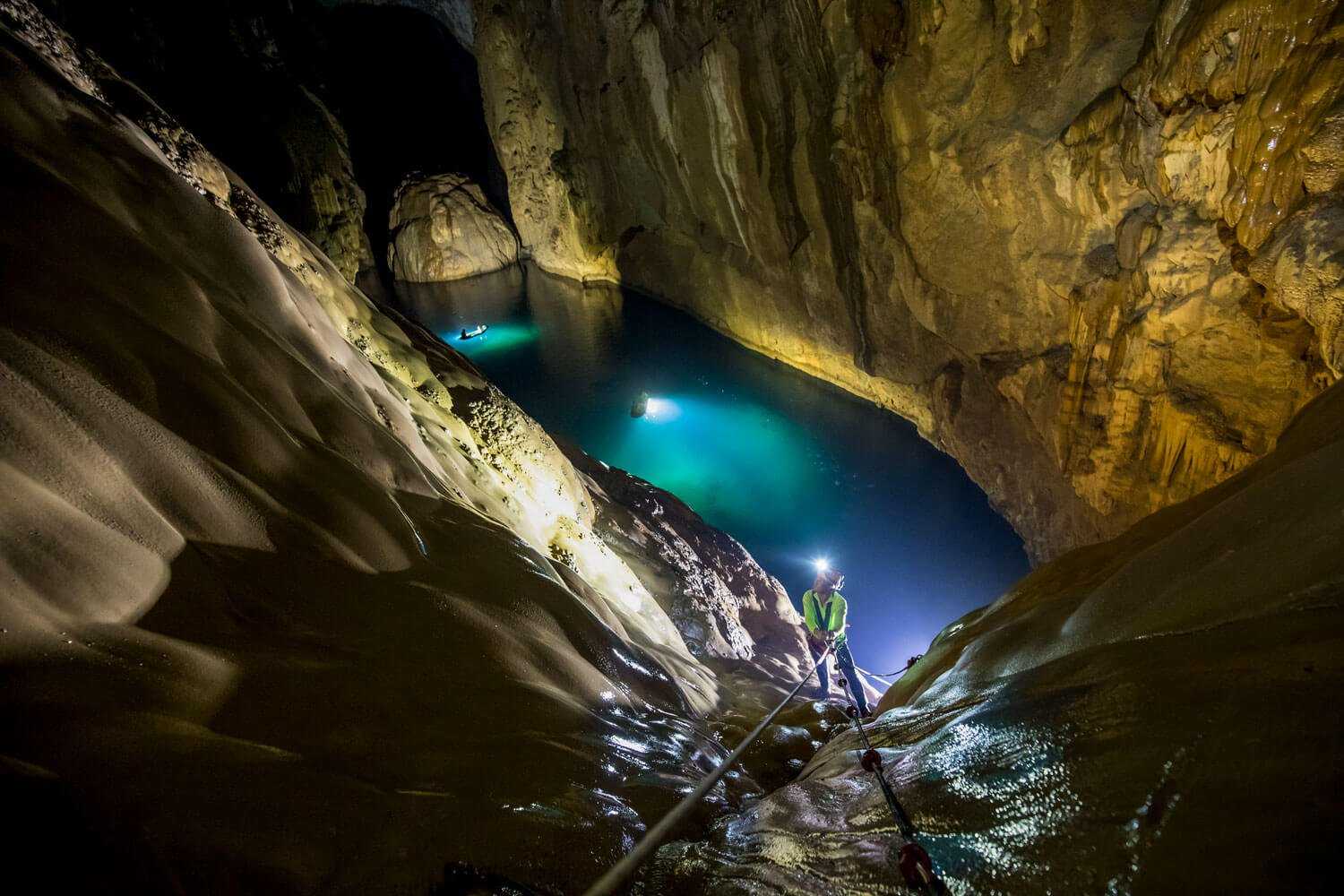 What training is needed for beginners to go on the Oxalis adventure tour?
Those who are first time trekking, have no experience in jungle trekking or caving and have never done an adventure tour before, if you are wondering what physical fitness that you need to prepare, please refer the instructions below:
Stair climbing: Every day when you go to work, take the stairs instead of taking the elevator (if the building you work is 10 floors, then do it 3 times per week). You should do it regularly up to the point when you go from the 1st floor to the 10th floor without getting too out of breath. This exercise not only helps you with better preparation for the expedition but also improves your physical health.
Running/jogging: You can spend time jogging/running 3 - 4 times per week, 3 - 5km per time. You can practice regularly until you can run 5km continuously without resting and within 45 minutes (no dizziness, no shortness of breath). We recommend running/jogging outside rather than in the gym.
Join in different trekking trips: You can participate in a day trekking trip, and increase the difficulty after each trip. Trails such as hills or steep and rocky terrain will help you get used to trekking. In the South of Vietnam, you can join trekking routes such as Chua Chan mountain, VN most eastern point, or the easiest one is Ta Nang Phan Dung 2 days 1 night combining with Ba Den mountain, Trekking Bidoup National Park, or trekking routes in the Northwest of VN such as: Sa Pa, Ha Giang, Yen Bai and many other destinations. Or to make it simple, you can join in with Oxalis Adventure tours such as Tu Lan, Hang Tien, Hang Va to gain more experience and become our "xieu" to receive 10% discount of the tour money.
Swimming: In order for you to enjoy experiencing all of the swimming activities in the cave or water activities at the campsites of Tu Lan or Hang Ba, without any struggle or difficulty, Oxalis recommends that you take swimming lessons. Customers do not have to be a professional swimmer. However it would be great if you know how to swim, stand in the water, and not be afraid of water. According to the recommendations of the cave experts, you can practice breaststroke and you should get used to swimming with life jackets at the same time.
Which medical conditions stop you from joining the Oxalis Expedition tour?
For some undergoing medical treatments, Oxalis might ask you to consult your doctor to ensure the trek will not harm your health during the expedition. Oxalis also needs to know about any medication you will be taking on the tour.
The tour area is located in the deep jungle, in the core zone of the National Park and away from medical assistance, doctors and hospitals therefore, some of medical problems or accidents if any cannot easily be treated, and evacuation is a major undertaking.
If a medical condition is managed successfully by medication, or has been successfully treated, that should not be a problem. If a guest is actively undergoing treatment, they may be asked to wait until the treatment is completed, or provide a document from their doctor to confirm they are fit enough.
Our questionnaire is extensive, and we ask you to fill it in yourself, and not ask someone else to do it. You should appreciate that all adventure activities carry risk, even if you are healthy. If you fail to disclose any medical condition, you may be putting yourself and the rest of the team at risk. Oxalis' only aim is for everyone to have a safe and enjoyable tour.
Oxalis reserves the right to refuse anyone who because of their medical condition is seen as a high risk of becoming ill or having an accident on tour.
If the medical condition has been cured, can I still join the expedition?
If your medical condition has been cured, or is being well managed with medication, you should be able to join the expedition. Please inform Oxalis in order to receive the best advice and support.
Here, hopefully you have a clearer idea of the difficulty level of the tours as well as the physical requirements to prepare for your journey. If you find yourself physically fit to participate in Hard tours but still unconfident, you can sign up for "Easier" tours according to the Adventure Level pyramid as a test to your fitness and endurance. Case in point, if you are physically strong enough but hesitate to join Son Doong expedition, Oxalis encourages you to try out tours such as: Hang Tien Expedition (HT3), Hang Tien Endeavor (HT2) or Hang Va Expedition compatible with challenging on Oxalis' Adventure Level. Taking part in these tours in advance, not only can you assess your fitness, but you can also increase your confidence to sign up for tours with higher difficulty.
Additionally, Oxalis Adventure tours have a fixed schedule and each individual can book and join with others from mid-November to around mid-September and from mid-December to late August every year. Besides, due to the weather condition and ecological restoration, Oxalis also has a limited number of tour participants per year such as: 1000 visitors for Son Doong tour, 600 guests for Tu Lan Expedition tour, 1500 guests for Hang Va Expedition,... Therefore, it is possible that those tours are fully booked, you can start practicing and training from now on in the meantime whilst waiting for an available spot.
Those above are some basic suggestions from Oxalis on how you should prepare for the Son Doong trip as well as some advice on activities to get yourself ready, physically. To learn more you can contact the Oxalis Adventure consultant for more support. Oxalis consultants are always online on the Oxalis Adventure website and on social media channels such as Facebook and Instagram to give you the assistance that you need.
The Oxalis Adventure.