Hang Tien Endeavor Tour
Hang Tien Endeavor Tour is a challenging adventure tour, where guests will explore two largest dry caves of the Tu Lan System, Hang Tien 1 & 2. They are well-known for giant stalactites, and big cave passages, the tour also includes one night camping.
Hang Tien is the largest dry cave in the Tu Lan System, and is located in Cao Quang Commune, Tuyen Hoa District, Quang Binh Province, Vietnam. This is about 70 km from Phong Nha – Ke Bang National Park. Hang Tien is famous for its natural beauty with special cave formations such as gour pools.
The unique features of the trip are:
Explore: Fun Cave, Tien 1 and Tien 2 Caves - the final caves of the Tu Lan Cave System. Discover the impressive and unique cave ceiling dome, the large gour pools – a special kind of cave formation resembling rice terraces, and many stalactites.
Experience the "flying fox" inside Hang Tien 1: a safety system used to cross the stream in case of high water (normally crossed by walking). This is an impressive experience for most visitors of the Hang Tien Endeavor Tour.
Hang Tien Campsite: one of the dreamiest campsites next to the river with stunning views. Enjoy the "natural infinity swimming pool" where the underground river from Tu Lan wells up right next to the campsite. This is a lake beneath a small limestone cliff, formed naturally with an "infinity view" as described by many guests. Do not ignore this opportunity in this tour - Hang Tien Endeavor.
Itinerary
The itinerary of exploration tours can be changed due to weather conditions. The jungle trail during the exploration trip can be quite muddy and slippery when it rains.
Phong Nha - Tan Hoa Commune - Fun Cave - Tien Cave Campsite
From 07:30 to 08:00 AM on the departure day of Hang Tien Endeavor Tour, the tour guide and driver will pick you up at hotels around Phong Nha town to drive to Tan Hoa Commune for the safety briefing and packing. After signing the Release form, you will receive the necessary safety equipment and set off for the caving tour.
After warming up with an ascent of a small hill, you will overcome some rocky terrain, and trek downhill to a small valley, there will be a short steep peak to conquer before reaching Fun Cave – an interesting dry cave also known as a "warm-up" cave in this caving and jungle trekking tour. You will also stop at the other end of the cave for a picnic lunch prepared by our porters. After Fun Cave, you will carry on down to Hang Tien campsite, where it is time for you to have a break, enjoy the scenery and get ready for a swim at a "natural infinity swimming pool". Enjoy a cool bath surrounded by beautiful scenery before returning to the idyllic camp for a hot cup of coffee or tea before sunset. A delicious dinner will be served soon by the amazing porter chefs. You may linger after dining or return to the tents for a comfortable night.
Hang Tien 1 & 2 - Phong Nha
After breakfast at the camp, guests continue to walk through the jungle and over a very rocky path to reach Hang Tien 1. You will be amazed by the vast entrance with a high roof, and tall calcite formations covered with plants and mosses. Marvel at the circular ceiling dome inside. At the end of Hang Tien Cave, you will be equipped with safety harnesses to climb up a 10m high ladder, leading to the cave exit. After about 30 minutes of trekking through the forest from Hang Tien 1, you reach Hang Tien 2. Pass through a small entrance and spiral down to a huge passage, containing a floor of fine terraces, cave pearls, and many formations.
Finishing Hang Tien 2, guests return to the entrance to have lunch and then conquer a rocky 300 meter high mountain before dropping down to the pickup point. Back at Tan Hoa office, there are plentiful showers (hot and cool) to refresh you; take a rest with a cold drink or have a look at Tu Lan Lodge - a newly built accommodation for 3 or 4 day tours to Tu Lan and Hang Tien.
The tour guide and driver will bring you back to Phong Nha town at around 7:00 to 7:30 pm, completing the Hang Tien Endeavor, a Vietnam adventure tour to explore the large dry caves of the Tu Lan Cave System.
Notice
On heavy rainy days, the water may turn brown with a strong current.
Enjoy the local cuisine during the trekking tour: food cooked by local chefs is one of the highlights of any Oxalis Adventure tour.
Starting from 2024, the HT2 tour will be extended to a 3-day-2-night tour, with an additional night at Tan Hoa homestay.
Day 2: Dinner with locals and overnight stay at Tan Hoa homestay
Instead of ending the tour and returning to Phong Nha at 6:00 PM, guests will stay overnight at Tan Hoa homestay. After checking in and getting a private room to freshen up, around 6:00 PM, the group will head to a local's house for dinner and chat about their daily life. Then, the group will return to the homestay for a restful night.
Day 3: Explore Tan Hoa village and other exciting experiences
Early in the morning, guests can explore Tan Hoa village and enjoy the sunrise over the Tan Hoa paddy fields by biking around. You can also enjoy breakfast at the Tu Lan Lodge resort. There are some off-program activities you can try below.
The homestay check-out time is at 12:00 PM, ending the tour and heading to the airport. The post-tour airport shuttle service from Tân Hoá is also included on this trip from 2024.
The tour price from 2024 is 8,700,000 VND/person. You can book now at the calendar below.
OFF-PROGRAM
Adventure enthusiasts can register for the ATV - Moto off-road tour to explore Lim forest and Kong's home, right at Tu Lan Lodge, for two hours. This is a sporty driving tourism activity that takes you up hills, across streams, and through the beautiful Lim forest, including King Kong's caves.
Weather and Climate in the Tu Lan - Hang Tien area
The Tu Lan - Hang Tien area has 4 seasons in a year (spring, summer, autumn, and winter). Due to the weather and for conservation, Hang Tien Endeavour tours are only operated from November to the end of September yearly.
From December to March the weather will sometimes be cold interspersed with sunny days.
April and May are spring months with cool air.
From June to August, are the warm months of summer. However, most of the time visitors trek under the forest canopy or inside the cave with a temperature of 22 to 25 degree Celsius. This is also a perfect time to enjoy the "infinity swimming pool" near the campsite.
Each season has its natural features to enjoy, and visitors can check the weather at Hang Tien or Tu Lan via Accuweather before joining an Oxalis Adventures caving tour.
Preparation for the Hang Tien
In order for you to have a great trip, Oxalis recommends you to take appropriate exercise to have good physical fitness. Furthermore, take time to prepare the items you need to bring. Anything extra can be stored in Oxalis Phong Nha Office and Tan Hoa Office.
Fitness preparation
The Hang Tien Endeavor is rated as level 3 (moderate) in the 6 level adventure scale of Oxalis Adventures, designed for people with a passion for experiencing nature. This trekking adventure scale is based on the physical fitness and health of average active people, not runners or athletes or intensively active people. Anyone can join these overnight adventures easily if they practice regularly. You can learn more about "the Physical Activities" advised by Oxalis Adventure for guests to complete before their adventure endeavor.
Items to bring on tour
The Hang Tien Endeavor Tour is a two day one night trip with different terrains and weather conditions, so guests need to be well prepared. They will be asked to have appropriate clothing for safety reasons, good for moving in the jungle, river crossing, or exploring the cave as well as avoiding dangers and risks from sharp rocks, snakes, insects, or poison ivy. Long trousers and long sleeved shirts should be worn for trekking. Trekking shoes play a very important role in Oxalis Adventure tours in Vietnam, such as this. Visitors must choose a good and well fitting pair of shoes for rocky steep mountains and should NOT buy waterproof footwear for river crossings as they will retain water. Please test your shoes before the trek. Besides, guests also need to prepare personal items for 1 night's camping in the jungle. The Oxalis Phong Nha tour consultant will give you helpful advice before joining the Hang Tien Endeavor Tour. You can learn more about the "List of items visitors need to prepare" here.
Provided by you (required)
Essential clothing
Backpack (20L)
1-2 quick-dry, bright, long-sleeved T-shirts
1-2 quick-dry trekking pant
1 waterproof jacket (in winter)
1 pair of trekking shoes with good drainage
1-2 pairs of calf-length, densely-woven socks
1 campsite clothing set
1 pair of sandals/slides for campsite
Swimwear
Accessories
Mosquito repellent
Sunglasses, sun hat, sunscreen
Mini fan
Personal items
Towel
Underwear
Nature-friendly shampoo & soap
Personal hygiene items
Power banks
Passport
Provided by Oxalis
Essential gear: camping, caving, and safety
Basic trekking shoes (size 36-46)
Meals included
Water bottle (1L) and filter
Compost toilet, toilet paper, hand cleaner
Guided tour with chef and porter team
Shared dry box and semi-dry bag (15L)
First aid and medical rescue equipment
Satellite phone
Portable fan (in summer)
Secure storage at office
Optional
Arm cover if wearing short-sleeved T-shirts
Camera & Tripod
Reusable bags for dirty clothes
Adventure level on tour
After many years of operating exploration adventure tours, Oxalis has created an adventure scale to help tourists visualize and choose the right caving trip for their fitness and health. This scale is not to be applied to other companies with different conditions and terrains. The easiest level anyone can join and the most difficult level 6 requires regular exercise and some trekking experience.
Adventure level: 3 - Moderate
Requires: Regular physical activities or sports
Number of guests per tour:Maximum of 10; 16 years of age or older
Activities: Rocky terrain, steep hills, long trek and short ladder climb
2 days 1 night
8km of trekking, 3.5km of caving
457m elevation gain
River crossings
Swimming in the natural stream
There will be some rocky terrain, steep hills and a 10m ladder climb with a safety rope, operated by the safety team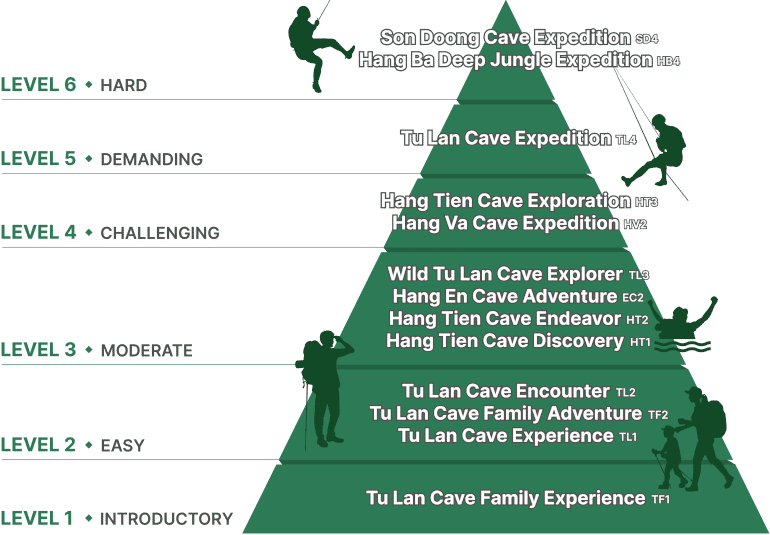 Communication on tour
Hang Tien - Quang Binh is operated in a remote forest with physical challenges, far away from external support such as medical assistance, hospitals etc.
The Hang Tien Endeavor Tour follows jungle trails, many hills up and down, and no paths are suitable for vehicles. There is no phone signal, no wifi, and no charging facilities. Each Oxalis cave tour is equipped with 1 satellite phone for the guide to contact the office in case of emergency. Guests can only use the internet and phone at the hotel before and after the Oxalis tours. During the tour, Oxalis staff will keep in touch by radio.
Safety on the tour
This is always the top priority of Oxalis Adventure to ensure the safety of both visitors and Oxalis' staff on any trip, including one night adventures. We only use high-quality equipment meeting international standards, mainly imported from France, the UK, and Switzerland. The tour guides must undergo professional training and be tested for skills regularly. Only qualified guides may lead an Oxalis tour. Visitors can learn about the "safety management" and " safety equipmen" that Oxalis uses here.
Oxalis Adventure has an established "Emergency Response Protocol" that includes on-site first aid and rescue if an accident occurs during trekking or cave exploration. We organize many training courses for first aid, rescue, and evacuation, and have rescue teams for each tour operation area. The specialized equipment is imported from abroad and complies with European standards. Due to the remote location, rescue teams and medical assistants will take from 30 minutes to 2 hours to reach the location. Therefore, the safety of visitors is the top priority of Oxalis in any activities related to caving in Vietnam. For Experts and Sales consultants to give suitable advice, guests are required to fill in their fitness and health information in the Booking form honestly. They are also required to update the information to the Oxalis consultant 45 days before the tour departure.
Travel safety tips
Any adventure activities will always contain risks and these must be carefully managed. Oxalis tours take place in remote locations without easy access to medical care. Hence a lot of work goes into managing and reducing risks to the lowest level possible.
You can learn more about "Adventure Safety Tips" here.
Campsites in tour
This is considered to be one of the most beautiful campgrounds that Oxalis has, located right on the riverbank, and also the point where the underground river emerges, on its way to the sea, creating the amazing "natural infinity swimming pool". The campsite in the valley has open views allowing visitors to contemplate the clear blue sky, millions of stars or the colorful dawn.
The average temperature in winter is about 15 to 18 degrees Celsius, and in summer it is from 30 to 38 degrees Celsius. Guests will be provided sleeping bags and warm mattresses for winter and solar-powered fans for summer. More information about the "unique campsites in Tu Lan Cave System" - camping inside Quang Binh forest is available here.
Bathing at the campsite
The campground on Hang Tien Endeavor Tour is located next to the river and pools so guests can swim here. All swimming activities are supervised by safety assistants. Soap and shampoo cannot be used in the rivers and pools. At the campsite are water storage tanks to store clean water for drinking and cooking. During heavy rain the river may turn brown and muddy. For conservation reasons, visitors must use bio-shampoos and soaps. Washing should be done at the campsite and not in the river.
Toilet at campsites
The tour occurs in a remote jungle with no power or infrastructure and for conservation and hygiene, Oxalis has created environmentally friendly toilets, called "Oxalis Composting Toilets".
The toilet consists of a normal toilet seat on top of a box. Inside the box, is a bucket and waste bag to collect all waste and toilet paper which is provided. Nearby is a container of rice husks. After finishing, cover the waste with a generous scoop of rice husks. This ensures a dry composting process, which does not smell, and covers the waste from insects.
When the buckets are full, the porters will change them and bury the waste in a designated location in the jungle. This will biodegrade and turn into fertilizer.
Visitors are required to use the composting toilets for both urination and defecation. Urination outside the toilet or inside the cave is not allowed because of the smell and impact on cave formations and the cave ecosystem.
Hand washing facilities are provided.
Directions to Phong Nha
Phong Nha is located 45 km from Dong Hoi City, Quang Binh, Vietnam (about 40 minutes by car). From there you can book a shared or private transfer from Oxalis or rent a taxi to get to Chay Lap Farmstay resort.
* Visa: Vietnam provides visa exemption for citizens of ASEAN countries (30 days), and 15 days for citizens of (United Kingdom, Sweden, Denmark, Finland, Norway, France, Germany, Spain, Italy, Belarus, Russia).
* International airports: There are 3 main international airports for international flights: Tan Son Nhat International Airport (SGN), Noi Bai International airport (HAN) and Da Nang International Airport (DAD). From Ho Chi Minh City (Saigon) or Ha Noi, travellers can book domestic flights to Dong Hoi Airport (VDH). From Da Nang, traveler can catch a train or bus to Dong Hoi/Phong Nha.
Airplanes: There are many flights with Vietnam Airlines, Vietjet, Pacific Airlines, and Bamboo Airways, daily from Hanoi and Ho Chi Minh to Dong Hoi.
Trains: Many SE trains run daily from Hanoi and Ho Chi Minh City stopping at Dong Hoi Station.
Bus: There are many day or night buses from Hanoi, Da Nang, and Hue to Dong Hoi or Phong Nha daily.
You can see more details of "transportation to Phong Nha" here.
Tour booking process
This is an adventure tour, and it requires a lot of logistic support. To avoid disappointment and complications, guests should choose the best tour for their fitness, abilities and interests. Reading the tour information carefully will help visitors make the right choice for their trips. The booking process includes the following steps:
Visitors carefully read the tour program and self-assess their health and physical fitness. Appropriate training and preparation may be necessary.
Guests carefully read the tour highlights and activities to ensure they choose the tour that most interests them.
Guests fill in the personal information on the booking form themselves. They are asked to give honest answers about their fitness and health.
After the reservation is made, the Oxalis consultant will contact you within 48 hours to review the information and give guidance for the next steps. If you have not received any news from Oxalis' within 48 hours, please give us a direct call or check the spam box in case Oxalis' emails are in there.
After approval, guests will be asked to pay 100% of the tour cost to confirm the booking.
Leading up to the departure, your Oxalis consultant will regularly contact you to support you with the preparation of items as well as physical fitness. Or you can contact us for questions.
45 days before departure, guests are asked to update their health and fitness to Oxalis.
Tour price and available dates for booking
The tour price for Hang Tien Endeavour is VND6,500,000 or US$280 per person. For conservation and safety at Tu Lan - Hang Tien, the tour has a limited annual number of visitors. The tours are operated from November to September (closed from September to October.) Tours depart on a fixed schedule and each individual can book and join with others. In addition, Oxalis also has a small number of tours for special groups or filming crews. Please see the tour departure schedule in the calendar below, the dates in bold are available. If you don't see the calendar appear, please wait a few seconds or press F5.
The date in bold is the first date of the tour schedule.
Terms of tour cancellation
After completing the reservation, visitors will be required to pay 100% of the tour cost to confirm the booking. Guests can receive a full refund if the cancellation is 7 days before departure. Any cancellations less than 7 days before the departure date are non-refundable. Please see more refund and cancellation terms here.
Hang Tien Endeavor Tour price includes
The tour prices includes VAT (10%), sightseeing fee, and environmental service fee along with the following services:
Logistics: Each 10-guest tour will have 1 tour guide, 2 safety assistants, 1 chef, 2 security guards, and 4 porters as well as food and camping equipment.
Food and Drink: Oxalis provides food, water, tea, and coffee during the journey (not including extra requirements). Dishes are based on fixed menus, vegetarian and vegan will be provided if ordered.
Safety equipment: Oxalis will provide safety equipment such as helmets, harnesses, headlights, gloves etc.
Travel insurance: Oxalis buys travel insurance for all guests participating in the tours with a maximum compensation of VND 10,000,000. Visitors are asked to buy comprehensive travel insurance for themselves before joining the tour.
FAQs
Best time to visit Quang Binh?

Each time, each season has its own beauty. The weather in Quang Binh in general goes through three seasons: end of winter, spring and summer. The cave tour to Hang En operates from December until the end of August every year. Throughout the season, depending on the time that you choose to visit Quang Binh, Hang En adventure tour will give you different experiences.

Do I need to know how to swim to join this tour?

You do not need to know how to swim to join this tour. If you like to swim, you are welcome to splash about in your choice of a large natural pools located next to campsite.

What can I do If I want to talk to/contact a consultant?

You can easily contact a consultant via chat box (on the right corner) on Oxalis website or email to: [email protected]; Hotline: +84-919900357.