Unearth the twin caves of Hang Tien, both with enormous entrances and staggering formations. Trek through the jungles, eat delicious, freshly prepared local food and sleep under the stars in a stunning campsite. This tour is for travelers who want to explore the two biggest caves in the Tu Lan system with only one night of camping.
Trek over jungle hills and mountains – and wade through rivers.
Explore the two biggest caves in the Tu Lan system.
Sleep in a picture-perfect campsite with water springs in the jungle.
Gaze up at the stars with one of the best views of the sky.
Tuck into freshly cooked meals during the journey, plus snacks.
Marvel at beautiful and unusual cave formations.
Two days exploring, one night camping.
Tours depart every Monday, Wednesday and Friday.
Group size: 10 people maximum.
Age: 16 years and above. 15 year olds with experience will be considered.
Distance: 8km trekking, 3.5km caving, 457m elevation gain, 10m ladder climb.
Difficulty: Level 3 • Moderate.
Itinerary (below) is subject to change with the weather. Paths can be slippery and muddy after rain.
Itinerary
Due to the weather conditions the itinerary may need to be changed at short notice. The paths can be muddy and slippery after rain.
Day 1: Phong Nha – Tan Hoa – Fun Cave – Hang Tien Campsite
07:30 - 08:00 Pick up and one-hour drive on Day 1 to the Oxalis Adventure office in Tan Hoa, located 70km from Phong Nha. Here you will have a tour safety briefing, sign the release form and receive the required equipment for the tour.
The trek starts off with a steep uphill section, leading into the jungle. Some rocky sections over the top to Hang Fun and then a similarly steep descent before the trail levels off and you enter the valley. After 15 minutes you will reach your campsite and the natural swimming pool. Spend the evening enjoying the dinner prepared by your porter team. Play some cards, chat or just enjoy the natural sights and sounds.
Day 2: Hang Tien Campsite – Hang Tien 1 – Hang Tien 2 – Tan Hoa – Phong Nha
In the morning the trail is a large jumble of rocks to pick your way over, with the help and direction of the guide and safety team. As you enter the cave you will appreciate the full size of the passage. Plants and algae cover many of the calcite formations. Further into the cave you will see splendid cave features such as a ceiling dome, and multiple layers of rock, giving the walls a stripy appearance. A 10m ladder will be climbed up with a safety rope, and a short distance later you will see the end of the cave, an opening into the jungle.
Continue into the jungle valley and trek for around 30 minutes to the second cave. A small opening with swirling stripy patterns on the walls drops into a much larger passage filled with calcite formations.
Enjoy lunch in the jungle after finishing the second cave. The final challenge of the Expedition now follows. Enjoy the lunch served in a small valley on the way and climb up around 200m on a rocky trail. Take your time, this is not a race. From the top the descent is initially steep and rocky, and up and down, but soon joins an old logging trail, and then a fairly flat forest walks back to the road. Here you will be picked up with a welcome cold drink.
Return to the office for a welcome shower.
Transfer to Phong Nha arriving around 19:00.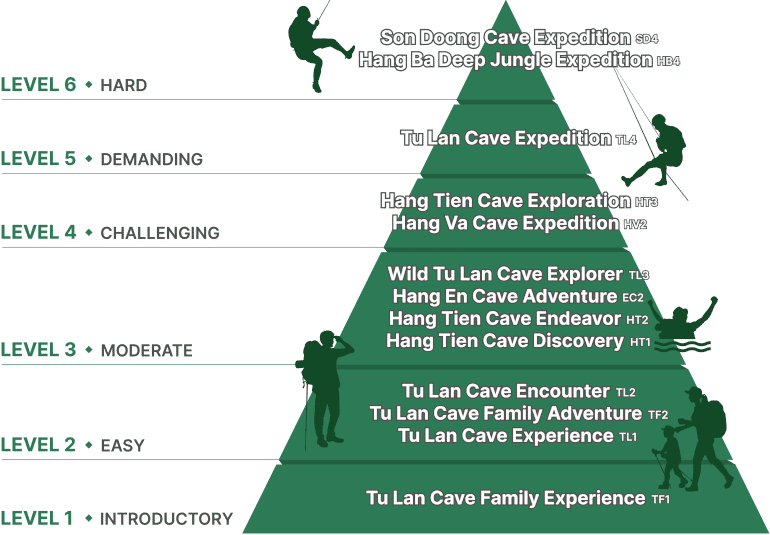 Hang Tien Endeavor 2 Days
Adventure Level 3 · Moderate
Requires: Regular physical activities or sports
Expect: Rocky terrain, steep hills, long trek and short ladder climb
2-day tour
8km of trekking, 3.5km of caving
457m elevation gain
River crossings
Swimming in the natural stream
There will be some rocky terrain, steep hills and a 10m ladder climb with a safety rope, operated by the safety team
Preparations
Please visit our FAQ general page to read our specific What to Bring list before departing for Vietnam and your cave expedition.
WE WILL PROVIDE
Camping gear: tent, camp light, sleeping bag, mattresses, pillow
Caving & safety gear: caving helmet, caving headlight, gloves
Light PVC backpack (if you do not want to take your own, as it will get wet)
Meals: Picnic lunch (Day 1 & 2), Breakfast (Day 2), Dinner (Day 1)
Basic canvas trekking boots (only if you do not have your own pair) sizes 36 – 46
Professional English-speaking tour guide and safety assistants
Porter team to carry all camping gear and prepare all meals
Shared dry box for phones and small cameras (limited availability for larger cameras)
Water filter (used only by guide and porters)
Basic camping facilities with eco-friendly compost toilet using western toilet seat
First Aid Kit and Medical Rescue Equipment (application by guides and porters only)
Secure Storage Facility at Oxalis Headquarters to store all luggage you will not be taking on the trek
YOU WILL NEED TO BRING
1 long (easy to dry) pants and 1 long sleeved shirt to wear during the trek (quick dry)
1 pair of shorts and t-shirt to wear at campsite plus your swim suit.
1 pair of trekking boots/shoes – difficult terrain, good footwear necessary
1 pair of flip flop (sandals) for campsite
1 medium size towel
1 backpack to hold personal items
2 – 3 pairs of calf length densely woven socks (not ankle socks)
1 change of clothes for after the tour
1 set of camp clothes (shorts are okay for around camp; please bring a fleece in winter)
Medium size backpack (25 L) for your water bottle, personal belongings and provided caving helmet
Personal items:mosquito repellent, sunscreen, sunglasses, hat, camera, underwears, toiletries
Tour price is USD 280 or VND 6,500,000.

The days in bold below are available (Day 1 in the itinerary).

This tour is operated from mid-Nov to mid-Sep next year (closed from mid-Sep to mid-Nov).

This tour price includes: VAT, environmental service fee, entrance fees, travel insurance cost.

10% off for Xiều (returned customer).