Phong Nha - Ke Bang National Park And Its Value
Overview of Phong Nha - Ke Bang National Park
Phong Nha - Ke Bang National Park is a World Natural Heritage site located at 17°21′ to 17°39′ north latitude and from 105°57′ to 106°24′ east longitude, covering the communes of Tan Trach, Thuong Trach, Phuc Trach, Xuan Trach and Phong Nha town, Bo Trach District, Quang Binh Province, Vietnam. Phong Nha Cave entrance has the coordinates 17°34'54.15"S and 106°16'58.83"W. The area of Phong Nha National Park is 123,326 ha, including 3 zones: strict protection zone (100,296 ha), ecological restoration zone (19,619 ha), and administrative service zone (3,411 ha)). Especially to mention the 7 best things about Phong Nha: The highest and widest cave mouth, the most beautiful reef sand, the most beautiful underground river, the most beautiful underground lake, the most magical and magnificent stalactite, the widest and most beautiful dry cave, the longest water cave.
In 2002, UNESCO recognized Phong Nha - Ke Bang National Park as a World Natural Heritage according to geological and geomorphological criteria. On July 3, 2015, the Nation park was recognized by UNESCO for the second time as a World Natural Heritage based on biodiversity criteria.
Map of Phong Nha - Ke Bang National Park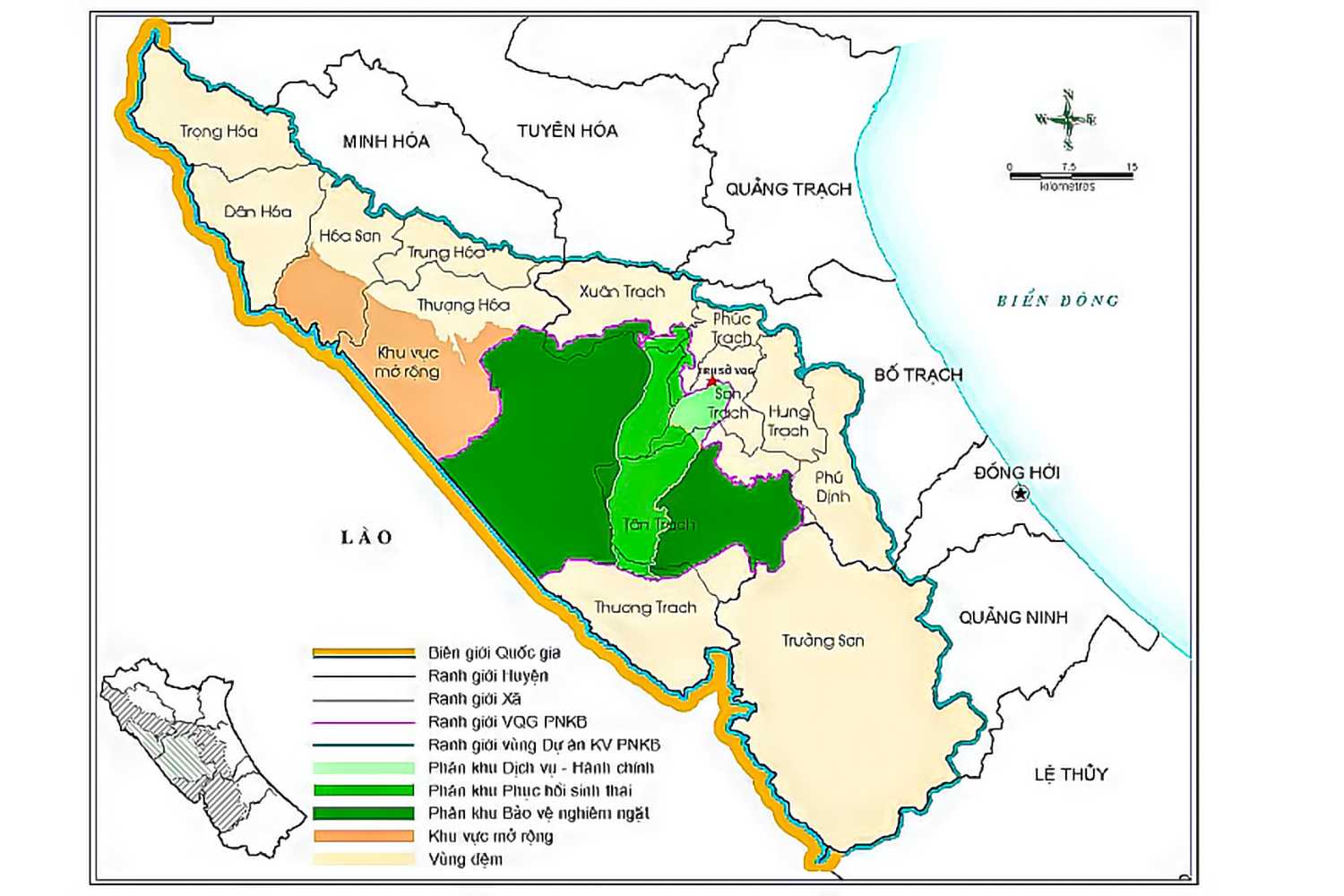 Why is it named Phong Nha - Ke Bang?
When it was Xuan Son Nature Reserve, people only thought about preserving an area with high biodiversity density within 5000 hectares under the State management of the Ministry of Forestry (later the Ministry of Agriculture and Rural Development). The governmental department that directly studies biodiversity resources is the Forestry Planning Institute - Center for forest resources and environment. Within the reserve, Phong Nha Cave contains both landscape elements and the prehistoric cultural heritage of the Vietnamese and Cham cultures, so it has been visited since the French period. At this stage, the tourism sector was assigned to the Department of Culture and Information to manage.
In 1995, the Department of Culture and Information held a National Workshop on promoting the natural and cultural values of Xuan Son Nature Reserve, with the participation of UNESCO representatives. At that workshop, Deputy Dr. Nguyen Khac Thai presented a paper entitled: "An expanded view of Xuan Son Nature Reserve and proposed an extension named "Phong Nha - Ke Bang", thus shaping it into a national park in the future.
Why must it be a national park?
The initial value determined for Xuan Son Nature Reserve is biodiversity. However, this diverse ecosystem is not limited to 5000 hectares; including the expansion of 41,000 hectares of the Reserve. But it is for the large ecological area occupying both sides of the East and West Truong Son including 400,000 hectares, of which Quang Binh (Vietnam) covers 200,000 and Kham Muon (Laos) is 200,000. All living organisms have an area to live, forage for food (animals) and spread genetic resources (plants) to the entire area, so if only the Xuan Son area is limited, the remaining areas, which are not protected, will be exploited, thus biodiversity will be gradually diminished. Therefore, it must be extended to all the space in which genetic resources exist.
Beyond the scope of Xuan Son Nature Reserve, there are two other values that this Nature Reserve cannot protect, which are geological, karst-specific geomorphology, and landscape values (cave system). Forest ecology and landscape, those two values lie within and beyond the area of 41,000 ha, therefore need to be expanded.
With 3 great values, having such global significance, the level of "CONSERVATION AREA" is not enough administrative sanctions, functions and tasks for management, so it must be raised to National Park.
The meaning of the name
The Phong Nha - Ke Bang National Park must ensure that the area is large enough to satisfy the criterion of "Integrity of heritage", that is, to include all the heritage values for full protection to be recognized by UNESCO. Meanwhile, expanding the area to 147,000 hectares of the core zone and 200,000 hectares of the buffer zone, including Bo Trach, Minh Hoa, one of Quang Trach and Quang Ninh, Dong Hoi, what name should be used for the national park? Therefore, Mr. Nguyen Khac Thai proposed to take a place name indicating the mountainous area in the Northwest of Quang Binh as "Ke Bang" as the name. Ke Bang is an ancient village. In the past, all ancient villages had names with two leading words, either "Ke", or "Co" (Like Co Giang, Co Lac, "Ke Sot"...). This village later ceased to exist and the people of this area used that name to call the mountain area on it - Ke Bang.
And why attach Phong Nha? Because Phong Nha is a small village, the reputation of Phong Nha Cave dates back to the French period while Ke Bang is unknown. So attach a famous place for everyone to know.
History of Phong Nha - Ke Bang National Park
The cave systems in Phong Nha area were formed by geological tectonics activities in the Ke Bang limestone mountain range. Specifically, the karst tectonics of Phong Nha Area was formed 400 million years ago, from the Paleozoic period, so this is the oldest karst in Asia. Through important tectonic periods, the faulting, folding, and bedrock movement phases have successively created overlapping mountain ranges due to the uplift movement and sedimentary basins thanks to the subsidence movement, contributed to the causes of creating the diversity of topography - geomorphology, geology, hydrological network and the interesting and diverse of caves for Phong Nha limestone formations. from the Devonian to the Carboniferous - Trecmi.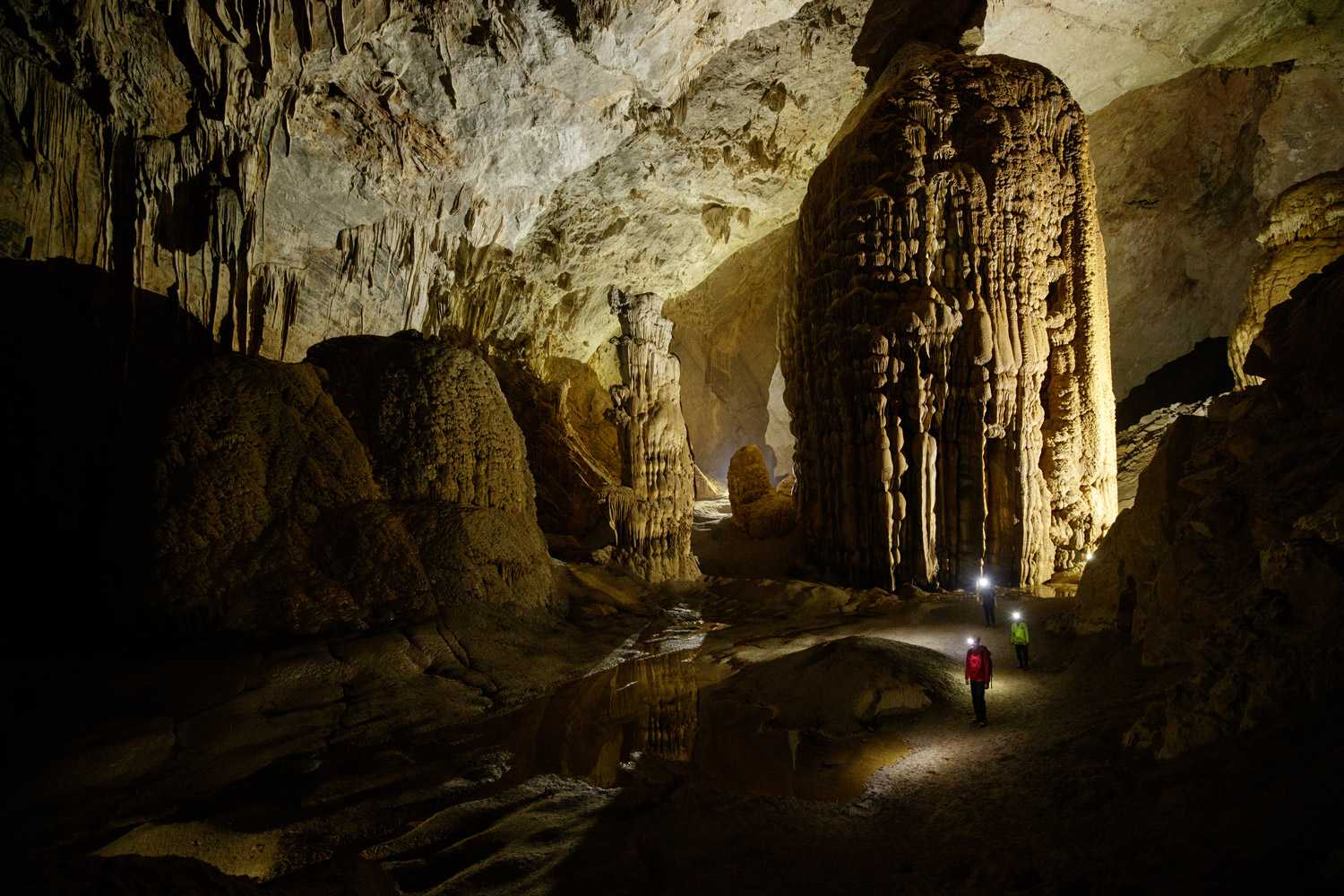 Son Doong Cave the biggest cave located in the core zone of Phong Nha - Ke Bang National Park.
The present Phong Nha area is the result of 5 major periods in the history of the development of the Earth's crust in the area:
Late Ordovician - Early Silurian (450 million years)
Middle and Late Devonian Period (approximately 340 million years)
Coal Age - Permian (300 million years)
Orogen phase
Cenozoic period (250-65 million years)
The initial cause can be mentioned as the upwelling activity of volcanic intrusive blocks younger than limestone. The blocks, along with raising the limestone layer to the height today, also gave rise to earthquakes, faults and volcanoes. At the intersection of faults or major fault zones and volcanic eruptions, it will transform limestone into quicklime (CaO) that is easily soluble in water, and at the same time brought into the cracks and faults of the crushed limestone, pebbles, volcanic lava and groundwater. This lava in the aquatic environment will be turned into mud, clay - soft kaolin that is easily affected by water washed away or settles into cracks and holes because the density is heavier than limestone from 0.3 - 0 ,4 g/cm3. Water has played a cleaning role inside the cave, the valleys between the limestone mountains (washed away mud, quicklime, mud, clay - kaolin) and formed the speleothems (stalagmites, stalagmites, rim stone, etc) inside the caves.
Phong Nha National Park, formerly known as Xuan Son special-use forest, was established under Decision No. 194/CT dated August 9, 1986 of the Chairman of the Council of Ministers (currently the Prime Minister), decided to establish a Cultural and Historical Zone with a total area of 5,000 ha. Xuan Son is the first special-use forest of Quang Binh in order to preserve the primeval forest ecosystem on limestone mountains, and at the same time associated with the historical relics of the Vietnamese people.
In 1993: Xuan Son special-use forest was changed to Phong Nha Nature Reserve according to Decision 964/QD-UB dated December 5, 1993 of the People's Committee of Quang Binh province with a total area of 41,132 ha.
In 1999: The National Park was invested to expand the area including Ke Bang limestone mountains to the northwest and proposed to adjust the management classification from nature reserve to National Park.
In 2001: National Park was established under Decision 189/TTg of the Prime Minister on 12/12/2001. According to the Prime Minister's Decision, the National Park has a total area of 85,754 ha, of which the Strict Protection Zone has an area of 64,894 ha, the Ecological Restoration Zone has an area of 17,449 ha and the Administrative Division main service area is 3,411 ha. After being adjusted to the national park, the organization of the Management Board of the Conservation Area has also been adjusted to the National Park Management Board according to Decision 24/QD-UB of the People's Committee of Quang Binh Province dated March 20, 2002.
In 2003: At the 27th plenary meeting of the World Heritage Committee at UNESCO Headquarters (Paris) from June 30 to July 5, 2003, UNESCO officially recognized Phong Nha - Ke Bang National Park as a Natural World Heritage Site by criterion VIII: Globally outstanding geological, geomorphological and geographical values.
In 2009: Phong Nha was recognized as a special National Monument under Decision 1272/QD-TTg 12/8/2009 of the Prime Minister.
In 2012: Quang Binh People's Committee issued Decision No. 36/2012/QD-UBND dated December 28, 2012 on regulating functions, powers, duties and organizational structure of Phong Nha - Ke Bang National Park Management Board (replacing Decision 65/2003/QD-UB 28/11/2003 Quang Binh People's Committee on reorganization of National Park Management Board).
In 2013: Prime Minister issued Decision No. 1062/QD-TTg dated July 5, 2013 on adjusting the boundary of National Park from 85,754 ha to a total area of 123,326 ha (increasing 30,570 ha).
In 2015: The 39th meeting took place on 3/7/2015, in Bonn, Federal Republic of Germany, with the consensus of member countries of the World Heritage Committee (WHC), Phong Nha – Ke Bang National Park has been recognized on the World Heritage List by the United Nations Scientific, Educational and Cultural Organizations (UNESCO) for the second time with 2 new criteria: Outstanding value representing ecological progress in the evolution and development of terrestrial ecosystems (criteria IX); Possessing natural habitats makes the most sense for biodiversity conservation (criteria X).
Phong Nha - Ke Bang National Park's Cave system
Phong Nha cave system has a total length of over 45km, emerging from the south of Ke Bang limestone mountains. The main entrance of this system is Hang En and Hang Khe Ry located at an altitude of about 300m above sea level, and finally Phong Nha Cave with a total length of about 45 km. The caves in this system are scattered from northeast to southwest direction, running in the form of branches, including caves:
Dark Cave: located on the upper Son River with a length of 5,258 m and 83 m high, 736 m long.
Tra An Cave: 667m long and 15m high.
Thung Cave: a cave with an underground river flowing 3351m long.
Hang En Cave: 1,6km long and the highest point in the ceiling is 140m, with a long sandy beach and a lake inside, the habitat of the Swallow.
Khe Tien Cave: 520m long, located to the south of Phong Nha.
Khe Ry Cave: located to the south of Phong Nha
Khe Thi Cave.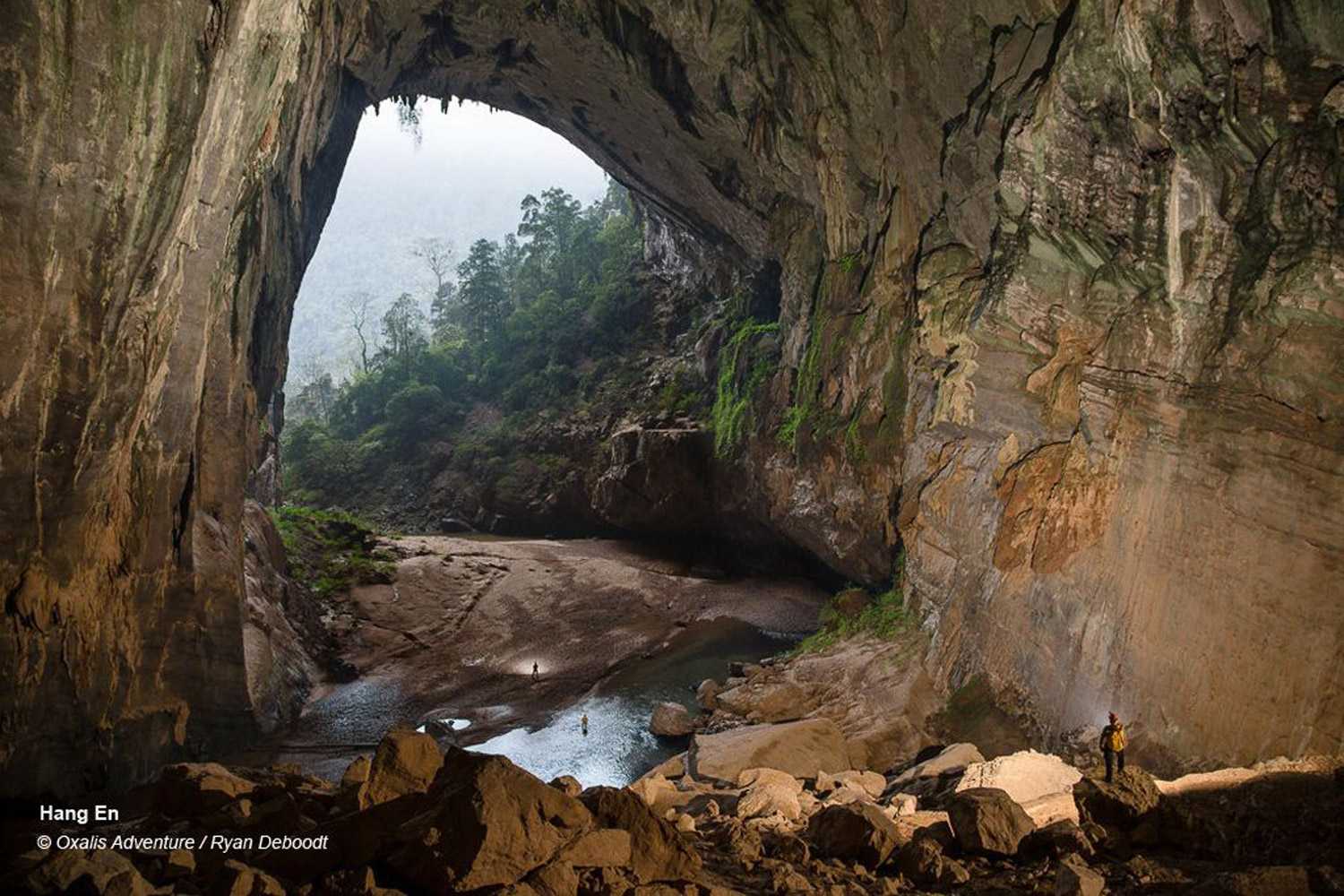 Hang En, one of the biggest cave located in Phong Nha - Ke Bang National Park.
Vom cave system
Hang Vom: 15.05km long, 145m high, with many beautiful stalactites
Dai Cao Cave: 1645 m long and 28 m high located in the high protected zone.
Hang Duot: 3,927m long, 45m high, the cave has a fine sandy beach
Ca Cave: 1,500 m long, 62 m high.
Tiger Cave: approximately,616 m long and 46 m high
Over cave: 3,244 m long and 103 high with a width of about 30–50 m.
Pygmy Cave: 845 m long.
Cave Ruc Ca Roong: Home to the Arem minority who live in caves and hunter-gatherers naturally.
Conservation activities
In order to strengthen the management and sustain the conservation of geological - geomorphological values, ecosystems and globally threatened flora and fauna in the Phong Nha heritage area; At the same time, developing sustainable eco-tourism and contributing to improving economic benefits, a number of conservation works have been implemented such as:
Disseminating information, propagating the law and raising awareness: Integrating it into villages community activities; maintaining conservation clubs on site; distributing media materials and publications, placing propaganda posters; organizing extracurricular activities at schools in the buffer zone; training in communication skills, biodiversity conservation for collaborators in communes and teachers of secondary schools in the buffer zone; organizing conferences at all levels to propagate wildlife protection, Phong Nha forest protection and management... Besides, tourism operators also conduct environmental impact assessments and environmental monitoring in accordance with regulations; planning the collection and treatment of waste at tourist destinations.
Patrol and handle violations: Strengthening detection and handling of acts of infringing upon biodiversity, in order to promptly prevent illegal resource exploitation activities and minimize other threats to the biodiversity of the National Park, such as logging, hunting wild animals, illegally entering the forest, building camps...
Conservation and coordination in biodiversity conservation: Deploying and implementing many topics and research works on biodiversity, in order to create solutions for conservation and ecosystem development. In addition, agencies and sectors have signed many regulations on coordination in forest protection, forest fire prevention and fighting, illegal transportation and trade of forest products, and fighting against other forms of smuggling through the forest border.
Wildlife rescue: In addition to receiving and rescuing thousands of wild animals (including many endangered and rare species such as Ha Tinh langur, brown-shanked douc, civet, siki gibbons, etc.), pangolins, small loris, monkeys, golden monkeys, turtles, pythons…) and released into the natural environment. This place also collects, supplements, and corrects samples of 169 plant species to serve as specimens for display and interpretation at the Botanical Garden.
Values of Phong Nha - Ke Bang National Park World Natural Heritage site
1. Geology - geomorphology values
This area contains evidence of the history of formation and tectonics of the Earth's crust with 5 tectonic processes from the Ordovician to Carboniferous - Permian. Phong Nha is part of a large dissected plateau, including the Ke Bang karst area and the Hin Namno National Park of Laos. This plateau is a typical example, bearing the most characteristic feature of the complex limestone topography in Southeast Asia. Limestone tectonics was formed in the Paleozoic period (more than 400 million years ago) and is the largest and oldest limestone area in Asia. It has two main terrain types, including karst and non-karst terrain. The feature of Ke Bang is that the core area is mostly limestone mountains (i.e. karst terrain, accounting for 2/3 of the area). Dubbed as the "Kingdom of Caves", Phong Nha area has more than 368 caves with a total length of over 231km that have been surveyed by the British - Vietnam Caving Expedition Team. Among those caves, Son Doong Cave is considered the largest cave in the world, and the discovered the deepest Karst sinkhole in Vietnam (with a depth of more than 255 m), possibly even the deepest in Southeast Asia.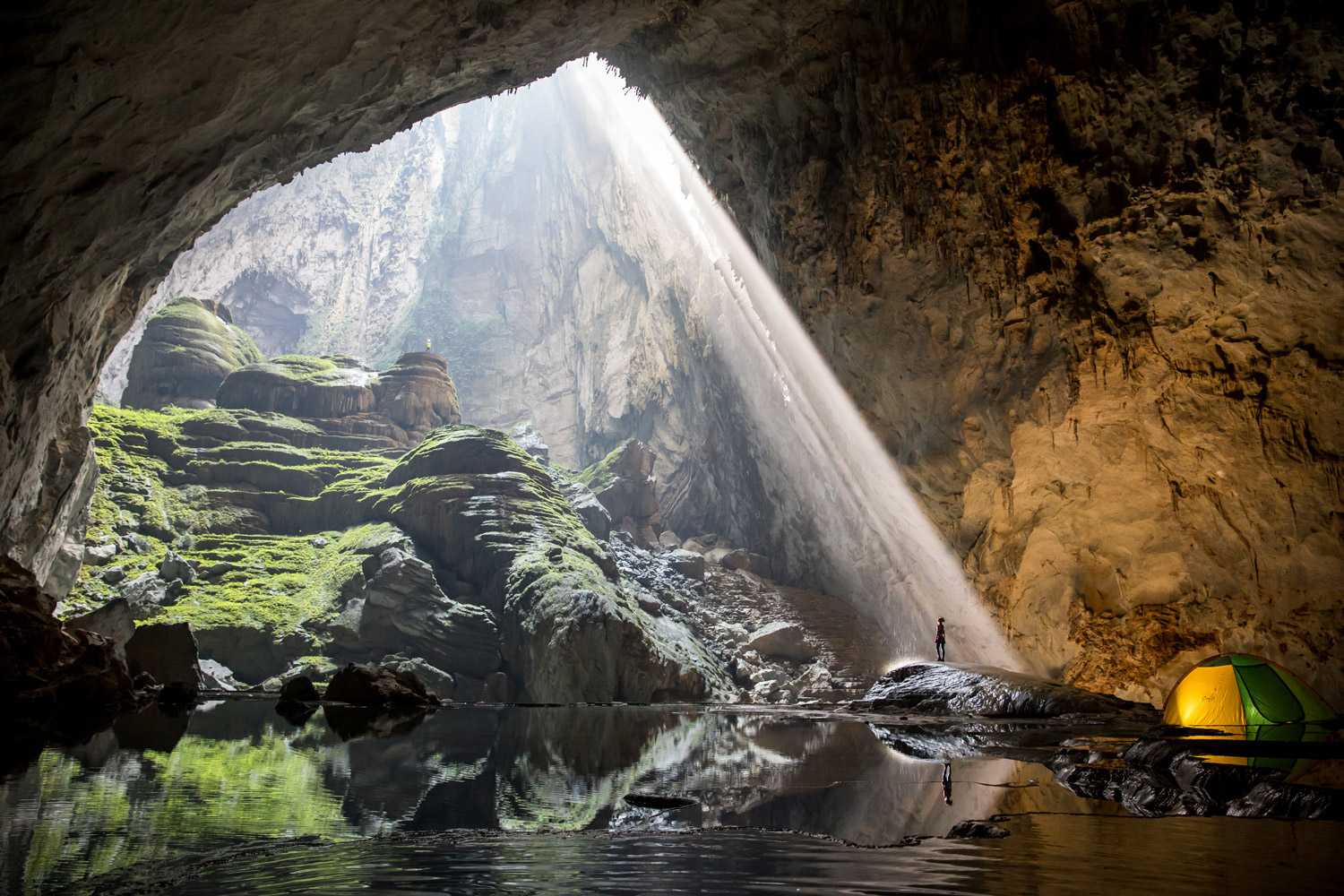 Son Doong cave not only known as the biggest cave in the world but also has typical geology value in the National Park.
2. About the ecosystem
Phong Nha - Ke Bang National Park owns 15 types of habitats with 10 important types of vegetation. Evergreen closed forest covers 93.5% of the area, in which, over 90% of the national park is a rare typical limestone karst tropical forest ecosystem that has remained mostly untouched. This is one of the national parks with the largest percentage of primary forest and the largest coverage in the system of special-use forests in Vietnam. In particular, the existence of a population of 500-year-old Bach Xanh (Calocedrus macrolepis), an area of about 4,000 ha, growing mainly on limestone mountains at an altitude of more than 600 m, is considered the most unique forest habitat of global importance, conservation needs and values. Bach Xanh is an ancient and endemic plant species of Vietnam, currently only remaining mainly in Phong Nha National Park.
3. About the diversity of animals in Phong Nha - Ke Bang National Park
There are 1,394 animal species of 835 genera, 289 families, 68 orders, 12 classes, 4 branches, of which 82 species are listed in the Vietnam Red Book; 116 species are listed in the IUCN Red Book; 39 species are listed in Decree No. 64/2019/ND-CP; 66 species are named CITES Appendices. In addition, in the past 20 years, 42 new species have been recorded and published worldwide, including 38 species of animals and 4 species of plants.
4. About plant diversity
It is recorded that 2,952 species of vascular plants belonging to 1,007 genera, 198 families, 63 orders, 12 classes, 6 branches, of which 111 species are listed in the Vietnam Red Book; 121 species are listed in the IUCN Red Book; 3 species are listed in Government's Decree No. 64/2019/ND-CP dated July 16, 2019.
5. About the value of cultural heritage - historical value
In Phong Nha Cave, there are vestiges of the altars of the Cham people who worship the God of the cave and a stone statue of Cham that has been broken for a long time.
In Rao cave in the Southeast of Rao Te, a tributary of Trooc river has many shells of mountain snails and freshwater snails mixed with turtle shells and animal bones. It is a vestige from the meals of the ancient Quang Binh people.
In Khe Tong cave on the right bank of Khe Gat, the cultural layer contains tools made from stone, with many hewn marks, snail shells, animal bones and broken pottery. The pottery here has a pattern of waves and rope marks, which proves that the ancient Quang Binh people had a high level of civilization.
Weather in Phong Nha area
Like the climate of the North Central region in general and Quang Binh province in particular, this national park is characterized by a tropical monsoon climate, hot and humid. The average annual temperature ranges from 23-25°C, with the highest being 41°C in the summer and the lowest being 6°C in the winter. The hottest period here is in June to August with an average temperature of 28 °C, while from December to February the average temperature is 18 °C. The average annual rainfall ranges from 2,000–2,500 mm, with 88% of the rainfall between July and December. Equivalent to more than 160 rainy days each year. Relative humidity is 84%.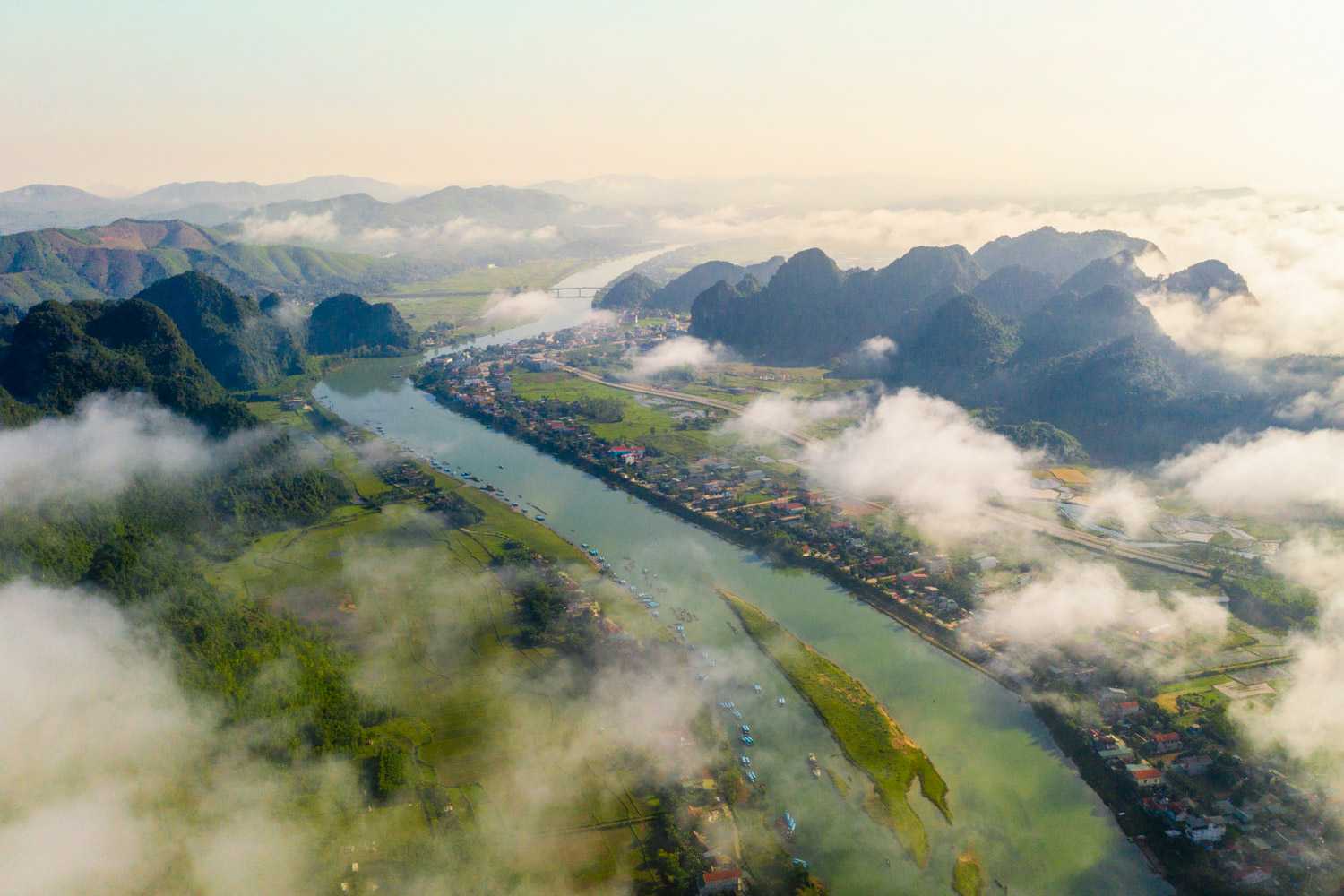 Phong Nha from above. Weather is ideally for an adventure of a lifetime.
Activities of Phong Nha - Ke Bang National Park Management Board
Currently, the Management Board has the following departments and agencies to assist the administration:
1. Organization And Administration Of The National Park
This Department has the function of advising and supporting the Director of the Park Management Board on personnel organizing, reward, discipline, regimes and policies for public employees and other laborers; administrative work, accounting work, militia and self-defense training, and other administration.
2. Financial Planning Division
The Planning and Finance Department has the function of advising and supporting the Director of the Park Management Board to perform tasks in the following areas: Formulating and implementing plans related to conservation and promotion of the National Park's values; manage tourism activities taking place in the National Park; invest in building and equipping facilities, implementing the policy of payment for forest environmental services in the National Park in accordance with the law.
3. Science International Cooperation Department
It has functions to advise and support the Director of the Park Management Board to carry out scientific research, information technology, transfer technical procedure and cooperate with international organizations in the field of biodiversity conservation, environment, geology, geomorphology, hydrology, historical and cultural relics and sustainable development of resources within the scope of the Park's activities.
4. Tourism Center
This is a business unit under the management board of Phong Nha National Park. Function as organizing and management of tourism activities and tourist services at tourist routes and attractions, including: Phong Nha Cave, Tien Son Cave, Memorial Temple of Truong Son Heroes and Martyrs, 20 Quyet Thang Street (Tam Co Cave), Nurse's Cave, Mooc Spring, Chay River - Dark Cave and other routes and tourist attractions approved by the Director The Garden Management Board assigned.
5. Center Of Rescuing , Conservation And Development
Functions as advising and assisting the Director of the Park Management Board in rescue, conservation, organism development and environmental education activities. Help raise awareness for the local community, tourists and other subjects when visiting, studying and researching at Phong Nha - Ke Bang National Park. In addition, this unit also organizes the reception and rescue of native species or species suitable to the natural habitat of National Park or species permitted for scientific research which is confiscated from law violations or voluntarily handed over by organizations and individuals. In addition, this center also raises and rescues, raises and semi-wild animals in order to be released back to the natural environment and for scientific research. At the same time, the animals that are eligible for release will be released back to their natural habitat after being rescued in the park. Transfer to other rescue facilities across the country for individuals that the Center does not have enough rescue conditions or is not suitable for the natural environment of National Park.
6. Forest Protection Department
Including the following functions: Organizing the protection of forest resources, combating deforestation; forest fire prevention; Prevention and control of forest pests and diseases in the forest area of Phong Nha - Ke Bang National Park. Inspect and handle violations of the law on forest protection and development in accordance with the law. Organizing and coordinate with local authorities and other functional agencies in the local communes in order to disseminate and educate the law and propagate local people to participate in forest protection; inspect and supervise production, business and travel activities of people and vehicles in the area managed by the County; detect, rectify and handle violations in accordance with the law.
Natural deposits of Phong Nha - Ke Bang National Park
Location: in Quang Binh province, central Vietnam; with geographical coordinates: 17021'12" to 7044'51" North latitude; 105046'33" to 106023'33" East longitude.
Area: 123,326 ha, including 03 zones: strictly protected zone (100,296 ha); ecological restoration zone (19,619 ha); administrative and service zone (3,411 ha).
The buffer zone covers an area of 219,855.34 ha belonging to 13 communes (including Dan Hoa, Hoa Son, Trung Hoa, Thuong Hoa, Trong Hoa communes in Minh Hoa district; Tan Trach, Thuong Trach, Xuan Trach, Phuc Trach communes). Phong Nha town (formerly Son Trach commune), Phu Dinh commune, Hung Trach commune in Bo Trach district and Truong Son commune in Quang Ninh district.
UNESCO Ranking: World Natural Heritage; criteria (viii) geology and geomorphology (2003); criteria (ix) ecosystem and (x) Biodiversity (2015).
National ranking: Special National Monument (in 2009).
Geology and geomorphology: Phong Nha - Ke Bang National Park is considered by experts as a huge geological museum with many rare values and global significance, with most of the area being limestone. This national park combines with the Hin Namno National Biodiversity Reserve in Kham Muon Province, Lao PDR, forming a large Karst block in Southeast Asia. This present landscape is the result of the development of 5 geological tectonic stages, from the Ordovician period (464 million years) to Quaternary. This has been evaluated and proven through the rich and diverse paleontological fossil complexes, representing many different stratigraphic ages.
Caves: Surveying and measuring 404 caves have been carried out with a total length of 220km; divided into three main systems: Phong Nha system, Vom system and Chay system. Phong Nha cave system is rated as the world's leading value because it retains the integrity of the values of geology - geomorphology, which was formed from the long-term process of tectonic crust of the Earth; The highlights are Son Doong cave, Phong Nha cave, Tien Son cave, Thien Duong and Hoa Huong cave, etc.
Hydrology: 03 main rivers include Chay river, Son river and Trooc river, which are supplied with main water sources from the system of underground karst rivers and streams flowing to points at En cave, Vom cave, Dark cave and Phong Nha cave...
Vegetation: Including 15 large habitat types with 21 important vegetation types. Evergreen closed forest covers 93.5% of the area, of which over 90% is the largest limestone karst tropical forest ecosystem in Southeast Asia and is almost unaffected.
Plants: Recorded 2,952 species of plants belonging to 1,006 genera, 198 families, 62 orders, 11 classes, 6 phyla, of which 112 species are recorded in the Vietnam Red Book, 121 species are recorded in the IUCN Red Book (Union for Conservation of Nature). Conservation International), 01 species is included in the CITES appendices (Convention on International Trade in Endangered Species of Wild Fauna and Flora), 03 species is included in Decree 64/2019/ND-CP.
Animals: Recorded 1,394 animal species belonging to 835 genera, 289 families, 66 orders, 12 classes, 4 phyla, of which 84 species are recorded in the Vietnam Red Book, 110 species are recorded in the World Red Book (IUCN - International Union for Conservation of Nature), 55 species listed in CITES appendices (Convention on International Trade in Endangered Species of Wild Fauna and Flora), 40 species listed in Decree 64/2019/ ND-CP. In which there are some rare and precious animals, such as Ha Tinh langur, brown-shanked douc langur, white-cheeked gibbon, saola, gill...
New Species: This area is home to many new species for early 21st century science; 42 new species have been announced globally, including 38 animal species and 04 plant species.
Buffer zone population: 68,501 people (as of December 2020); average population density of 19.96 people/km2
Ethnicity: In addition to Kinh people, accounting for 83.1% of the total population, there are many other ethnic groups living together in 2 main ethnic groups: Chut people (accounting for 4.3%, including Sach and May ethnic groups, Ruc, Arem) and Van Kieu people (12.6%, including Van Kieu, Khua, Ma Coong, Tri).
Historical - cultural relics: Xuan Son ferry, Ho Chi Minh Trail, 20 Quyet Thang street, Mu Gia pass, A.T.P, Tra Ang, Ca Tang, Chu A crab, Khe Ve, Tam Co cave, Nine Floor cave , Nguyen Van Troi ferry terminal, Tien Su temple self-coach.
Festivals and Traditional Culture: The Ma Coong Drum Festival is held on the 16th day of the first lunar month (lunar calendar) every year (in calendar year), in Thuong Trach commune; singing Tuong Boi of Kinh people in Khuong Ha (in Hung Trach commune); Full Moon Festival in March calendar in Minh Hoa; Hearing Temple Festival; New Rice Festival, Forest Opening Ceremony, Fairy Water Ceremony...
Archaeological sites: Recorded 33 archaeological sites dating from 3,000 to 12,000 years ago. Some typical sites in Phong Nha can be mentioned, such as: Bi Ky cave site in Phong Nha cave, including the Cham altar, 97 ancient characters carved on the cliffs, stone statues, pottery pieces and tablets containing information about Champa culture; The site in Hung Trach commune, Son Trach (now Phong Nha town) includes ceramic jars, earring, bronze ax blades containing information about Dong Son and Sa Huynh cultures.
Tourism activities of the Phong Nha - Ke Bang National Park
Phong Nha - Tien Son Cave
Paradise Cave
Chay River, Dark Cave, Mooc Spring Resor
Ozo Park tourist area
Botanic Gardens eco-tourism area
Survival valley, aquarium cave (Hang E) operated by Moc Nam company
Adventure tourism routes: Son Doong, Hang En, Hang Va, Hang Ba system, Dai Cao operated by Oxalis Adventure company
Tra Ang, Hang Over, Pygmy, and Hang Ho routes are operated by Jungle Boss company.
O Ro Hoan My cave is operated by Doan Gia company
How to get to Phong Nha - Ke Bang National Park from Dong Hoi
Motorbike: With a distance of 45 km from Dong Hoi city center along the east branch of Ho Chi Minh road, traveling by motorbike will take about 60 minutes.
By car: If traveling from Dong Hoi to Phong Nha along the east branch of Ho Chi Minh Road by car, you will only need 45-50 minutes.
Bus: Departing from the city center with a distance of 50km, the bus route from Dong Hoi to Phong Nha will take 65-70 minutes, and includes pick up and drop off times at waiting points.
The Oxalis Experience.