Chay Lap Farmstay
Chay Lap Farmstay location
Chay Lap Farmstay located at Chay Village, Phuc Trach Commune, Bo Trach District, Quang Binh Province, Vietnam. Formerly known as Rustic Chay Lap, it was built in 2011. This is the first community tourism development in Quang Binh and Phong Nha. In March 2016, the People's Committee of Quang Binh decided to allow Oxalis to take over and develop Chay Lap, with the goal of bringing income and improving the living standards of the local community while still retaining the rustic beauty of the Chay village (also known as Chay Lap town).
This farmstay has an area of 1.8ha, fully covered by jungle, due to its location at the entrance to one of the most famous World natural heritage sites - Phong Nha - Ke Bang National Park. Chay Lap Farmstay is located in one of the most beautiful locations near the National Park with access to many local attractions. While staying at Chay Lap Farmstay Quang Binh, the farmstay will offer tourists many opportunities for activities and interesting cultural experiences, leaving tourists from all over the world with memories and a good impression of a beautiful and hospitable Vietnam.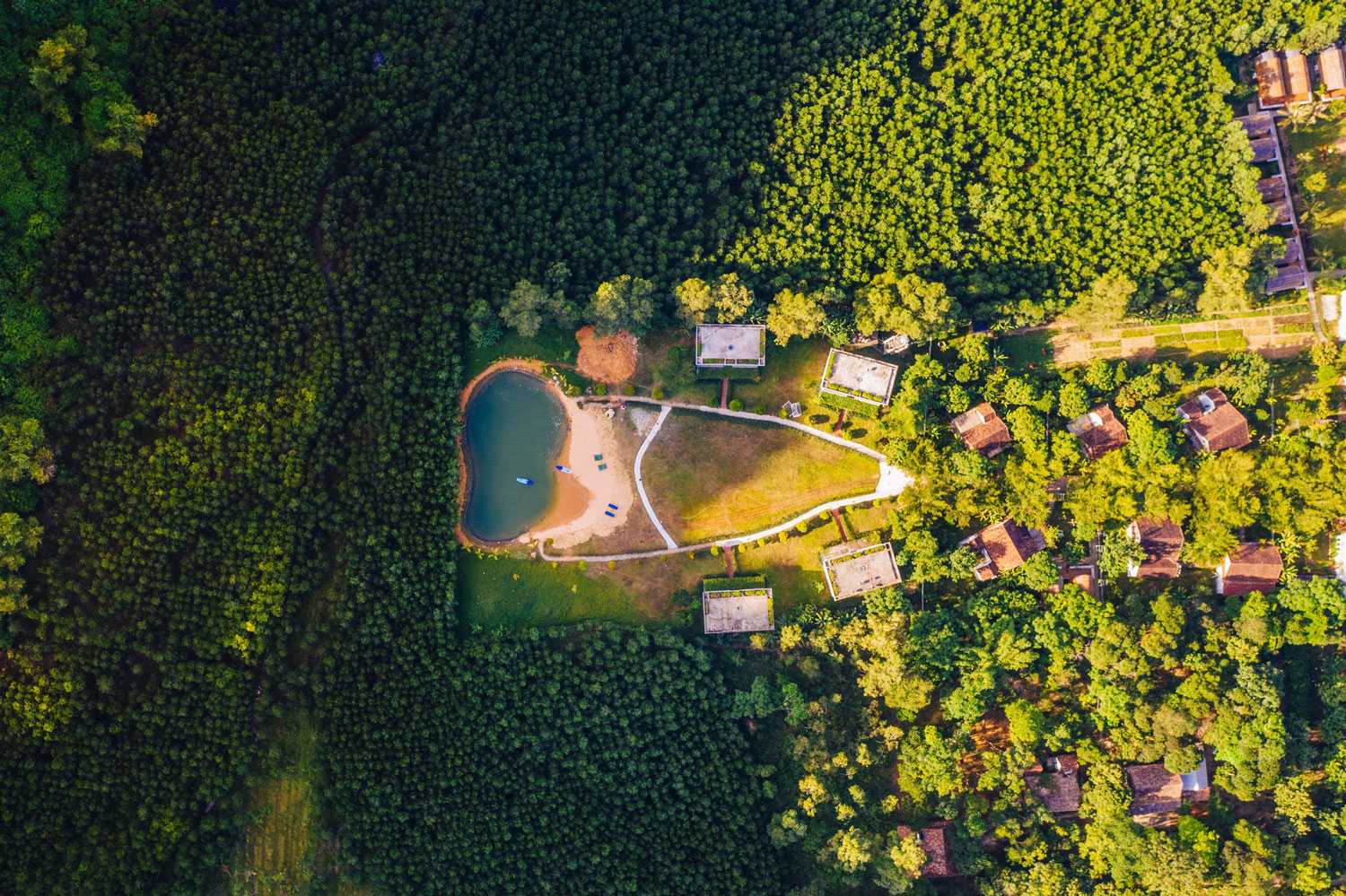 The overview of Chay Lap farmstay.
Room design
There are 41 standard rooms, all including a private bathroom and two way air conditioning for both summer and winter. Rooms follow three styles:
The Floating Farmhouse with the unique dome structure, clad in recycled pine wood, brings a cozy feeling and a gentle scent of pine. In front of the house is the wide lobby with chairs, providing an ideal space for guests to enjoy their favorite drinks and watch the sunrise or sunset from the green field stretching in front. The farmhouse was built of a steel frame and assembled wood, with empty drums underneath. During the flood season, the farmhouse will float on the surface of the water and guests are still able to stay normally.
The Garden house was named after local villages: Tram, Chay, Bau Sen, Rustic, surrounded by green gardens with open space. Each house has two to three rooms, many windows with garden views so guests can enjoy the fresh air. The house was designed with a private entrance and private living area. This is suitable for a group of families that want to stay in the same area. The front of each house has wide eaves with a sun lounger and outdoor dinner table, suitable for relaxing, sunbathing or working.
The two-floor Mountain house was built with modern architecture and basic decoration. The house has a view to the whole majestic mountains and jungles, this place offers private and quiet spaces, giving guests the feeling of immersion into nature. The room at the ground floor has a big window for natural light and a set of dining tables and chairs in front of the porch, giving guests a pleasant feeling when enjoying delicious meals in the room. Rooms on the second floor have a wide balcony, provided with comfortable chairs and tables to relax and enjoy the view of mountains around the house.
Chay Lap rooms rate will change depending on specific time of the year. You can find more information about rooms on Chay Lap Farmstay booking here: https://chaylapfarmstay.com/.
Chay Lap Farmstay is a member of Oxalis family. Therefore, customers will entitled to a special rate at 1,000,000VND/night (for two) when booking tour and accommodation together. Otherwise, a 10% discount for Oxalis customer for booking a room at Chay Lap Farmstay if you book room on other dates.
Panoramic map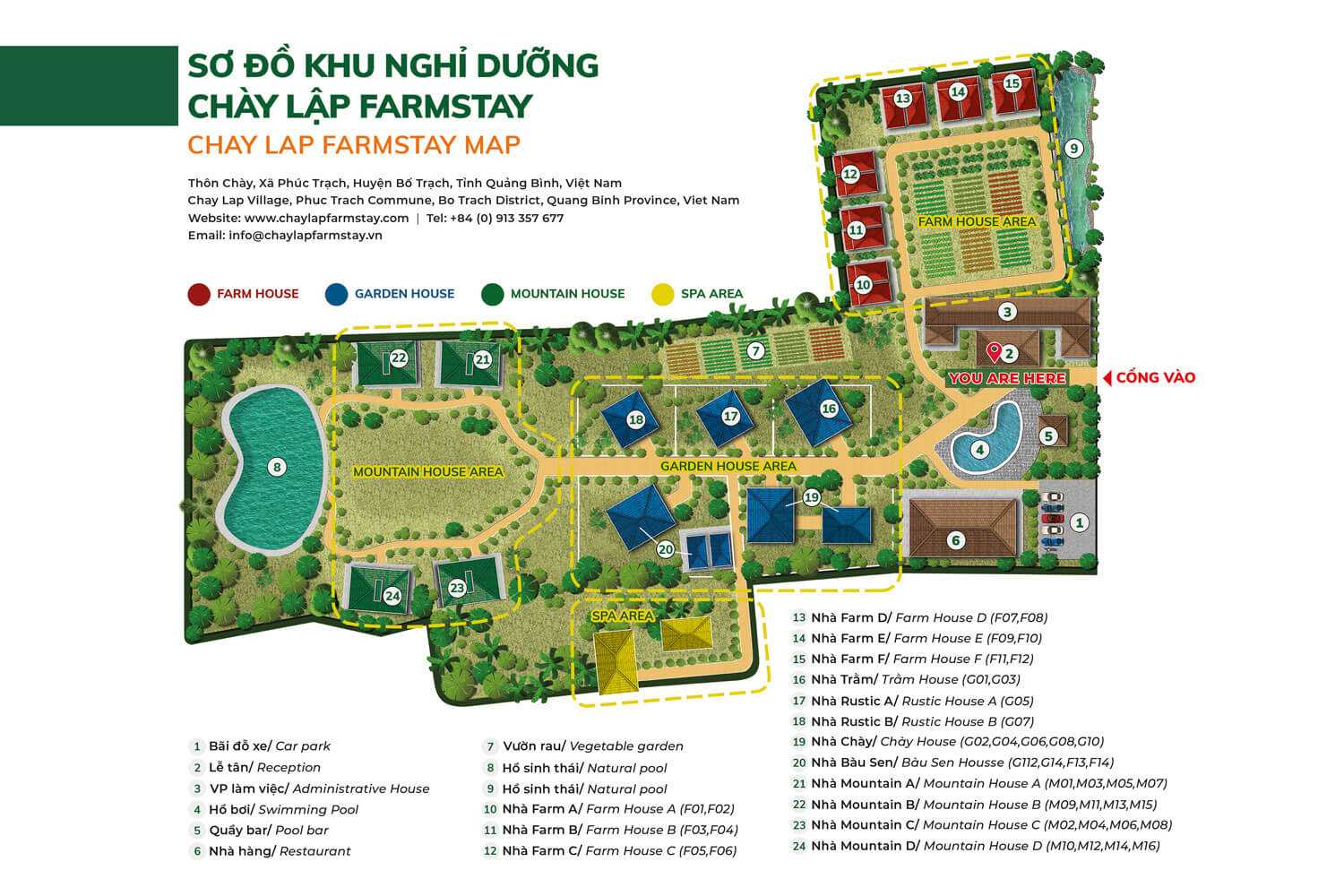 Amenities and services
In addition to in-room facilities such as air conditioning, drinks, dining table sets, baby cribs upon request,... while staying, guests can also experience the following facilities and services:
Restaurant
Chay Lap Farmstay Vietnam has an indoor restaurant with air-conditioning and a covered outdoor area next to the swimming pool with the view to the shady garden. This restaurant has a diverse menu, serving Quang Binh local specialties such as carp fish cake, snail noodle soup or elaborately seasoned grilled pork ribs. Here we use all local ingredients, some were grown in the farmstay's organic garden, in order to bring to diners good quality and delicious meals. In addition, the restaurant also serves European wine and cocktails such as Gin Tonic, Mojito, Pina Colada,… Located next to the swimming pool, the restaurant has many private party areas for families or groups to organize birthday parties, gala dinners or private dinners. Beside that, while staying at Chay Lap Farmstay in Quang Binh Province, guests can organize a BBQ party right at their house area, ensuring a private and cozy space for members.
Swimming pool
Chay Lap has a swimming pool next to the restaurant and bar, with natural scenery. In between jungles and mountains, guests can enjoy swimming after a long day of trekking or simply relax with family and friends. Besides, this farmstay also has an aquatic swimming pool inside of the Mountain house area. Guests can freely swim or use the SUP here.
Herbal Sauna
While staying at Chay Lap, guests can experience one of those special services: Herbal sauna from organic and green ingredients. Located inside the farmstay, Chay Lap Herbal Sauna House brings a typical ancient space of the Rường's house of Chay area. The house is surrounded by a dense garden, peaceful scenery combined with relaxing herbal sauna, with green tea, ginger and jasmine will bring visitors a completely different relaxing experience.
Experience at Chay Lap Farmstay
Experience activities on Chay river
Chay Lap Riverside is an attractive activities area on the bank of the Chay River, around 500m from the farmstay. Here, guests can enjoy kayaking and SUP on the Chay River. Moreover, there is also a cruise rental service at Chay Lap Riverside, so guests can enjoy an excursion on the Chay River and Son River with a Di Di Thoi cruise, with a capacity of 10 to 18 people.
Cycling to explore Phong Nha Village
This farmstay provides free bicycles for guests. Chay Lap Quang Binh is located inside Chay Village with beautiful natural scenery, mountains, rivers and traditional local villages. Villages are connected by suspension bridges over beautiful green rivers. Guests can ride bicycles around the villages, cross the suspension bridges and see the rivers winding around faraway mountains.
Running
For those who love running, Chay Lap Quang Binh is a suitable place to run 5 to 10 km along the road which goes through Chay village or Tram Me village. The running route along West Ho Chi Minh Highway to Dark Cave and Mooc Spring has fewer vehicles. Running routes become more beautiful in the early morning when there is a layer of fog on the surface of the river or the colourful skyline behind the limestone mountain at sunset time.
Activities you could do at Chay Lap Farmstay.
The ideal stopover for discovery tours
Nowadays, Chay Lap Farmstay accomodates tourists who join Oxalis adventure tours: Son Doong Expedition, Hang Ba Deep Jungle Expedition, Hang Va Expedition and Tu Lan Expedition. Moreover, Chay Lap also accommodates foreign groups from partners such as: Fox, Intrepid, Peak, Asian Trails…
A small note, while reading online information, you may come across names such as Chay Lap Resort, Chay Lap Farmstay & Resort, Chay Lap homestay… are all incorrect, old or no longer suitable names. Currently, the correct name of this place is Chay Lap Farmstay.
For more details or information related to room and services, please click here: https://chaylapfarmstay.com/
The Oxalis Experience.