Hang Tien Exploration Tour
Journey 4 days 3 nights conquering the unique river caves of Tu Lan Cave System and discovering Hang Tien Cave which is the largest cave in the Tu Lan Cave system. Experiencing dinner at a local home and staying overnight at beautiful Tu Lan Lodge.
The Hang Tien Cave Exploration tour (HT3) is a Vietnam Adventure Tour run by Oxalis Adventure. This adventure tour is second only to the Tu Lan Expedition Adventure Tour (TL4) in terms of the difficulty and grandeur of the trip. According to the adventure scale used by Oxalis Adventure tours, this adventure tour has a challenging difficulty level of Level 4.
Hang Tien, the largest dry cave in the Tu Lan Cave System, is located about 70 kilometers west of Phong Nha - Ke Bang National Park in the province of Quang Binh. It is renowned for its pure beauty and formations resembling terraced rice fields.
Although this trek crosses hills and valleys and is a shortened version of the Tu Lan Expedition tour, participants will still find the route to be fairly difficult. Some experiences of Tu Lan and Hang Tien are combined in this Quang Binh adventure tour. Highlights of the trip include:
Explore a variety of interesting caves: On these caving trips, guests can see Secret Cave, Ton Cave, Hang Tien first and second caves. The Hang Tien Cave System, comprising the last caves of the Tu Lan System located where the stream emerges into the large river, is the tour's highlight. The ceiling of the cave has a highly unusual and unique dome structure inside. Some formations in the cave are like large terraced fields, among other unusual features.
Enjoy a great trekking adventure as you pass through hidden valleys and shady forests.
Experience a "flying fox" to cross an underground stream: Oxalis constructed a "flying fox" safety system inside Hang Tien 1, which is a mechanism for crossing streams when the underground river is high (guests walk across the stream under normal circumstances). Most people find the experience of ziplining inside the cave across the stream to be quite amazing.
Camping the nights in scenic locations: Guests will spend two nights camping at the Dung Valley and Hang Tien campsites during their visit trek. These campgrounds have been ranked by travelers as the most picturesque they have ever visited.
Swim in the infinity pool surrounded by nature: The underground river originates in Tu Lan and reappears at the Hang Tien camping area. A swimming area with a naturally blue lake where guests are surrounded by mountain views. The naturally occurring circular lake is known to many people as a natural "infinity" pool. All tour participants should make sure to visit this swimming pool. Note: On heavy rainy days, the water will not be as clear and blue as on normal days.
Local culture experience: Guests will have the chance to eat dinner at one of the porters' homes after the group's forest adventure. To understand how tourism has altered a porter's life from working as a farmer and logger to providing services for tourists, visitors can learn about the porter's daily activities whilst dining with his family. The lovely and tranquil Tan Hoa village can also be explored by bicycle.
Unique stay after the trek: You will spend one night at Tu Lan Lodge in Tan Hoa. These are the rooms Oxalis Adventures has constructed, designed to accommodate the region's yearly flooding. Constructed on a hillside on a high platform, these rooms offer stunning views of the Tan Hoa landscape.
Itinerary
The schedule of Hang Tien Expedition is subject to change due to weather conditions. The path can be quite muddy and slippery when it rains.
Hung Ton – Hung Dung Campsite
From 07:00 - 07:30 AM on the day of departure, the car will come to pick you up at your hotel in Phong Nha area, and take all participants to Oxalis Tan Hoa office. You will receive safety instructions here, learn about the Hang Tien Exploration tour schedule, sign the Release Form, and pack your belongings for the trek.
To get to the Rao Nan River, the group will set off on foot through fields of corn and peanuts.
After crossing the river, your group will need to ascend a short slope to reach Secret Cave, one of the Tu Lan Cave System's most stunning caves. You can exit the cave by continuing down the winding trail. From here, you can descend into the next valley and reach Hung Ton Cave, where you will also have a delicious lunch. The group will descend a 15 m high ladder while wearing safety harnesses before swimming through the cave to reach To Mo valley. Before continuing to reach Hung Dung valley campsite, you will have a short window of time to enjoy swimming.
Hung Nhai - Hang Tien Campsite
The second day of the tour is the most difficult, with a total of 8 km of trekking and roughly 350m of ascent, as well as river crossings.
The group will ascend a hill and trek through the forest to reach Hung Nhai Valley - a beautiful valley with relatively flat terrain. Have lunch in the valley by the surreal waterfall. Trek down the wide flat valley with open views, before the final steep hill of the day. Follow the river valley upstream, with some stream crossings to reach your campsite by the natural jade green lake. Before the sun sets, you can enjoy bathing, swimming, and taking pictures. Enjoy this rare natural beauty to unwind and refresh after the previous two strenuous days of adventure and exploration.
Hang Tien 1 & 2 - Tu Lan Lodge (Tan Hoa)
The day begins by scrambling over the rocks toward Hang Tien 1's entrance with stunning vistas of Quang Binh's natural scenery.
This spectacular entrance with its soaring roof and towering calcite formations turned green by plant life, is just the start. Notice the layers and stripes in the rock walls, a characteristic of the Tien Caves. Inside you will see calcite terraces and the circular ceiling dome. Further you will be given a safety harness and instructed to climb a 10 m ladder to reach the cave exit, opening out to a lush forest.
The group will arrive at Hang Tien 2 entrance after trekking through the forest for around 30 minutes. This little entrance will spiral you down into a vast passage filled with stunning stalactites. Navigate the narrow path to complete Hang Tien 2 exploration. Returning to the cave entrance, the route continues in the forest, with a steep rocky hill, followed by easier forest paths to reach the road. On the way, the party will stop for lunch.
The trekking team will be picked up and returned to Tan Hoa Office, where you will settle into a room at Tu Lan Lodge, take a shower and relax. Enjoy the beautiful views from your room, of Tan Hoa Village with limestone mountains and green fields full of cows and buffalo.
The team will dine with a porter family around 6:00 p.m. a chance to engage in conversation with local people about their daily lives. Enjoy some delicious local food. After dinner, return to Tu Lan Lodge to relax.
Leaving Tan Hoa
In the early morning, guests can enjoy watching the sunrise over the beautiful Tan Hoa green fields, or cycle to explore the Tan Hoa village. Then enjoy breakfast prepared by the chef from your tour at Tu Lan Lodge.
OPTIONAL: For those still very passionate about adventure, then you can book an ATV tour (All Terrain Vehicle) directly at Tu Lan Lodge. There are 2 programs including: Explore Tan Hoa fields by ATV in 30 minutes and Explore King Kong's House tour by ATV for 2 hours. These are sports tourism activities where clients can ride the ATV upon slopes, fording streams, crossing green fields, and especially passing through the man made cave, the home of King Kong.
Please inform the consultants of the departure time of your plane/train/car at least one day in advance so that they can conveniently arrange the transfer. Hotel check-out time will be 12:00 noon, if you want to stay a few more nights at the hotel or are interested in other sightseeing activities in the Phong Nha - Ke Bang area, please contact your Oxalis Adventure Consultant in advance so she or he can help to arrange that. Or talk to the front desk for last-minute arrangements.
Weather and climate in Tan Hoa - Hang Tien area
Like many northern Vietnamese provinces, the Tu Lan - Hang Tien region experiences four distinct seasons each year: spring, summer, autumn, and winter. The Hang Tien tours only run from November to the end of September each year because of the weather and to give the Tu Lan cave system a rest period to balance the environment.
From January to March: There are pleasant, sunny days as well as spells of frigid weather that sweep across the entire region. Visitors can see the sight of numerous wildflowers blooming during the warm, not too hot, months of April and May. Although the hot summer months are from June to September, most of the time the trip will be trekking in the jungle, under the shade or inside the cave when the temperature is between 22 and 25 degrees, so it does not seem so hot. Besides, customers can swim in the cave and in the river at the campsite.
Each season will have its own unique features for visitors to explore. In addition, visitors can check the weather in Tu Lan- Tan Hoa through Accuweather before joining the Vietnam caving tour.
Preparation for the Hang Tien Exploration
This tour is considered one of the most challenging tours in Tu Lan Cave System. Based on the Oxalis difficulty scale this tour is level 4 - Challenging. This tour is also a recommended tour before going to Son Doong if you have not had much experience.
Fitness preparation for Hang Tien Exploration
According to Oxalis Adventure's 6-level adventure scale, Hang Tien Exploration Tour is graded as level 4 (difficult). The tour is designed for all visitors who enjoy active activities and the experience of nature in general. The difficulty of the Hang Tien Exploration Tour is calculated primarily on the level of general fitness of the travelers rather than that of heavy runners or athletes. Most healthy office travelers can readily join this excursion. For a successful Hang Tien Exploration Tour, please refer to the "Physical activities" that Oxalis Adventure suggests visitors practice.
Items to bring on tour
It is necessary to have complete preparation for the trip because the Hang Tien Exploration Tour is a long hiking tour with a variety of terrain. Visitors will be required to prepare appropriate clothes to protect themselves making sure to navigate through the jungle, cross streams, or investigate tunnels while avoiding any snakes, insects, or stinging plants that may be present. Trekking shoes are also a very important aspect of Hang Tien Exploration Tour, you should choose the right type of shoes which are suitable for the environment of steep hills, rocks, and even wading streams. Visitors must prepare personal items to use during the three days and two nights they will spend in the forest and in the cave. Before beginning the exploration trip, your tour guide will give you detailed instructions. You can learn more about the "Suggested packing list" here.
Provided by you (required)
Essential clothing
2-3 quick-dry, bright, long-sleeved T-shirts
2-3 quick-dry trekking pant
1 waterproof jacket (in winter)
1 pair of trekking shoes with good drainage
1-2 pairs of calf-length, densely-woven socks
1 campsite clothing set
1 pair of sandals/slides for campsite
Swimwear
Accessories
Mosquito repellent
Sunglasses, sun hat, sunscreen
Mini fan
Personal items
Towel
Underwear
Nature-friendly shampoo & soap
Personal hygiene items
Power banks
Passport
Provided by Oxalis
Essential gear: camping, caving, and safety
PVC backpack
Basic trekking shoes (size 36-46)
Meals included
Water bottle (1L) and filter
Compost toilet, toilet paper, hand cleaner
Guided tour with chef and porter team
Shared dry box and semi-dry bag (15L)
First aid and medical rescue equipment
Portable fan (in summer)
Secure storage at office
Optional
Arm cover if wearing short-sleeved T-shirts
Camera & Tripod
Reusable bags for dirty clothes
Adventure level on tour
After many years of adventure tourism activities, Oxalis Adventure Tours Vietnam has created a Level of Adventure scale to assist guests taking Oxalis tours in visualizing the complexity of each tour and choosing which is best suited for your health and fitness and interests. Other units or alternative terrain cannot be accommodated by this adventure-level table. Additionally, long-distance runners and anyone who engages in strenuous sports may not find this adventure-level chart to their liking.
From level 1, which is the easiest for everyone to participate in, to level 6, which is the hardest, Oxalis tours Vietnam offers 6 adventure levels. The Hang Tien Exploration Tour is simple to join for those who regularly engage in physical activity or trek through the forest or climb mountains.
Adventure level 4 · Challenging
Requirements: Regular physical activities or sports
Activities: Rocky terrain, long trek and short ladder climb
The number of guests per tour: Maximum 10 customers; 16 years upwards
Moderate trekking - very rocky terrain
18km of trekking including 4km of caving
1300m elevation gain
River crossings
Swimming in caves (100m)
There will be some rocky terrain, steep hills and two ladder climbs of 15m and 10m with a safety rope, operated by the safety team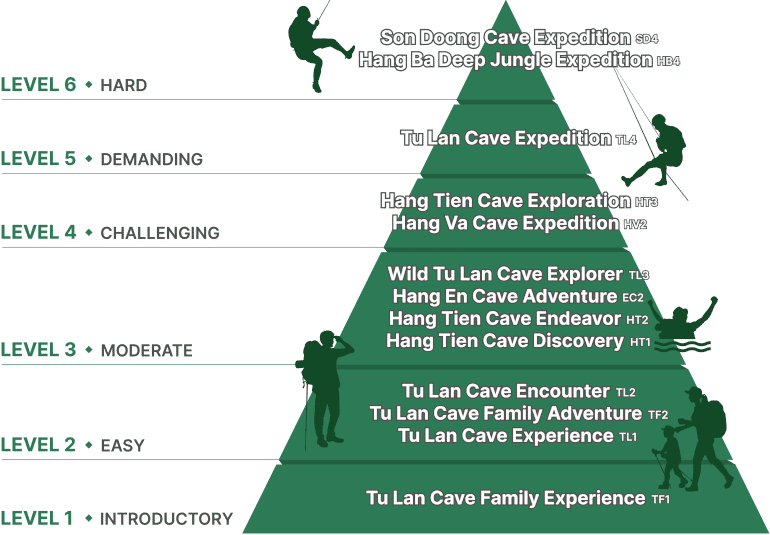 Communication on tour
Hang Tien Exploration Tour is an adventure tour in Quang Binh with a challenging difficulty level. And it takes place in a deep forest remote from any outside assistance such as medical, emergency, or other support services. Hang Tien Exploration Tour travels on footpaths that frequently climb and descend hills; there is no designated path for automobiles, motorcycles, or bicycles.
No wifi, phone connection, or other standard hotel services will be available for the duration of the trip. Each Oxalis cave tour includes a satellite phone that the tour guide can use to contact the firm in the event of an emergency or other situation that requires assistance. Before leaving the hotels and after leaving the woodland, guests can still use the internet and phone there. The service groups will use walkie-talkies to communicate with one another during the tour.
Safety on the tour
To ensure the safety of both explore trekkers and staff while on any trekking adventures, Oxalis Adventure places safety at the top of its priority list. Only top-notch, international-standard equipment, primarily from countries in Europe like France, the United Kingdom, and Switzerland, is used by Oxalis. The entire group of guides must complete formal training and routine skill evaluations.
Only competent and experienced guides are appointed to conduct the exploration adventure of Oxalis Adventure; anyone who is inexperienced or unsatisfactory is not permitted. Visitors can discover more about the "safety management" and "safety equipment" Oxalis employs in this location.
If an accident happens, Oxalis Vietnam starts an "Emergency Response Procedure" that includes rescue efforts and on-the-spot first aid. Every year, Oxalis Vietnam Adventure Tour sets up its own rescue team for each operating area and conducts numerous training sessions on first aid, first aid, and rescue. The rescue tools that Oxalis trekking tour imported from abroad are following British cave rescue standards and are suitable for difficult cave terrain. Due to the remote location, it will take anywhere between 30 and 2 hours for the rescue effort to arrive at the outside professional medical forces. As a result, protecting visitors' safety is Oxalis's first priority. To help the experts and guides, guests are also requested to fill out their own health and fitness information honestly and needed for advice tailored to each client. For the tour staff at Oxalis, guests must update their fitness and health information 45 days prior to the tour's departure date.
Dangers, risks and how to avoid them on tour
People are exposed to dangers with every activity, which might become risks if safety measures are not implemented. Moving through the forest or inside a cave will expose you to more dangers than usual when engaging in adventure tourism. Sudden floods, insect bites, snakes, centipedes, accidents, illness, and many other things are possible risks. In this link, you can learn more about "risks and prevention".
Campsites on the tour
The Hang Tien Exploration tour's first camping location is in the Dung valley region. The Hung Dung campsite is situated immediately adjacent to the La Ken valley's Rao Nan stream. Below the stream is a jade green lake with ancient trees around it to provide shade, where you may calmly swim or try SUP paddling along the pure blue stream. Note: On days with heavy rains, the water may not be clear.
The following campground is most likely the most beautiful one that Oxalis runs. The Hang Tien campground is situated directly alongside the Rao Nan River, which serves as the final major river that a subterranean river system enters before emptying into the sea. A lake that flows underground from the cave and is located next to the campsite is referred to by many guests as an "infinity pool" in the center of nature.
The campground is in a foreboding mountain environment, where you can see the starry sky at night and dawn in the morning through the tent door.
The average temperature ranges from 30 to 38 degrees Celsius in the summer and 15 to 18 degrees Celsius in the winter. In the winter, guests are given warm sleeping bags, and in the summer, a battery-powered tent with a fan is available. More information about the "unique campsites in Tu Lan Cave System" - camping inside Quang Binh forest is available here.
Bathing at the campsite
The campground on Hang Tien Exploration Tour is located next to the river and pools so guests can swim there. All swimming activities are supervised by safety assistants. Soap and shampoo cannot be used in rivers and pools. At the campsite, there are water storage tanks to store clean water for drinking and cooking. During heavy rain, the river may turn brown and muddy. For conservation reasons, visitors are encouraged to use bio-shampoos and soaps. Washing should be done at the campsite and not in the river.
Toilet at the campsites
Hang Tien Cave tour occurs in a remote jungle with no power or infrastructure and for conservation and hygiene Oxalis has created environmentally friendly toilets, called "Oxalis Composting Toilets.".
The toilet consists of a normal toilet seat on top of a box. Inside the box, is a bucket and waste bag to collect all waste and toilet paper which is provided. Nearby is a container of rice husks. After finishing, cover the waste with a generous scoop of rice husks. This ensures a dry composting process, which does not smell, and covers the waste from insects.
When the buckets are full, the porters will change them and bury the waste in a designated location in the jungle. This will biodegrade and turn into fertilizer.
Visitors are required to use the composting toilets for both urination and defecation. Urination outside the toilet or inside the cave is not allowed because of the smell and impact on cave formations and the cave ecosystem.
Hand washing facilities are provided.
Directions to Phong Nha
Phong Nha is 45 kilometers from Dong Hoi city, the headquarters of Quang Binh province (about 40 minutes by car). You can travel to Dong Hoi in a variety of ways, including by flight, train, and luxury bus.
* Visa: Vietnam provides visa exemption for citizens of ASEAN countries (30 days), and 15 days for citizens of (United Kingdom, Sweden, Denmark, Finland, Norway, France, Germany, Spain, Italy, Belarus, Russia).
* International airports: There are 3 main international airports for international flights: Tan Son Nhat International Airport (SGN), Noi Bai International airport (HAN) and Da Nang International Airport (DAD). From Ho Chi Minh City (Saigon) or Ha Noi, travellers can book domestic flights to Dong Hoi Airport (VDH). From Da Nang, traveler can catch a train or bus to Dong Hoi/Phong Nha.
Flight: Daily flights from Hanoi and Ho Chi Minh City are operated by Vietnam Airlines, Vietjet, Pacific Airlines, and Bamboo Airways. To Dong Hoi from Ho Chi Minh.
Train: From Hanoi to and from Ho Chi Minh City, there are numerous SE trains that travel every day. Dong Hoi station is where Ho Chi Minh has a stop.
Bus: Buses from Hanoi to Phong Nha, Dong Hoi, or from Da Nang, Hue to Phong Nha run often during the day or at night.
The information regarding the means of transportation "to Phong Nha" can be found here. Early in the morning of the tour's departure, all participants will be picked up from a hotel in the Phong Nha region.
Tour booking process
This is an adventure tour in Vietnam and requires a lot of logistic support. To avoid disappointment and complications on any exploratory trip, guests should choose the best tour for their fitness, abilities and interests. Reading the tour information carefully will help visitors make the right choice for their trips. The booking process includes the following steps:
Visitors carefully read the tour program and self-assess their health and physical fitness. Appropriate training and preparation may be necessary.
Guests carefully read the tour highlights and activities to ensure they choose the tour that most interests them.
Guests fill in the personal information on the booking form themselves. They are asked to give honest answers about their fitness and health.
After the reservation is made, the Oxalis consultant will contact you within 48 hours to review the information and give guidance for the next steps. If you have not received any news from Oxalis' within 48 hours, please give us a direct call or check the spam box in case Oxalis' emails are in there.
After approval, guests will be asked to pay 100% of the tour cost to confirm the booking.
Leading up to the departure, your Oxalis consultant will regularly contact you to support you with the preparation of items as well as physical fitness. Or you can contact us for questions.
45 days before departure of the exploring day guests are asked to update their health and fitness to Oxalis.
Tour price and available dates for booking
The cost of the Hang Tien Exploration Tour is 9,900,000 VND (US$426) per person. For conservation and safety at Tu Lan - Hang Tien, the tour has a limited annual number of visitors. The tours are operated from November to September (closed from September to October.) Tours depart on a fixed schedule and each individual can book and join with others. In addition, Oxalis also has a small number of tours for special groups or filming crews. Please see the tour departure schedule in the calendar below, the dates in bold are available. If you don't see the calendar appear, please wait a few seconds or press F5. The date in bold is the first date of the tour schedule.
Terms of tour cancellation
After completing the reservation, visitors will be required to pay 100% of the tour cost to confirm the booking. Guests can receive a full refund if the cancellation is 7 days before departure. Any cancellations less than 7 days before the departure date are non-refundable. Please see the cancellation terms here for more information.
Hang Tien Exploration tour price includes
Tour price includes VAT, entrance fee, and service fee for the protection of the forest ecosystem. The following package services are included in the journey tour:
Logistics: Each 10-guest tour will have 1 tour guide, 2 safety assistants, 1 chef, 2 camp guards, and 4 porters as well as food and camping equipment.
Food and Drink: Oxalis provides food, water, tea, and coffee during the journey (not including extra requirements). Dishes are based on fixed menus, vegetarian and vegan will be provided if ordered.
Safety equipment: Oxalis will provide safety equipment such as helmets, harnesses, headlights, gloves etc.
The tour includes 2 night's camping, and the final night at Tu Lan Lodge.
Travel insurance: Oxalis buys travel insurance for all guests participating in the tours with a maximum compensation of VND 10,000,000. Visitors are asked to buy comprehensive travel insurance for themselves before joining the tour.
FAQs
I am not a good swimmer, can I join this tour?

Excellent swimming skill is not required for this tour. For the 100-meter swimming part, all participants will be swimming lifejackets - even if they are an expert swimmer. Moreover, our safety assistants team will always be around to intervene and support when needed.

Why do I have to sign your Release Form?

We require customers to sign our Release Form to confirm they accept this is an adventure tour and they have to follow our guide's instructions and safety rules. Customers also accept they have some responsibilities for their own safety.

What can I do If I want to talk to/contact a consultant?

You can easily contact a consultant via chat box (on the right corner) on Oxalis website or email to: [email protected]; Hotline: +84-919900357.