The campsites at the Tu Lan Cave System
The Tu Lan Cave System With more than 25 caves and 8 valleys has been formed along the Nan River from Thuong Hoa, Trung Hoa, Dan Hoa, Hoa Son and Tan Hoa communes, Minh Hoa District, Quang Binh Province, Vietnam.
There are 5 beautiful campsites located in the Tu Lan area, for cave exploration and trekking tours with a duration from 1 to 6 days such as Tu Lan Expedition (TL4), Hang Tien Exploration (HT3), Wild Tu Lan Explorer (TL3), Hang Tien Endeavor (HT2), Tu Lan Cave Encounter (TL2) and Hang Tien Discovery (HT1).
The uniqueness of the campsites around the Tu Lan Cave System
Oxalis has created locations for 5 campsites along the valleys in the Tu Lan area and located in suitable places. Each campsite is fully equipped to ensure every guest has the same high quality experience. The campsites are in Tu Lan, To Mo, La Ken, Hung Dung and Hang Tien.
The beautiful location with particular scenery of the campsites is one of the highlights when exploring the Tu Lan Cave System.
Each campsite is located near rivers or streams to ensure the water supply for cooking as well as bathing or swimming. In case of unexpected flooding, there are safe routes to leave the jungle.
All campsites are arranged with clean tents on raised pallets with a protective waterproof roof.
Clean dining areas with tables and chairs.
Clean composting toilets and clothes changing tents with hand washing facilities.
All campsites are equipped with lightning-rods to ensure safety during thunderstorms.
Each campsite has an equipment store as well as trauma boxes in case of emergencies.
In winter, from November to April (depending on the annual temperature), there will be sauna tents at each campsite.
The average temperature at campsites is about 15 to 18 degrees Celsius in winter and 30 to 38 degrees Celsius in summer, visitors are provided with warm sleeping bags for winter or rechargeable fans for summer.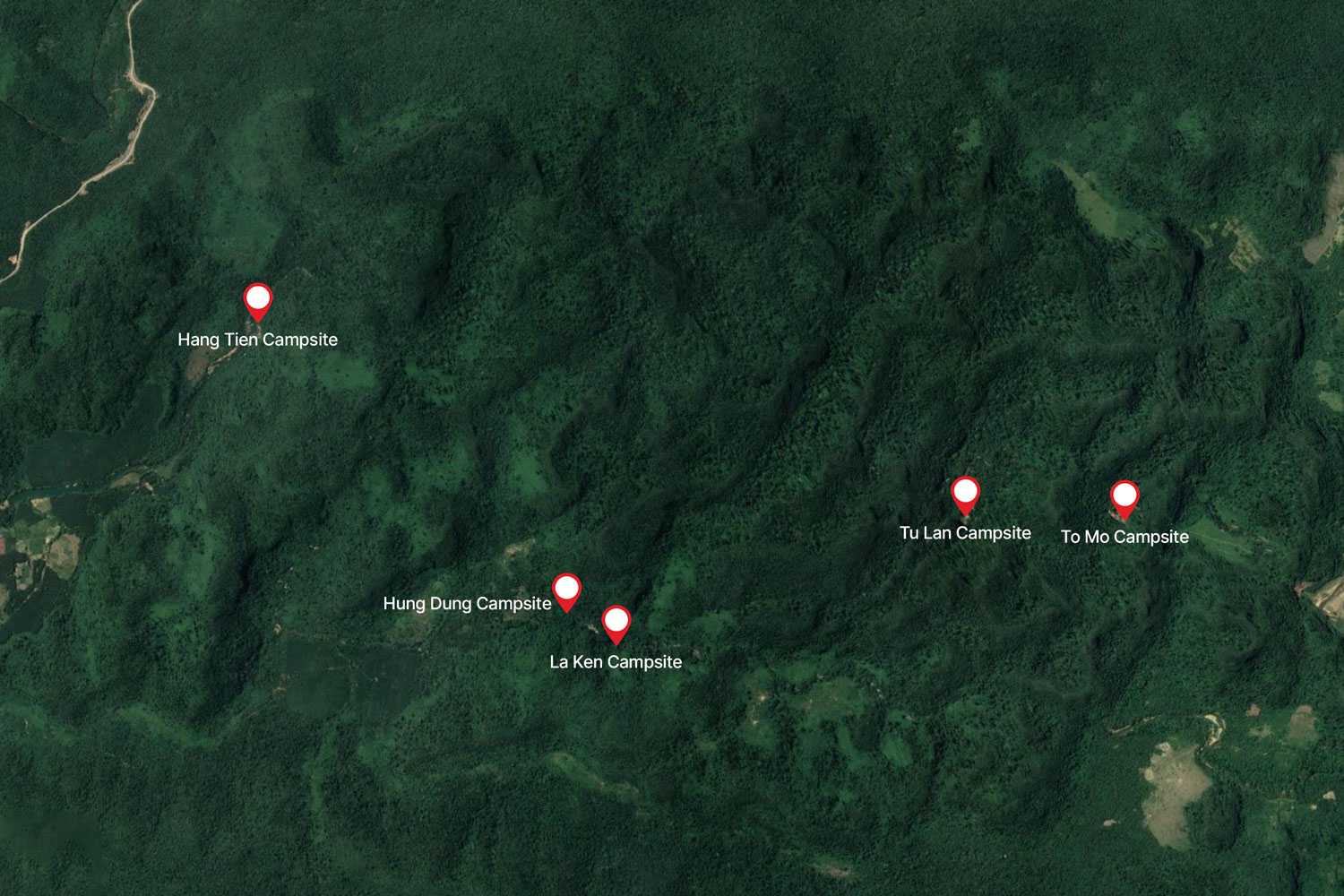 The location of campsites at Tu Lan Cave System.
Tu Lan Campsite
It is located right next to Ken waterfall with a natural swimming pool. On sunny days or in summer, the scenery here will be very tranquil. Taking a chair with a cup of tea or coffee and enjoying the peace of nature or swimming in the cool pool... How amazing!
Tu Lan valley is quite large with a beautiful sandbank. It is also located in the middle of Ken – Tu Lan – Kim Caves, like an island surrounded by limestone mountains and caves. All create wild and poetic images.
Tu Lan campsite is separated into two areas. This is to make sure comfort and privacy for each tour using the camping area.
Tu Lan is surrounded by a branch of the Nan River with a vertical limestone cliff and a 5m high waterfall emerging from Ken Cave. In 2010, when the British - Vietnam cave expedition team first explored these caves, there was no waterfall from Ken Cave. When they returned in 2012, they were very surprised to see the waterfall.
In the cold months, after swimming, visitors can enjoy the jungle sauna with fresh lemongrass and ginger at the campsites. This sauna system is an adaptation of traditional wine cookers. What an experience after a trekking day, in the middle of forests, you can still have a relaxing sauna!
Also known as Tu Lan Cave System campsites, these are only used for the following tours: Tu Lan Expedition (TL4), Wild Tu Lan Explorer (TL3) and Tu Lan Cave Encounter (TL2).
Tu Lan Campsite on a beautiful sandbank.
To Mo Campsite
Centrally located in the To Mo valley, To Mo Campsite is about 150 meters away from Hung Ton Cave exit and surrounded by limestone mountains. From here, you can see To Mo Cave opposite and a small waterfall from Hung Ton into the lake leading to Kim Cave. Soong Oxalis Cave entrance is located on the top of the mountain.
The campsite is set up on a high and clean sandy mound surrounded by water. There is a nice lake in front for swimming or SUP (Stand Up Paddling). On clear nights, visitors may see the Milky Way with a fantastic night time view. This is also the main filming location for the movie "The Immortal" directed by Victor Vu.
To Mo Valley currently has 2 campsites set up. Both are located away from each other, ensuring comfort and privacy for each tour. Tu Lan Cave Encounter tour will also stop for lunch at this campsite.
To Mo valley campsite is arranged for Wild Tu Lan Explorer (TL3) and Tu Lan Cave Encounter Private (TL2).
La Ken Campsite
After crossing La Ken valley (named for the flower Mua - Pink Lasiandra, growing in tropical forests), through green fields of grass, you will reach La Ken campsite.
Placed close to the ridge separating La Ken and Hung Dung valleys, this campsite is for Hang Tien Exploration (HT3) and Tu Lan Expedition (TL4). Despite being only used for the winter season, this campsite is also fully equipped by Oxalis like all others in the area.
The campsite is located near a branch of the Ken river with clean and cool water. Although it is not too deep, you can enjoy a dip here. On clear nights, visitors can see a full starry sky or gather around to learn about local culture. Besides, visitors can welcome the dawn with a hot cup of tea or coffee with misty scenes and birdsongs, ready for the next day of the tour!
La Ken campsite is arranged for Hang Tien Exploration (HT3) and Tu Lan Expedition (TL4).
Also, along the river at Laken Valley, Oxalis has prepared a campground for the Tu Lan Cave Family Adventure (TF2), Tu Lan Cave Family Experience Tour (TF1) and Tu Lan Cave Experience Tour (TL1). This campsite is fully equipped with all camping gear.
Hung Dung Campsite
The campsite and dining area are elevated above the river and out of the flood zone.
Hung Dung is known as the "mountain view" campsite because of the surrounding limestone mountains along with a large lake in front. SUPs will be provided for a new experience.
After dinner prepared by local chefs, visitors can relax by looking at the starry sky and listening to the natural music of the jungle. If you are lucky, you may see the monkeys feeding in the mornings.
Hung Dung campsite is arranged for Hang Tien Exploration (HT3) and Tu Lan Expedition (TL4).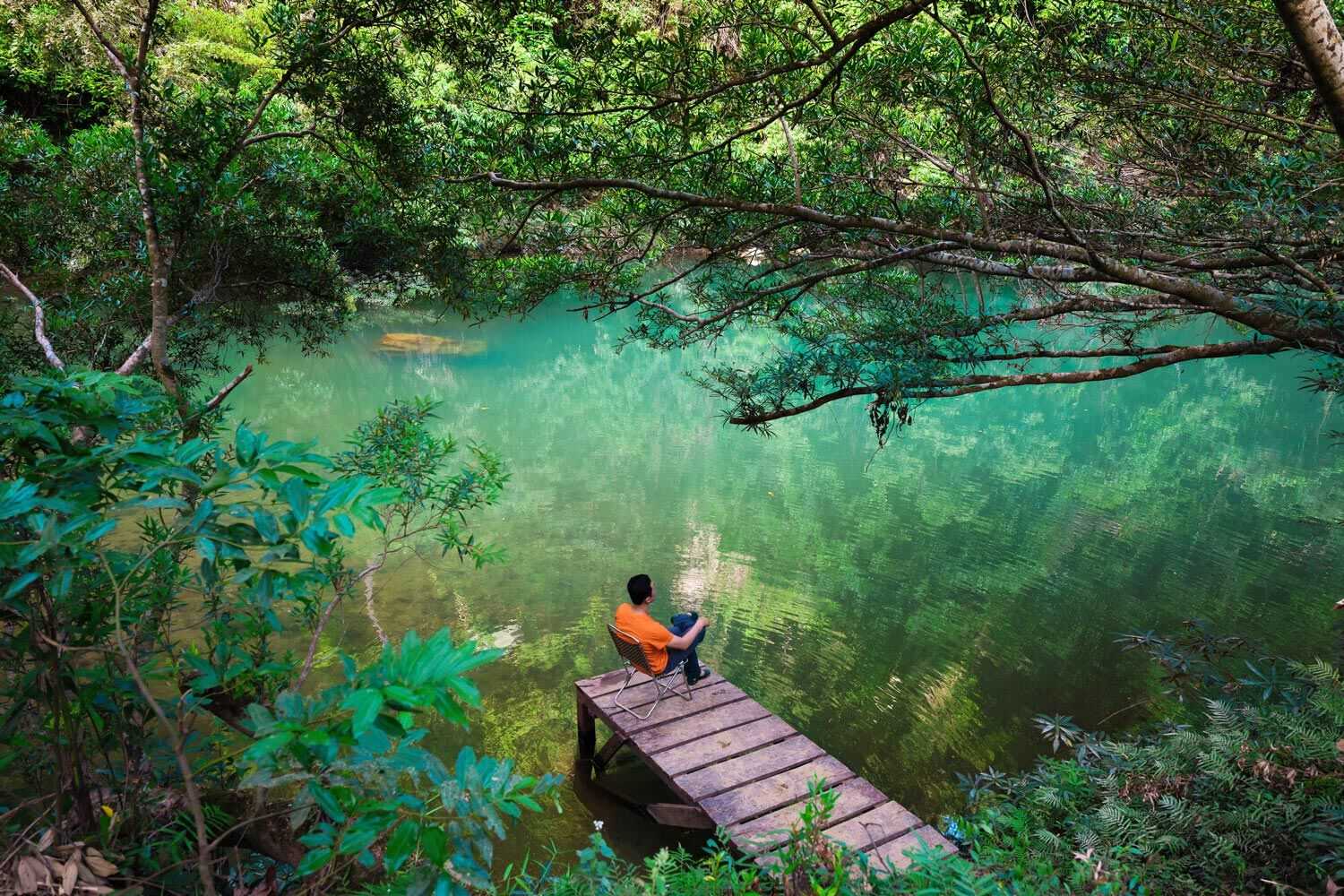 Enjoy the tranquility by the turquoise lake at Hung Dung Campsite.
Hang Tien Campsite
This campsite is rated by many customers as the most beautiful campsite in the Tu Lan - Hang Tien area. Many customers claim that this campsite is the best campsite in the world. It is a tough trekking day to reach this campsite, making it all more worthwhile.
The campsite is placed on a fine white sandbank right next to a beautiful river near to Hang Tien. On the right side, there is a lake that has been called a "natural infinity pool" by Oxalis Adventure customers. The water flows up from underground, more than 15m deep. This pool never stops flowing, with a temperature of 20 - 25 degrees Celsius in both winter and summer.
This campsite has open views where you can contemplate the whole Milky Way and enjoy the experience of a truly dark sky with no light pollution. This campsite has also been called the "save the best for last" campsite in Tu Lan Expedition Tour.
Hang Tien campsite is arranged for the following tours: Hang Tien Endeavor (HT2), Hang Tien Exploration (HT3) and Tu Lan Expedition (TL4). In addition, this is also the lunch spot of Hang Tien Discovery 1 day Tour (HT1). The campsite for Hang Tien Endeavor could be on the other side of the river depending on the capacity of the campsite that day.
Notices: There is no campsite in Hang Tien Cave for conservation reasons, all of the campsites are set up outside the cave in the jungle.
The overview of Hang Tien Campsite - the most beautiful one in the Tu Lan - Hang Tien area.
Tents and camping gear
Despite the remote locations of campsites, Oxalis Adventure provides enough facilities to ensure comfort. Each campsite will have a store of necessary equipment and there will be at least 2 porters on duty at the camps as security guards to keep an eye on equipment.
The equipment at the campsites in the Tu Lan - Hang Tien includes:
Tents: single or double as required. The tent has 2 insect screens and 2 windproof outer doors.
Tents contain: mattress (1 heatproof layer and 1 soft), pillows and personal sleeping bags.
Underneath the tent: pallets for ventilation and moisture prevention to keep the tent clean and dry.
Tents and equipment are always cleaned after each tour.
Toilets and changing tents: Each campsite will have 2 toilets and 1 changing tent, regularly cleaned by porters.
In addition, each campsite has a kitchen with full cooking equipment. The dining area is fully arranged with tables, chairs and stools.
Tents provided at campsites of Tu Lan Cave System.
Dining at the campsites
Food safety is one of the top priorities at Oxalis Adventure. From selecting food suppliers such as Co-opmart supermarkets and food prepared by local restaurants, everything is carefully considered. Besides, food will be resupplied every day to ensure freshness. Each tour will have one local cook. Many visitors are surprised and ask why the chefs here are all men and cook so well. In the past, they were jungle men, working long days in the forest, they had to prepare food themselves. Therefore, over time, their cooking skills improved. Most of the guests highly rate the food, including vegetarians, vegans, or those with special requirements. Annually, Oxalis will organize a cooking competition to select the best chefs and also to re-evaluate their skills. Food is a highlight of Oxalis Adventure tours.
Tu Lan - Hang Tien Exploration tours are in the deep and remote forest, so ensuring clean water supplies for drinking and cooking is a top priority at Oxalis Adventure. All water used in the tours is filtered through Watt's filtration system imported from the United States. Water quality is tested annually by Oxalis to make sure it is drinkable. There is hot water at campsites for tea and coffee as well.
On rainy days when water turns brown, Oxalis will transport 20 liter filtered water tanks from the office to serve tours.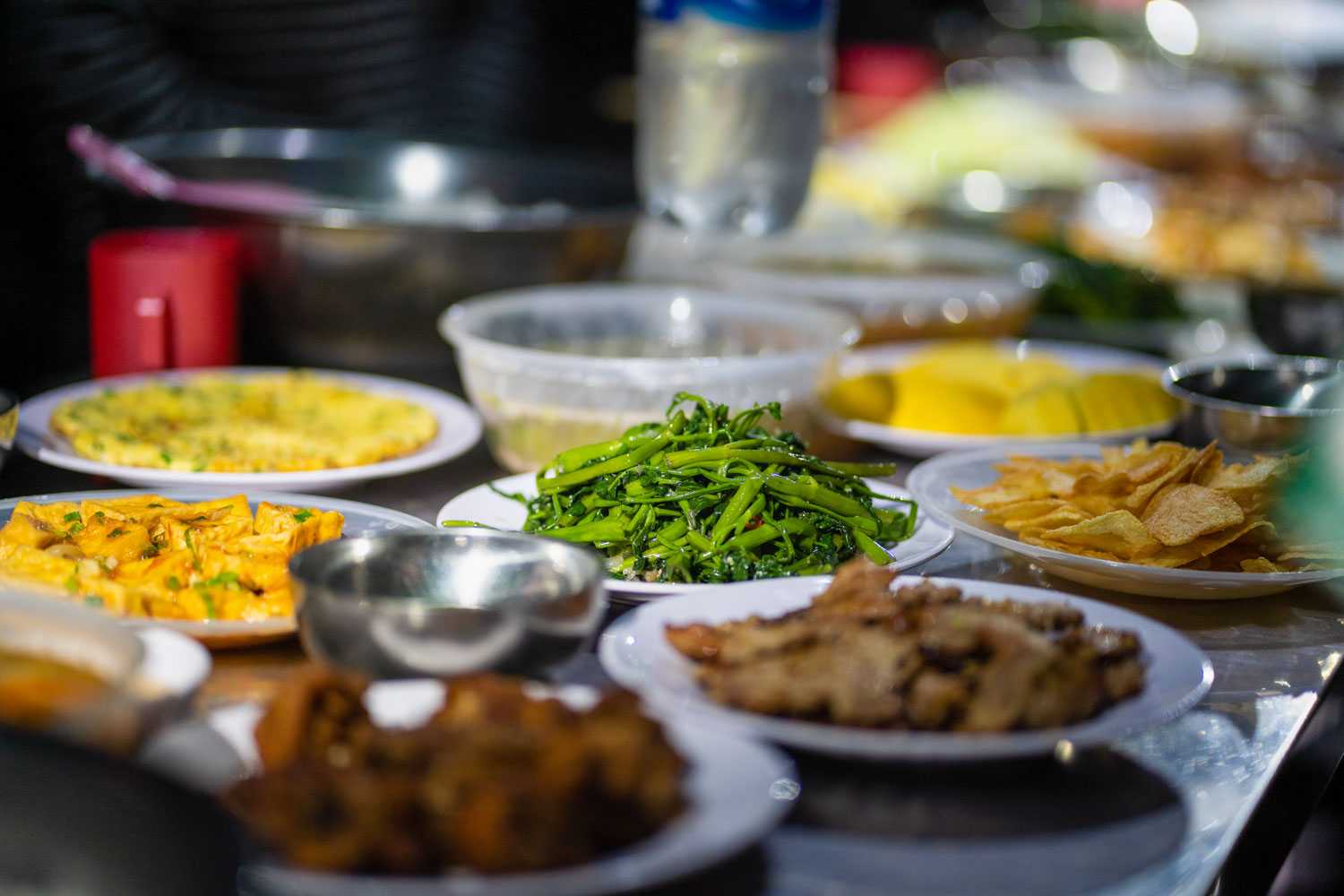 Delicious dishes prepared by local chefs during adventure tours.
Bathing at campsites
Most campsites are located next to lakes or rivers, convenient for washing and swimming. However, for conservation reasons, visitors cannot use soap or shampoo in the rivers, streams or lakes.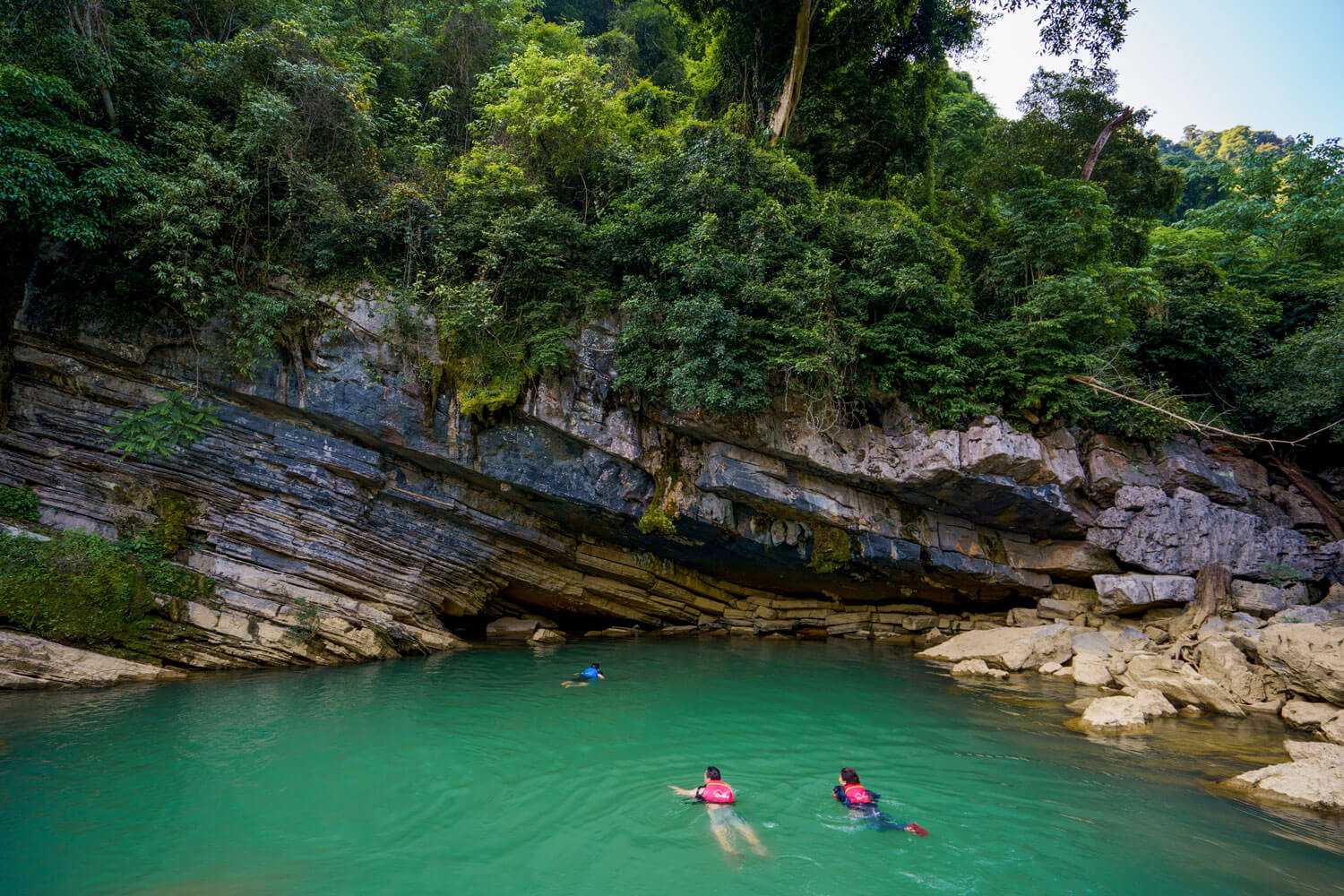 Toilet at campsites
To ensure hygiene as well as nature conservation, Oxalis has requirements for toilets at the campsites.
All campsites are equipped with eco-friendly compost toilets. These toilets are inside a special tent with a bucket and waste bags under the seat. After finishing, visitors will use the rice husks nearby to cover the waste. Rice husks are very helpful in keeping the toilet dry, reducing the smell and improving the composting process. Any time the bucket is full, porters will change it. The waste is placed into a waste pit, where it will compost and turn into fertilizers. Visitors are recommended to use the composting toilets for both urination and defecation. The Oxalis compost toilet has been improved a lot thanks to visitors' and staff's suggestions. On the outside, there will be a hand washing area with soap or biological hand sanitizer.
Besides toilets, at each Oxalis campsite, there is also a large changing tent with 2 clothes drying racks.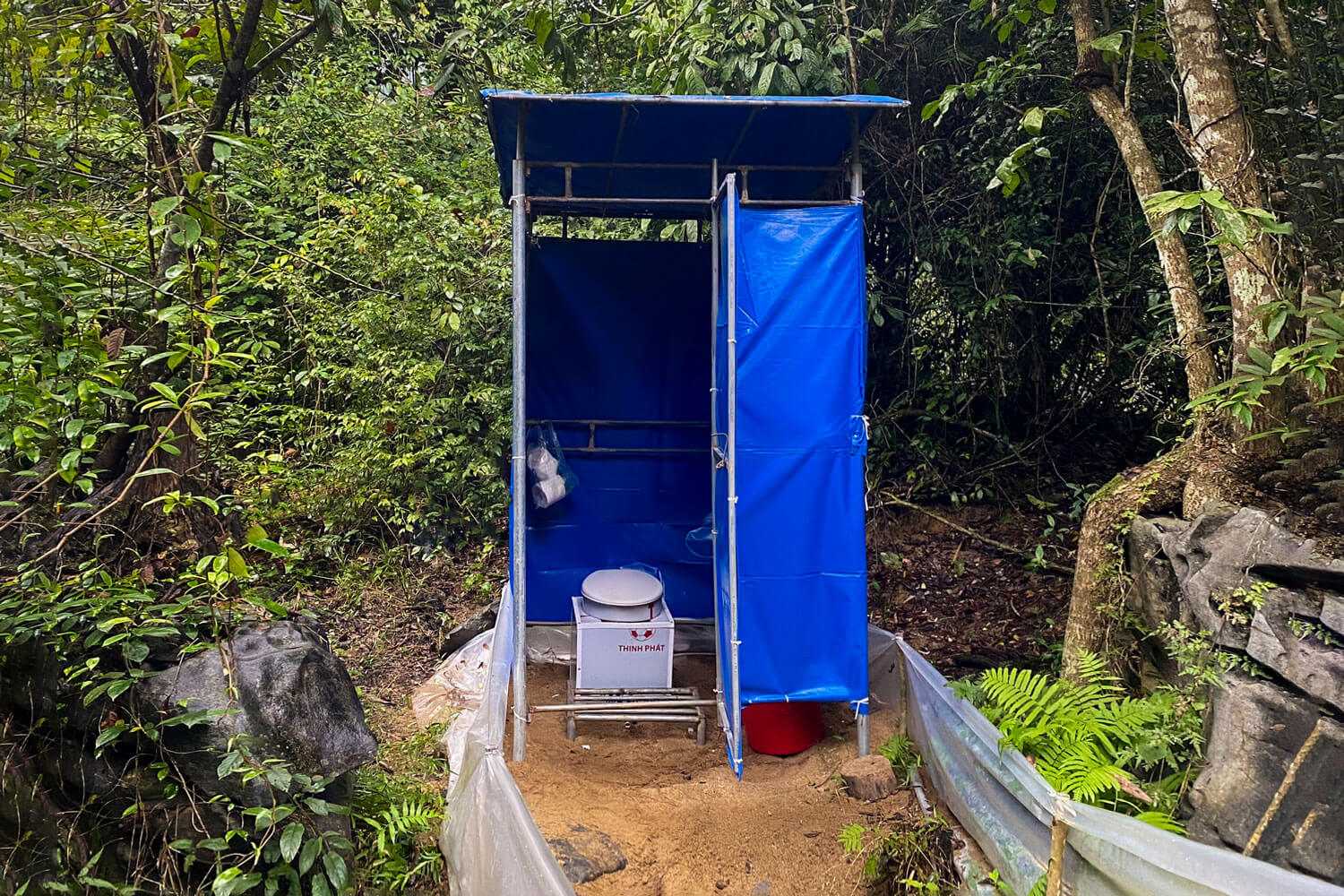 Note at campsites
To ensure the safety of visitors at the campsites, Oxalis has the following notes (applies to both visitors and Oxalis employees):
Visitors must notify the guide, safety assistant or safety specialist if they want to leave the camping area during the day or night. Visitors are only allowed to leave the campsite when accompanied by a guide or safety assistant.
Visitors should not swim in streams or lakes without the supervision of a safety assistant. Visitors need to inform the guide if they want to go swimming alone. Visitors are required to wear life jackets while swimming, including good swimmers.
Do not laugh loudly, talk loudly or scream at the campsites or on the trekking trails. Do not use speakers for music because it will affect the animals in the forest.
Do not bring alcohol without permission. Do not use alcohol, beer, stimulants and narcotics during the tour. If a guide, cave expert or safety assistant discovers that a guest has brought alcohol or recreational drugs, the guest will be required to end the tour without receiving a refund for the amount paid.
The Oxalis Experience.