Google Doodle honors Son Doong Cave on its homepage in 18 countries
Users on April 14, 2022, can see the Doodle of Son Doong Cave on the Vietnamese Google homepage and in nearly twenty countries such as the UK, Singapore, Thailand, Mexico, Sweden, Greece, Argentina, Chile, Brazil, etc. That doodle is linked to the search results page for queries about Son Doong Cave.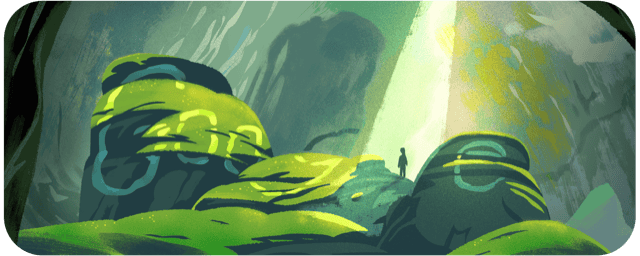 Google Doodle honors Son Doong - the world's largest cave on April 14 because on that day in 2009, the British Cave Research Association (BCRA) team announced Son Doong as the world's largest natural cave. Shortly afterward, the BCRA expedition team completed the survey and measurement of the entire Hang Son Doong Cave with a length of over 9km and a volume of 38.5 million m3. The cave was later introduced to the world by National Geographic Magazine and National Geographic TV.
Since its launch, Son Doong Cave has consistently been ranked in the world's most prestigious rankings by hundreds of famous travel magazines and newspapers in the world.
Guinness World Records recognized Son Doong Cave as the largest cave in the world with a volume of 38.5 million m3 in 2013 and 2015.
The New York Times ranked Son Doong cave as one of the world's best destinations in 2017, and National Geographic has named Hang Son Doong on the list of seven attractive natural wonders in Asia.
In 2019, Son Doong Cave Expedition has consistently been voted by famous UK-based travel magazines: Lonely Planet has named Son Doong as one of the dream destinations; Telegraph - The world's leading tourism magazine listed Son Doong Cave as one of the world's 11 best tourist destinations; British newspaper The Guardian has listed Son Doong Expedition among 10 of the best virtual tours of the world's natural wonders; the trip also was ranked fifth among the 20 greatest adventures ever on the planet by the UK's Dave TV.
The cave has also become a favorite destination for film crews of various famous television channels around the world such as BBC (2022), National Geographic (2015), ABC News (2015), NHK (2012), MV Alone Pt. II của Alan Walker (2019)... along with famous photographers like Carsten Peter (German), John Spies (Australian).
Son Doong Cave is located in the core zone of Phong Nha - Ke Bang National Park, Quang Binh province, which was recognized by UNESCO as a world natural heritage in 2003 and 2015. The cave was accidentally discovered in 1990 by Mr. Ho Khanh during a routine trip into the jungle. He then contacted the members of the BCRA - British Cave Research Association and led them to explore the cave.
BCRA experts have measured that Son Doong is almost 10km long with sections reaching up to 200m tall and 150m wide, enough space for an entire new york city block complete with 40-story skyscrapers. With a total measured volume of 38.5 million cubic meters, Son Doong surpassed Deer Cave in Malaysia and was officially confirmed as the largest natural cave in the world to date. The ecosystem of Hang Son Doong is as unique as it is large, and it even has its own river and weather. Son Doong has two huge dolines that have created openings, allowing lush forest and rich vegetation to grow inside the cave.
For conservation purposes and to provide the best experience for visitors, Son Doong Expedition only allows up to 1000 visitors per year, and tours are only available from January to August.
Oxalis Adventure is the exclusive tourism operator of Son Doong Cave as we have implemented strict international safety standards and have experienced cave experts from BCRA who were the first to explore Son Doong cave; Our adventure guides and safety assistants adhere to the well-established training program. Currently, each tour is limited to 10 tourists who experience a 4-day 3-night adventure, camping at Hang En and Hang Son Doong.
This is a trip that outdoor enthusiasts and nature lovers will never forget. Visitors will trek through 17 km of the jungle with uneven terrain (800m elevation gain), explore 8 km deep inside the cave, and climb up the 90m high Great Wall of Vietnam with safety harnesses and ropes and the help of a safety advisor.
Each tour has only 10 visitors at maximum but needs up to 27 people to serve them, including 17 porters carrying luggage and food throughout the journey, five safety assistants, an international guide, a cave expert, two chefs, and a ranger.
The Son Doong Doodle project is carried out in cooperation with Quang Binh Provincial Department of Tourism and Oxalis Adventure. We hope that this event will help to promote Vietnamese tourism to the world and attract more international travelers to Vietnam.