History of cave exploration in Hang Ba area
By Howard Limbert
From 1990 to the present, Howard Limbert and his UK cave expedition team explored and mapped over 500 caves in Vietnam. During the expedition in 1992, they discovered the Hang Vom system in the Phong Nha - Ke Bang National Park area (containing the caves in the Hang Ba Deep Jungle Expedition itinerary), one of the finest caves he has had the pleasure of exploring. Today Howard shares his story about the history of cave exploration in the Hang Ba area.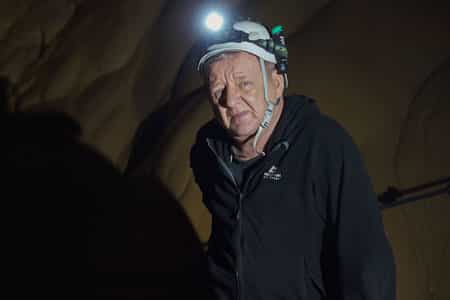 Mr. Howard Limbert - The leader of the British Vietnam Caving Expedition
In 1992 we discovered Hang Vom, the second longest cave in Vietnam. To reach Hang Vom in those days it was a river boat journey and a 4-5 hour walk through the jungle to the entrance. Hence it was one day from Phong Nha. Now you can drive and walk to the entrance in just over 1 hour. To explore Hang Vom which is the best river cave we have ever explored, anywhere in the world was a serious undertaking. Just to reach the end of the cave from Phong Nha took 3 days of walking and caving. You know this entrance as Vinh Dai where we will camp with customers.
In 1994 Deb and I took this journey from Phong Nha to try and explore the upper caves from Vinh Dai. When we reached this exit Deb noticed some writing on the wall where some jungle men had camped. She wrote the names of the people as we realised these people had not entered this valley via Hang Vom. In 1994 we went upstream from Vinh Dai and through Light Cave as we call it now and our second camp. We called this cave Arch Cave. After Light Cave we swam across the pool and the sight of the next cave greeted us. As the cave had 3 entrances we named it Hang Ba. We swam through Hang Ba and started walking up the next valley. We heard a very loud noise in the jungle probably made by an animal. As we were told of tigers living in this area we turned round and escaped into Hang Ba and made our slow way back to Phong Nha camping in Vinh Dai entrance and 2 days in Hang Vom. We realised to explore caves further upstream in this area we would have to find an easier way into the area. We took the names Deb wrote down to the Son Trach committee, who found these people and they became our guides for the area.
In the same year, these guides took us to Hang Dai Cao via road 20. In those days we had to walk up the road 20 from km 6 on road 20 but it was easier than caving for 3 days. So we were taken to Hang Dai Cao and explored and camped in this cave. At the exit to this cave we found some fresh cat prints which because of the huge size we presumed were tiger prints. We also found many tiger prints in the valley upstream towards Maze cave which is now called Hang Me Cung. This cave was explored and surveyed also in 1994 and is an excellent complex cave unlike any other caves we have discovered in Quang Binh with many levels of cave passage.
We returned to this area in 1997 and used Hang Dai Cao as a base camp to explore further upstream where we discovered first Pitch Cave, then Tiger Cave (Jungle boss Kong Collapse) and Hang Over and Hang Pygmy.
We did not return to this area until our idea of making a tour into these amazing caves, which we think will be one of Oxalis best tours. as the caves are in a truly remote and pristine part of the Phong Nha - Ke Bang national park. Whilst in this area this year we managed to explore a large dry cave called Hang Vinh Tron for 900m. There are still many more caves to be explored in this area, especially in the hills above Hang Vinh Tron towards the Xuong valley.