British cavers having saved enough money during the previous two years of work again returned for an expedition to Vietnam. All the costs of the expeditions are met by the British cavers and many people ask why we work all year to visit caves. The reason is the joy we have of exploring new caves, especially caves in Vietnam. It is a rare opportunity to see a part of the world that no one has seen before and our team has been lucky to be a part of that for many years.
On our maps, we searched for possible caves during the time we spent in the UK. We noticed many large river sinks near the Lao border which disappeared into the limestone mountains on the edge of the massif. This was an exciting prospect for our team and in 1997 and 1999 we explored the longest cave in Vietnam and it was also found to be the longest river cave in the world. This cave Hang Khe Ry did not give up its secrets easily.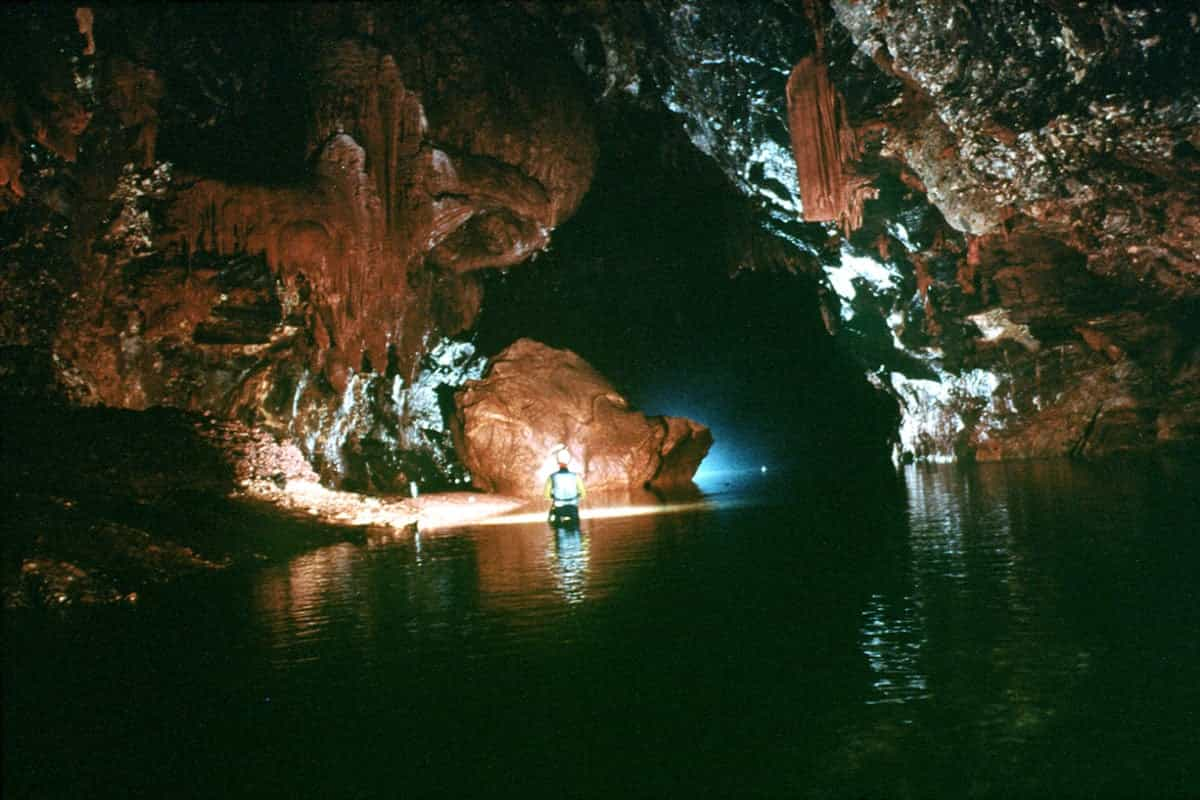 Hang Khe Ry 16km in cave
Our first attempt to discover caves near the river sinks did not go well. One team spent 5 days lost in the jungle and the other ended up in "jail" by the Army as we were missing one of the many numbers of papers required to visit the caves. The team had to wait for a radio call to HQ, which only took place once a week. Finally, permission was confirmed, and we were free to go.
On our next journey out in the jungle, we were shown a cave locally named Hang Khe Ry. A large entrance with an easy walking passage led us after a kilometer to a junction with an underground river. During the 1997 expedition, we explored and mapped about 15 kilometers in Hang Khe Ry. There were some long swims, including 'Sump or glory' where the roof came down really low and it seemed the cave might end. At the end of that expedition, we had to turn around in a wide-open passage and wait patiently for two years.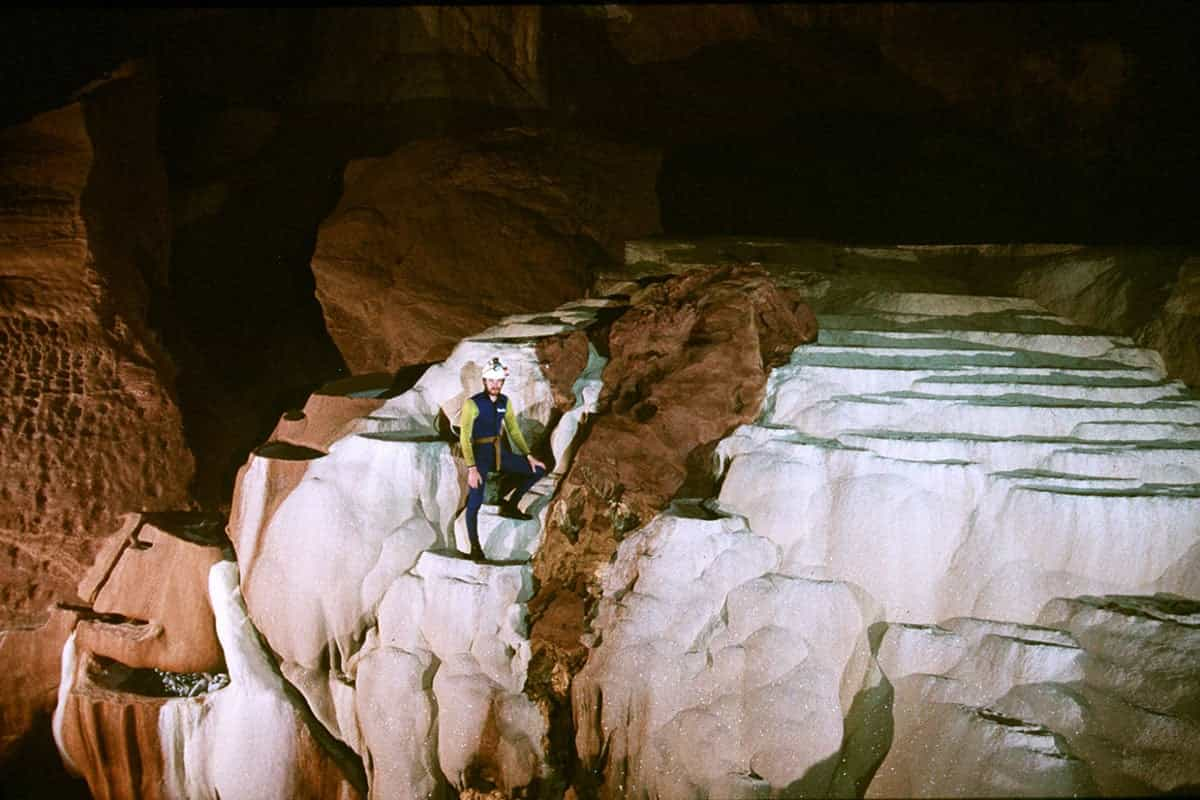 Hang Khe Ry lower passage
One night whilst camping at the entrance to Khe Ry, we were woken up by our guides making loud noises. A huge tiger paid a visit to the entrance for water. It was really close, only due to the flaming sticks and everyone banging pans did it slowly wander off. The next day our guide went back to the village for a big gun as the revolver that would deter an animal of that size.
The final exploration was completed in 1999 and involved a 4-day underground camp. After a further 5 kilometers of often huge passage, the cave exited into the dense jungle. We realized this could only be the Hang En valley, so a team carried on into the jungle to confirm this.
Thus both these two huge rivers join together and sink in what is an impassable entrance. Over the next few expeditions, we tried to find caves in this area and this is how we first came across Mr. Ho Khanh who acted as a porter for our team. It became really obvious that he was much more than a porter. We usually slept in cave entrances when exploring new parts of the jungle as they are cool, often with water and you have a roof over your head when it rains. During these camps, I would often discuss new caves with him by drawing maps in the sand as his English and my Vietnamese was woeful. He always talked about a cave he discovered in 1990 which had cloud and wind emitting out of the entrance. This is an exciting thing to hear as a caver so we were very keen to find this cave. We knew there should be a big cave but we could not find an entrance to it in the very dense jungle. It would be 10 years before Ho Khanh would rediscover his missing cave Hang Son Doong.
In 1997, we had our first really serious incident while exploring caves in Quang Binh. Whilst finishing off some surveying in Hang Khe Ry, the team split into two teams and the second team of two visited a new entrance with a stream entering. The Khe Ry team finished its work and exited tired after a 14-hour caving trip with lots of swimming. We had noticed the water had risen but in this huge cave, it was not a problem at that time of year. A few hours later one of our friends from Hanoi University returned to camp with bad news, our team of two were trapped in a cave eight hours walk away as the river rose quickly trapping them inside. We had little food as it was the last day of the expedition. However, a rescue team left in the dark with a Ruc jungle man as our guide armed with an old AK47.
The walk was horrendous in the dark, and we collapsed when we reached the entrance. The small cave entrance was indeed full of water and the river entering was still high. Upstream of the entrance we found another cave but with no way into the main cave. We then built a dam and diverted a lot of the water away from the cave our friends were trapped in. 57 hours passed before the water dropped enough for one of us to see a small air space and communicate with our two friends. They then all swam out to the surface, safe but tired.
So we had no food during this rescue and we had a twelve-hour walkout. This turned into a real epic as two members had bad footrot and lost all the skin on their feet. The army came along to help us and arranged transport down road 20 to Phong Nha. A totally exhausted team arrived in the village at 4 am and were leaving in a few hours time for Hanoi!
The local villagers all came out to greet us and had prepared food and a party for us. They had all been praying for us since they heard about our rescue. We were overwhelmed by the generosity of the local people and this is the main reason we kept coming back to Quang Binh to try and help the local people and explore some of the best caves in the world.
Howard Limbert
Related posts: Story about Howard Limbert and his first cave exploration trip in Vietnam