Dear all,
Alan Walker's latest music video "Alone Pt. II" directed by Kristian Berg has been released on YouTube on December 27, 2019, and has attracted the attention of young people around the world.
Within only 48 hours, the song has got more than 5 million views on YouTube and millions of shares on Facebook. Many Vietnamese young people are proud of scenes of Hang Son Doong cave in Phong Nha - Ke Bang National Park, Bo Trach District, Quang Binh Province, Vietnam where the film settings of this blockbuster of Alan Walker.
There are some interesting details in the video such as Quang Binh's name appear mysteriously inside the map that made viewers feel curious about the place, or the hand-writing words of Son Doong and Bo Trach on the map to create a great search effect on the internet. This is the effort that Oxalis Adventure acquired after nearly 2 months of negotiation.
The film crew members director Kristian Berg, production director Mikkel Gulliksen, main character Susanne Karin Moe started sharing photos of their wonderful experiences and feelings about Son Doong cave on their social media channels like Facebook and Instagram.
On Alan Walker's Facebook and Instagram pages, there are posts explaining the scenes taken at Son Doong Cave because there are hundreds of thousands of questions from fans around the world about the place shown in the music video.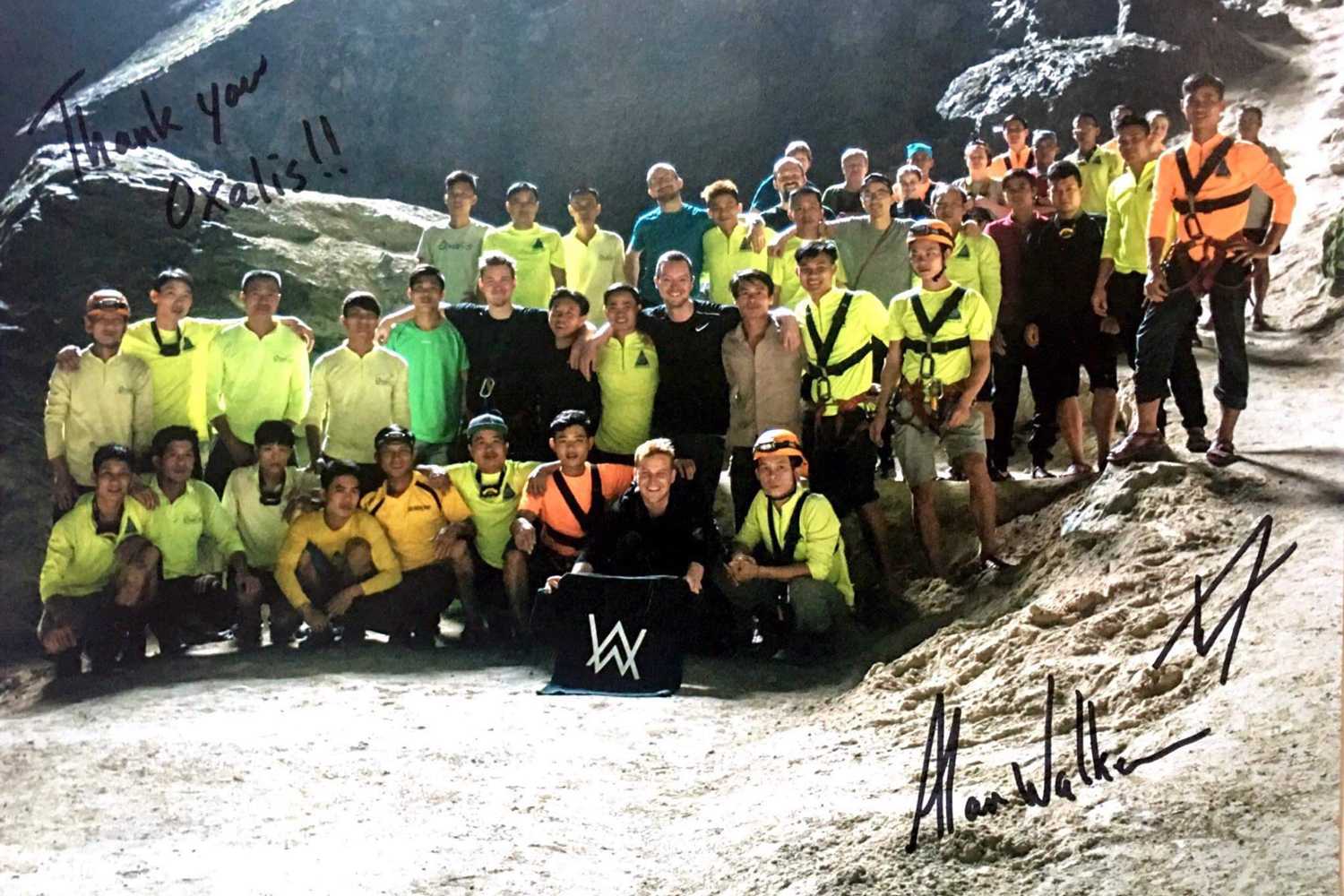 On this occasion, artist Alan Walker also sent his personal thanks to the tourism department of Quang Binh province and Oxalis Adventure for helping the crew to accomplish incredible scenes for the music video "Alone, Pt. II". Check out what Alan Walker has said below:
"Hello Quang Binh, hello Vietnam! It's Alan Walker here. I wanted to send you guys a personal message today, to say thank you to Quang Binh and Vietnam for hosting my production team recently in your beautiful country. We've been working with Oxalis Adventure on an incredible project that we think you and the world is going to love. We're excited to feature Phong Nha to the world and we look forward to that happening soon. The team cannot stop talking about the trip to Quang Binh and appreciate all the people that helped make this come to life, including many of the locals in Phong Nha and some who will appear in this special project. Thanks again Oxalis, Quang Binh Tourism and of course Vietnam. All the best from Norway!"
Although Alan Walker was very excited to make an adventure trip to Son Doong Cave, he couldn't make it, due to his tight schedules. Oxalis Adventure is working with Alan Walker's representatives to invite Alan Walker to explore Son Doong Cave in the near future.
As New Year of 2020 is approaching, we would like to send you our best wishes for the coming year and we look forward to seeing you in the beautiful Phong Nha in the near future.
Chau A Nguyen,
General Director, Oxalis Adventure
See more:
>> Alan Walker Ft. Ava Max "Alone, Pt. II" filmed inside the world's largest cave – Son Doong Cave, Vietnam
>> Alan Walker "Alone, Pt. II" ft. Ava Max– Here's all you need to know!