After our first expedition to Vietnam, our team had explored a number of caves in many provinces. On our second expedition, I chose to return only to Quang Binh for the whole expedition. This proved to be a very good decision because we discovered some of the world's finest caves and especially river caves.
In 1992, the living conditions were still very poor. To try to help the area, we reported about Phong Nha to a well-known travel book. However, the infrastructure was not in place, and tourism would not happen for nearly another 20 years.
During this expedition, we just discovered the Hang Vom system, one of the finest caves I have had the pleasure to explore. We asked the local people to take us to the point on the map where we could see a river coming out. Our route was by boat to what is now Tro Mong Ranger Station, and then a day's walk. Our guides stopped at a small rocky overhang and announced we would stay the night there. It did not look inviting, but by the time we had arranged our beds and mosquito nets we were feeling optimistic. After dinner, our guides disappeared and sometime later we heard a gunshot. We were obviously concerned, but they soon reappeared saying they had found the entrance of the cave and to celebrate fired their gun! The next day was one of the most memorable as we swam round to the huge lake and arch of Hang Vom.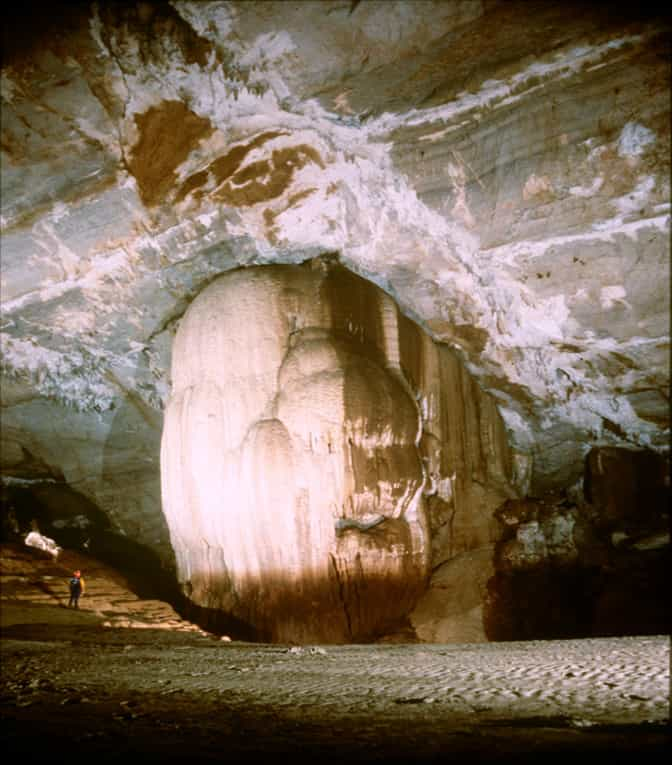 Hang Vom discovered in 1992
A tired team was resting one morning when a commotion happened in this usually quiet village. A vehicle arrived and a number of soldiers appeared and headed towards our team, who were not prepared for this visit at all. Dressed in shorts and T-shirt we were introduced to a gentleman neatly dressed with a large number of military personnel behind him, looking on closely.
Through his daughter as a translator and my wife speaking French, we had a basic meal together and explained what we were doing in Quang Binh. The gentleman was particularly interested in our surveys of the caves which we had drawn as we explored the caves. After a very interesting discussion on conservation and exploration for around one hour, the visitors left us. We had no idea of who the gentleman was or his status in Vietnam. We were told he would write a letter to us in the near future and we decided to use it as a foreword in our expedition report on the 1992 expedition.
It was only when we returned back to the UK and a historian friend of mine explained the significance of this gentleman did we realize just how lucky we were to meet General Vo Nguyen Giap. His words are very relevant today, with the development of tourism in Phong Nha - Ke Bang and other karst areas.
General Vo Nguyen Giap definitely came across to me as someone special and a person you could trust. His letter that was sent to our team has been so useful in helping preserve the natural beauty of Phong Nha.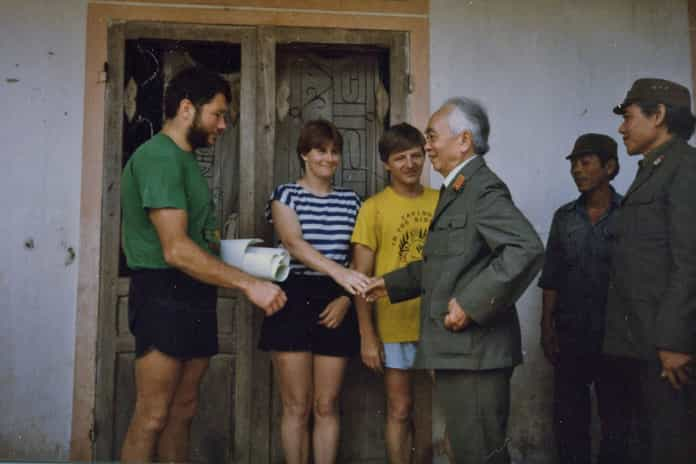 Meeting General Giap in 1992
The caves we discovered in 1992 and 1994 were world quality and it was now obvious we had discovered one of the most important caving regions in the world. In the early days we had no transport into the National Park other than the occasional 6 wheel drive lorries that went up road 20 taking at best 8 hours to do 44 km.
By 1994, we had explored the lower end of the Vom system for over 35km through many caves. These were long visits into the jungle which then had tigers and a lot of explosive devices kindly left by the Americans. This was our first introduction to the jungle men of Phong Nha, who from the start of our explorations have played a huge part in the discoveries of many of the wonderful caves.
Hang En was discovered in 1994 and it took 4 days to walk to the entrance from Phong Nha village. This cave confirmed the potential of huge caves in the area but unfortunately, there was no way to follow the river as it sank downstream in a choke completely filled with boulders and trees. It would be a lot more years before we explored the cave we now know as Hang Son Doong.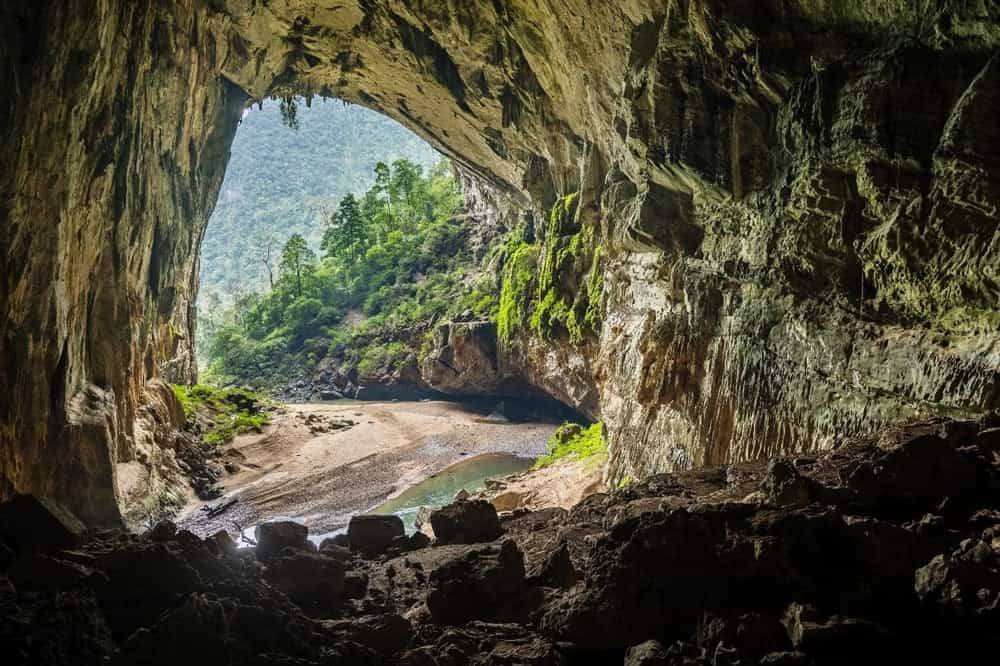 Hang En discovered in 1994
We explored over 60 new caves and a number with tourism potential including Paradise Cave. It would be 16 years before this potential would be realized.
Our next expeditions would take us to the river sinks near the Laos border and I will inform you of our adventures in my next story.
Howard Limbert
Related posts: Story about Howard Limbert and his first cave exploration trip in Vietnam