THE WORLD OVERWHELMED BY VIETNAM'S SON DOONG CAVE
In the spring of this year, the Oxalis Adventure Team was very honoured to be contacted by Ms. Maria, Production Manager from Good Morning America, who was writing on behalf American Broadcasting Company (ABC) and Good Morning America (GMA) to express their interest in doing a live broadcast from Son Doong. ABC is a global media corporation, with tens of millions of viewers. "Good Morning America" has been on air for 40 years and is currently the top-watched TV program in the morning in the US.
The ABC team were impressed about the video of Son Doong which went viral in January 2015, and was filmed by Ryan Deboodt (http://blog.ryandeboodt.com).
ABC let Oxalis know that they were hoping to shoot a Good Morning America special on "hidden worlds" for May 2015. To ensure a smooth operation our teams worked together to organize an inspection trip for the GMA crew members from 18 – 24 April 2015. The entire Oxalis team was very excited about this opportunity and proud that they had chosen Oxalis to provide all the logistic services.
The inspection was ruled a success, and the GMA team returned from the jungle with a thrill in their heart and much enthusiasm to bring this wonder of the world to light in a live broadcast. The GMA team presented their ideas of the untouched Son Doong & Hang En Caves to the ABC Board of Directors and it was accepted immediately. Everyone was keen to know more about this pristine underground world, tucked away within the jungle of Vietnam.
The Oxalis team worked tirelessly behind the scenes to further review logistics and how to make this epic broadcast a "once in the lifetime expedition". On 6 May 2015, the whole Good Morning America team of 12, including host Ginger Zee, came to Vietnam to begin their preparations. Ginger Zee went to Ha Long Bay by sea plane on May 7 to film while the technical team proceeded down to the "Cave Kingdom" to start preparation. It was decided that the majority of the live broadcast would take place in Hang En Cave. Ginger and her team went to Son Doong to film while the technical team camped out in Hang En for the entire week to prepare for the live broadcast!
It took a combined effort of many people to pull off the broadcast. Oxalis organized 10 helicopter flights from Phong Nha to near the entrance of Hang En to bring filming equipment, the crew, and even the Vietnamese Deputy Prime Minister Vu Duc Dam to be interviewed in the cave as a special guest. Oxalis provided 150 porters (hailing from both the Son Doong and Hang En team) to carry 4 tons of equipment to Hang En for the live broadcast. There were also no less than 20 operators who helped arrange logistics for the trip. It was quite the undertaking, and it surely paid off for the public to be able to get a never-before-seen glimpse into these caves, complete with live drone footage.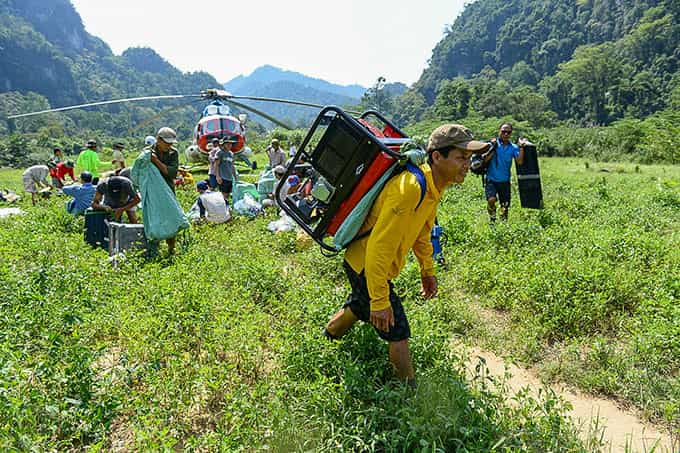 Preparation For ABC News - Good Morning America
The live broadcast took place at Hang En base-camp from 6 – 8 pm (Vietnam time) on 13 May 2015. It was the first time ABC had broadcasted live from a cave. The crew had one of the most wonderful experiences of their life. The two-hour show featured wondrous drone camera shots of the two grottos, as well as fairytale-like landscapes outside the caves. Another of its highlights was the crew's activities including cooking, erecting tents, enjoying meals and building campfires inside the two caves.
Just hours after the broadcast, ABC News's Facebook page received nearly 10,000 "Likes" and hundreds of comments. "Paradise on earth", "amazing", "awesome", "breathtaking" … were the general comments of the American audience after the show, including many celebrities.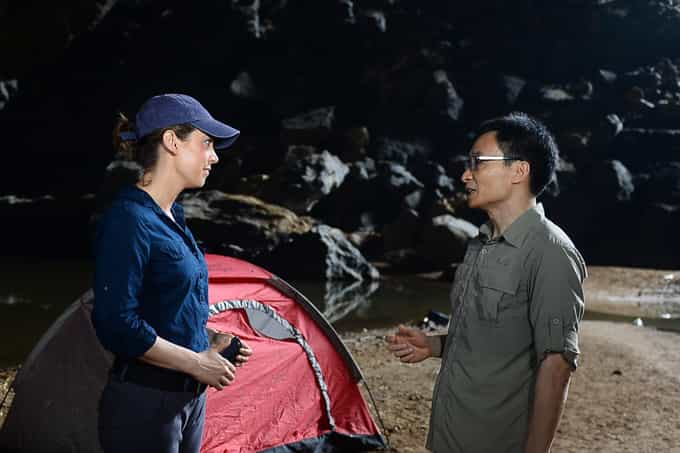 Vu Duc Dam Interviewed With ABC Good Morning America
Since Good Morning America has broadcasted our cave gems, Oxalis has seen an even greater interest from Americans and international adventure enthusiasts. With 6 million live viewers and nearly 27 million online viewers, it's incredible that the world has been able to share in the joy we at Oxalis have for these amazing wonders of the world.
Below is just a piece of the LIVE show:
The technical team from DJI did a great job in capturing amazing video footage of the cave and the event. You might wonder how they managed to do all that logistically, technologically and artistically. Check out the video below:
If you would like to film at similar locations as seen on ABC News – Good Morning America, it will be our pleasure to assist you on an incredible journey to these amazing wonders of the world.
Apart from Hang En Cave Adventure tour and Son Doong Expedition tour, Vietnam still has many more scenic spots and surprises in store for the adventure traveler. We offer a wide range of unique Expedition Tours, Adventure Tours and Special Tours incl. Team Building Tours upto 400 pax.
Our mission is to create a world-class adventure tourism business in Quang Binh province by providing professional services of the highest quality, while also supporting the local community both indirectly through increasing tourism of the whole province and directly through stable employment opportunities.
Safety is our number one priority, as evidenced by the way we run our tours, the way our guides are trained, and the extent to which we put safety first in all matters.
We look forward to welcoming you to the wild jungle and caves of Vietnam!