When the COVID-19 Pandemic has passed, you will be thinking about taking a holiday and starting to travel again. No doubt you will be anxious and concerned about where to find safe and enjoyable experiences.
As experts in the Adventure Tourism business for almost 10 years, we believe Oxalis can provide you with a safe and amazing experience, whilst protecting you from any major health issues.
Our tours are run with small groups into remote areas, so no big crowds of people. You really are away from it all; away from social media, emails, telephones, TV and all the pressures of modern living. Based in Phong Nha, in Quang Binh Province, Central Vietnam, Oxalis is well placed to introduce you to a number of caves such as the Tu Lan Cave System, Hang Tien, Hang Va, Hang En and Hang Son Doong the world's largest cave. There are so many outstanding sights and adventures waiting for you here in the Cave Kingdom.
HEALTH & HYGIENE
With regard to the COVID-19 pandemic, Vietnam was very quick to respond to its first infection, the Vietnamese government was prompt action quickly implemented a policy of tracking and testing all known contacts, and quarantining and testing all new arrivals.
All confirmed cases were immediately hospitalised for treatment, including foreigners.
By April 22, 2020, Vietnam had a total of 268 cases of COVID-19, of which 216 had completely recovered and 52 cases is still under treatment, especially no deaths. It is more than a week Vietnam has no new case of COVID-19.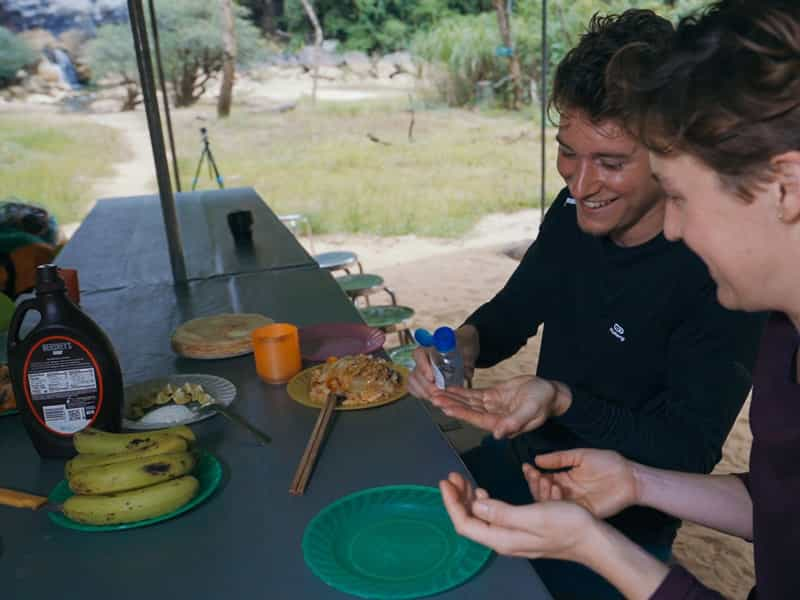 We all have to learn from this. Whilst Oxalis has always taken hygiene very seriously, we have still introduced improvements. Since we started running tours, we have always provided filtered drinking water at all times. Currently we use filters from Watts Water Technologies, a US Company. We use a series of 4 filters, including a sediment filter and carbon filter. All staff know that if they are sick, they should not go on tour.
Liquid hand sanitiser is always provided and campsites have soap and water hand washing stations. Staff who prepare meals are fully trained in hygiene standards; avoiding cross contamination with raw and cooked food; using gloves to handle food; washing cooking and eating items with soap and water and sterilising with boiling water etc.
We have now introduced regular deep cleaning of the campsite with sodium hypochlorite (anolyte) and Chloramin B. Sleeping bags and tents will also have a decontamination wash.
Our cooks will have 6 monthly health checks. All porters and guides have annual health checks.
Oxalis will keep up to date with any local or international health issues which could affect our guests.

SAFETY
The safety of our guests on our tours has always been a top priority. As we offer adventure caving and trekking tours, we have to provide you with some technical equipment. At the least this will be a helmet and light for caving and buoyancy aid for swimming. In other situations you may use ropes or ladders for climbing, wear a harness and have a lifeline and belay for extra safety.
All of the equipment we use has been sourced from established and reliable equipment manufacturers such as Petzl, Beal, Hope Technology. It has been tested for use, and meets EU safety standards. The equipment is maintained and checked regularly. All guides and safety assistants have training and assessments in the use and operation of this equipment. Oxalis Caving Experts who are members of the British Cave Research Association regularly check this equipment and its use, and advise on improvements and developments.
We also keep our group numbers small and ensure we have enough safety staff to take good care of everyone. We carry a first aid kit at all times, and extra items plus rescue stretchers are located in campsites. We have an emergency rescue plan, and staff receive training in rescue techniques, in and out of caves. Where phone signals are unavailable, guides will carry a satellite phone.
Most of our tours will involve river crossings and swimming in and out of caves. We regularly train staff in river crossing and river rescue techniques. It is mandatory to wear life jackets when swimming in caves and crossing deep water. Extra items such as floating ropes and throw bags will also be carried as necessary. For high water conditions boats and rafts will be used. Our Training Officer is qualified to teach river crossing and rescue techniques and use of lifelining and other safety equipment. He is a member of the Cave Rescue Organisation in the UK. All Cave Experts have cave rescue experience.
"As we have been operating in the area for nearly ten years, we have a great deal of knowledge about the caves, the local weather, and how to run these tours safely."

ENVIRONMENTAL
Oxalis has always made sustainable tourism and environmental protection a cornerstone of their business.
To practice sustainable tourism of course we have to protect nature and the environment. We have a strict policy when passing through the caves and the jungle. We use gas for cooking, biodegradable plastic bags where necessary, compost all waste and bring all rubbish out of the jungle. Guests are provided with reusable bottles for drinking water and we use rechargeable batteries for all lights.
We keep our group numbers small, and limit the number of tours per day, to reduce the impact on the caves and environment. All tours follow a designated path in the jungle and the cave. Cutting of any vegetation on the footpaths is only to ensure the safety of people using the paths.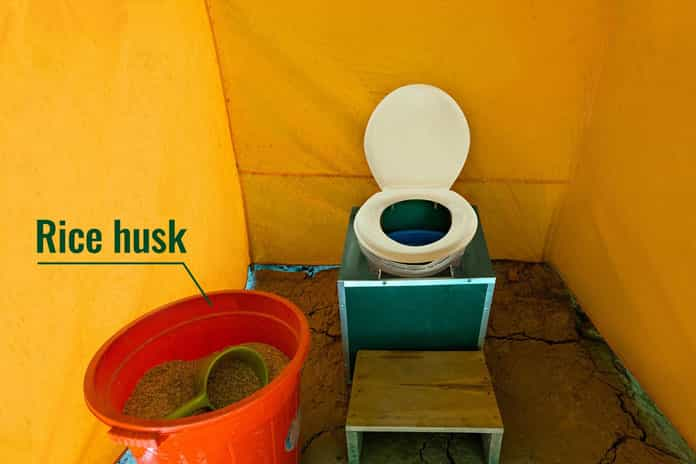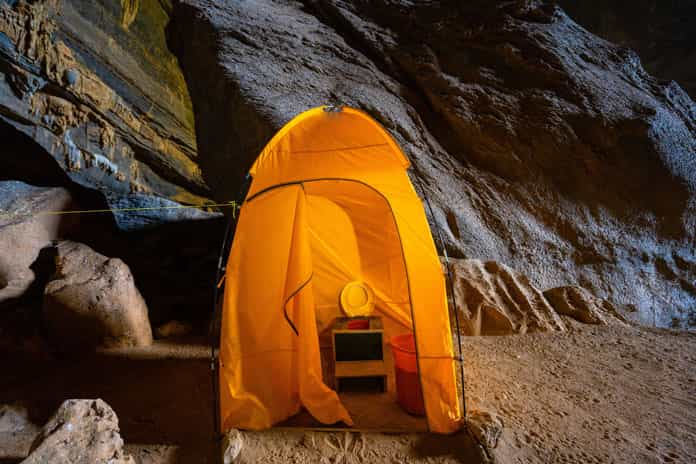 All our staff are trained to protect the caves and the jungle. We always explain to our guests why there are restrictions on their activities. Our guides are trained in geology, cave formation and local culture to better inform our guests.
For our work to be truly sustainable we also need to engage with the local community. As well as employing many local people, we also have the Oxalis Foundation which supports charitable aims. These include grants to poor children to help them go to school; building a school library; building floating houses for flood prone areas; building septic toilets; swimming lessons for local children. By working with the local people we hope we can give them work opportunities which do not impact on the environment; educate them to improve their living standards and health; help them to see appropriate tourism as a benefit.
Whether you prefer long treks, camping in a cave, sleeping under the stars in the jungle, swimming underground in river caves, explore the huge dry caves or just taking an exploratory day trip, Oxalis Adventure Tours can provide the right amount of adventure just for you.