Son Doong, The cave that built a village
Phong Nha is a small village located on the Son River, surrounded by majestic limestone mountains in Son Trach Commune (now Phong Nha Town, Ba Trach District, Quang Binh Province. The area has the narrowest width in the country, only 50 km wide from the coastline to the Vietnam-Laos border. During the Vietnam war, in order to send supplies to the frontline in the south, the Vietnamese army built hundreds of kilometers of roads through mountains and jungles that run along the Vietnamese border. These routes are known as the Ho Chi Minh Trail. Because of its narrow terrain, U.S. aircraft dropped bombs to destroy roads and cut off the supply line from the North to the battlefield in the South. There were more than 1.5 million tons of bombs and ammunition scattered in an area of about 8,000km2 in Quang Binh Province during the war, so on average, 188 tons of bombs were dropped on each km2 of Quang Binh province.
Life in the Phong Nha village after the war
After the bloody war, Phong Nha became a small village hidden in the vast jungle. The war devastated the main roads connecting Phong Nha with major economic centers such as Dong Hoi, it took locals from Phong Nha a whole day by truck just to reach Dong Hoi. The war also left behind a large number of unexploded bombs around the area as well as in the deep jungle. There were no roads, no electricity, no hospital, and no school; the living situation for the locals was dire and harsh. In the 1980s, most parts of the country experienced difficulties and shortages in every aspect and Phong Nha was no exception.
The life of the people of Phong Nha at that time heavily relied on farming, logging, or hunting in the jungle. The most prominent jobs were looking for Agarwood and extracting explosives from the bombs dropped by the US Army that had not exploded, which were then sold to quarrying contractors in the area.
Every year, Phong Nha suffers from many natural disasters such as typhoons or floods. In the past people did not have money to build solid houses because every year when the flood hit, the damage it left behind was enormous, making life even more difficult for people.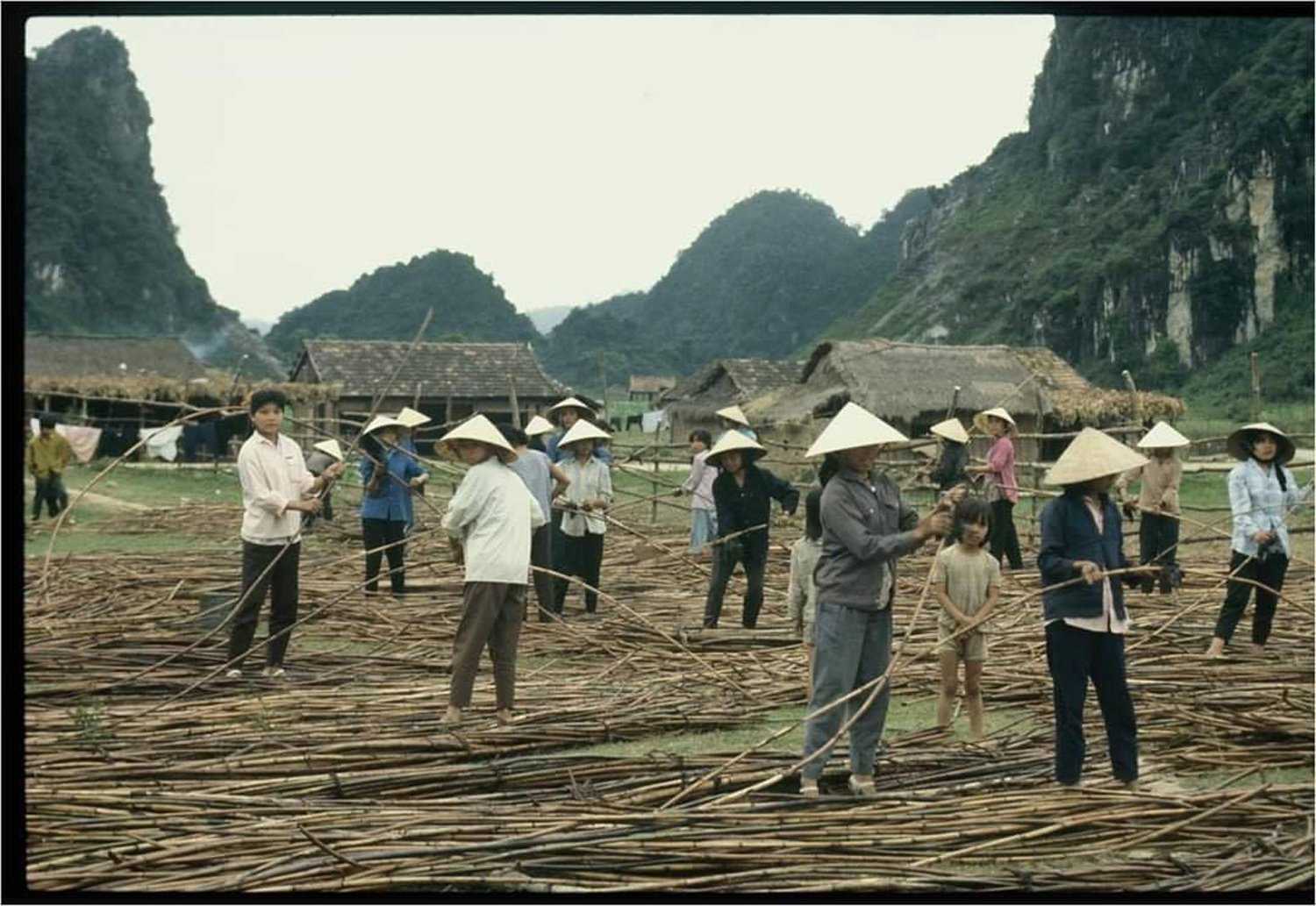 Rattan broaching - manual labor at Phong Nha in the 1990s.
Phong Nha - Ke Bang World Natural Heritage Site
In 2001, Phong Nha - Ke Bang National Park was established and in 2003 was recognized by UNESCO as a World Natural Heritage Site. Following these events, the government invested heavily in the infrastructure to connect Phong Nha with the national network; roads were built, and the one-day trip from Phong Nha to Dong Hoi was cut short to only one hour. Lighting systems were also established and upgraded, as well as schools and hospitals were opened. Aside from those, logging activities, hunting wild animals and exploiting explosives were prohibited, and considered illegal and people can be prosecuted and imprisoned if they violate them.
Although Phong Nha had seen heavy investment in the development of infrastructure, people's lives hadn't changed for the better because they could only rely on farming. Many people moved to the south to work as physical laborers in factories, and industrial sites to make ends meet.
The first tourist activity in the area was the boat trip to Phong Nha Cave, which is a sightseeing boat trip that lasts about 2.5 hours; the village had no other activities to offer, so tourists after visiting Phong Nha cave would move down Hue or Da Nang. In 2010, Paradise Cave opened as a public tourism site, this tour also lasts 3 hours per trip, so when the tour ends, tourists also travel to other provinces to stay overnight. Even though Phong Nha welcomed about 500,000 tourists each year (2010), very few locals could participate in tourism services. People's lives were still difficult, many people risked their lives to go back to their old roots, which meant logging, looking for Agarwood, hunting for wild animals, and extracting explosives. Despite knowing that these activities were illegal, life was too difficult, so they took the risks. There are many men in Phong Nha who were arrested and imprisoned for many years, some were in prison for 8 to 10 years for hunting rare animals. These activities put tremendous pressure on Park rangers to protect the jungle and national park.
Phong Nha Cave entrance and Paradise Cave.
The impact of Son Doong Cave on Phong Nha village
In 1990, Son Doong Cave was discovered by Mr Ho Khanh, a local woodman, the cave was surveyed and mapped by the British-Vietnamese cave exploration team led by Mr Howard in 2009. In the same year, Son Doong was declared the largest natural cave in the world by Howard Limbert. This information shocked cave enthusiasts all over the world since Son Doong Cave is 5 times larger in volume than Deer Cave (Malaysia), the largest cave in the world at that time. This information was heavily covered by hundreds of major newspapers around the world in 2009 and 2010. Information about the world's largest natural cave in Phong Nha was then forgotten and the life of Phong Nha people was without change.
In 2010 and 2011 the British Vietnamese Cave Expedition team took documentary film makers from National Geographic, the BBC and NHK Japan to film inside Son Doong Cave.
In 2011, Oxalis Adventure Company was established by Mr Nguyen Chau A in Phong Nha village. Oxalis' goal was to create new tourism products to attract international visitors to provide long-term tourism in Phong Nha, so that local people could have the opportunity to involve themselves in tourism; Oxalis' tourism products are to bring people to the deep jungles and caves inside the national park, and those formerly known as "illegal loggers" are involved in tour activities such as cooking, porters, guides, etc.
In August 2013, Oxalis Adventure established the Son Doong Cave Expedition trip and this created a huge wave of media events in the world, with hundreds of newspapers introducing the Son Doong tour, and hundreds of newspapers writing about Phong Nha. From the Son Doong Tour, Phong Nha began to gain popularity, and the authors of the world's travel guidebooks came to Phong Nha to write articles introducing Phong Nha to the world. Since then, many Phong Nha people have built homestays, opened restaurants, and provided many services for tourists. Tourists from every part of the world, both domestic and international come to Phong Nha and stay for a longer time.
Expedition tours attract foreign tourists.
Today the small village of Phong Nha has become a busy tourist center, many travel companies were established, and many new tourism products were created. Many people have stable jobs, and they no longer have the need to carry out illegal activities.
Son Doong Expedition tour is operated by Oxalis Adventure, and each year it welcomes a maximum of 1000 guests. Son Doong creates jobs directly for 125 local people with an average income of about 8 to 12 million VND per month for 8 months of tour operation. Son Doong is also a driving force attracting millions of tourists to Quang Binh every year and currently plays an important role in promoting Phong Nha and Quang Binh to the world.
The living standard of Phong Nha has improved a lot, houses are built with better quality to cope with the annual floods. Children can get the education they need, many Phong Nha people can now reach higher education even above a bachelor's degree. Most of them returned to work and have contributed to the development of their hometown.
For better insight, please watch the documentary "Son Doong, the cave that built a village" by Emmy award winning British filmmaker Sid Perou.
The Oxalis Experience.