The evolution of tourism in Phong Nha: A look at the history of development
Before 2011, tourism in Phong Nha - Ke Bang mainly focused on caves such as Phong Nha, Tien Son, Thien Duong, Dark, and Mooc Eco-spring on mass tourism. These tourist places welcome about 500,000 visitors every year. Most of these tourists stayed in big cities such as Hue, Da Nang and Dong Hoi after their visit. So local people did not have many opportunities to take part in tourism activities, which led to difficult living conditions due to unemployment. Many people had to continue going into the forest for illegal logging and hunting.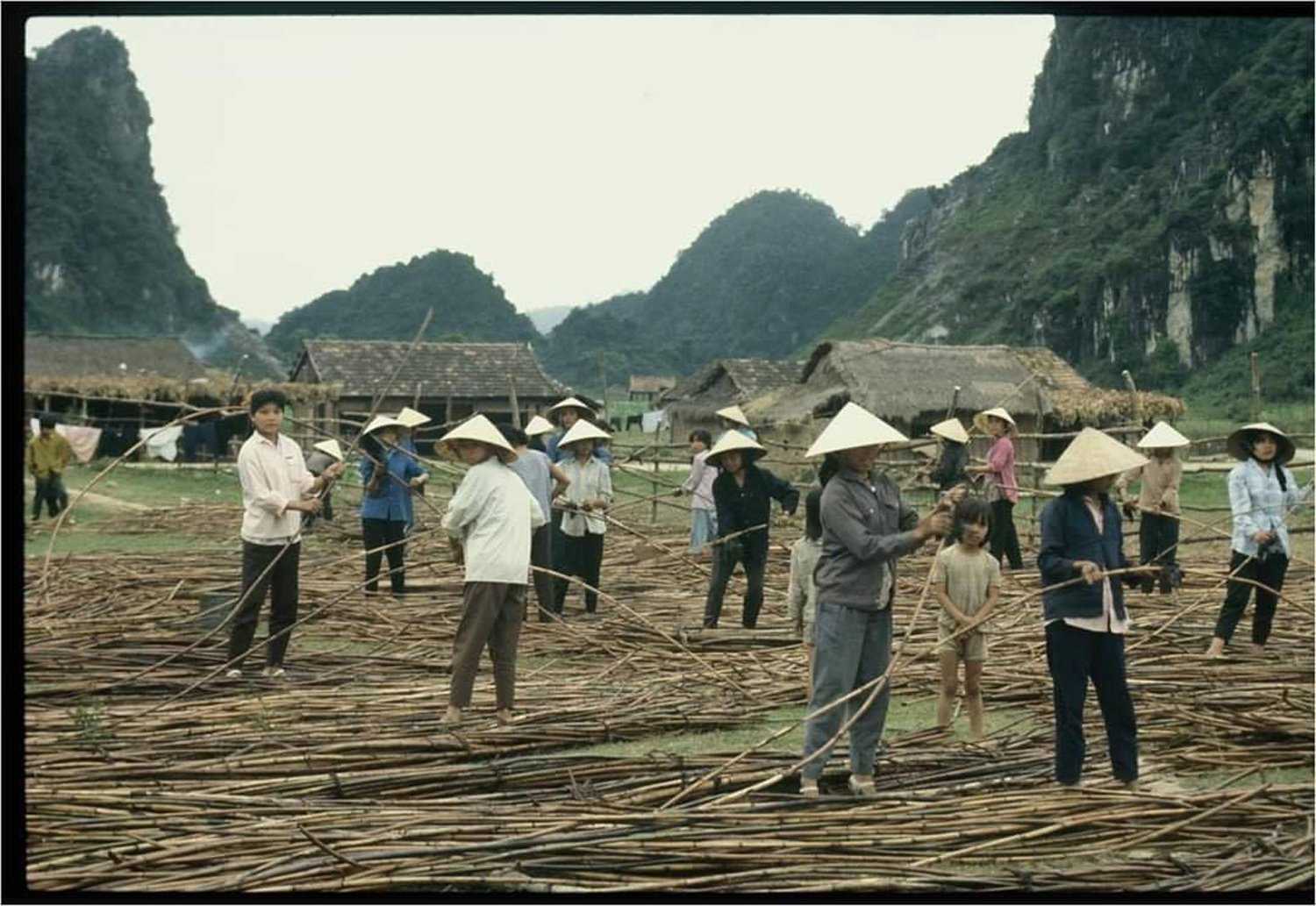 Rattan broaching - manual labor at Phong Nha in the 1990s.
Basically, tourism activities in Phong Nha before 2011 were food and drink services along with several mini-hotels in the center of Phong Nha. The main income was in the summer, as there were almost no visitors in other seasons of the year.
The simple landscape of Phong Nha village and a boat for tourists to Phong Nha Cave before 2011.
The evolution of caving adventure tours
In 2011, Oxalis Adventure was established, specializing in organizing overnight adventure tours that go deep into the primary forest of Phong Nha - Ke Bang National Park to explore Hang En Cave or excursions to the Tu Lan cave system in one or more days. This was the first time this type of tourism appeared in Vietnam and attracted many foreign participants. Many visitors to the area were attracted by the article about Son Doong Cave in the National Geographic Magazine. The trend of adventure-caving tourism had started.
The trekking route to Hang En Cave through rainforests.
Son Doong - The cave that built a village
In 2013, the Son Doong Expedition tour was approved by Quang Binh authorities as an adventure tour with a duration of 6 days and 5 nights, operated by Oxalis Adventure. The expedition immediately resonated around the world, and many major newspapers and Hollywood filming crews came to film and tell the news. Son Doong has contributed to the promotion of Quang Binh as a world tourism destination. From the effect of Son Doong, many tourism services opened in the region, other tours were developed, and hundreds of homestays were built to serve tourists. Emmy Award-winning filmmaker Sid Perou traveled to Phong Nha and Son Doong and made a 40-minute documentary titled: "Son Doong - the cave that built a village".
Phong Nha - Ke Bang today is an attractive destination for domestic and international tourists. Thanks to this, the living standards here have improved significantly.
Investment in tourism development
Thanks to Son Doong Cave, many investors around the world and Vietnam have paid attention to Phong Nha and Quang Binh. Today, Phong Nha is invested more in infrastructure and many tourism projects in the buffer zone of Phong Nha - Ke Bang National Park. More direct flights connecting Quang Binh with Ho Chi Minh City and Hanoi were created, contributing to business development between regions. Previously, Quang Binh was ranked as one of the poorest provinces in Vietnam. Thanks to tourism development, the living standards have improved with an average income (GRDP) of VND 49.3 million per person in 2021.
Phong Nha today becomes a great destination attracting tourists around the world to explore.
Nowadays, Phong Nha is recognized as a tourism town, with an area of 99.48 km². The population in 2019 was 12,475 people. Occupations are mainly focused on agricultural activities and tourism.
The Oxalis Experience.