Oxalis Big Promotion 2021
Recently, the People's Council of Quang Binh province has approved the request to reduce entrance fees for tourism destinations, which takes effect from January 1, 2021 to the end of December 31, 2021. This is a special stimulus program to promote the key economy of the province after a long time being affected by the Covid-19 epidemic.
Thanks to this support from the Quang Binh tourism industry, Oxalis Adventure decides to implement a tourism stimulus program for our adventure tours in 2021 as follows: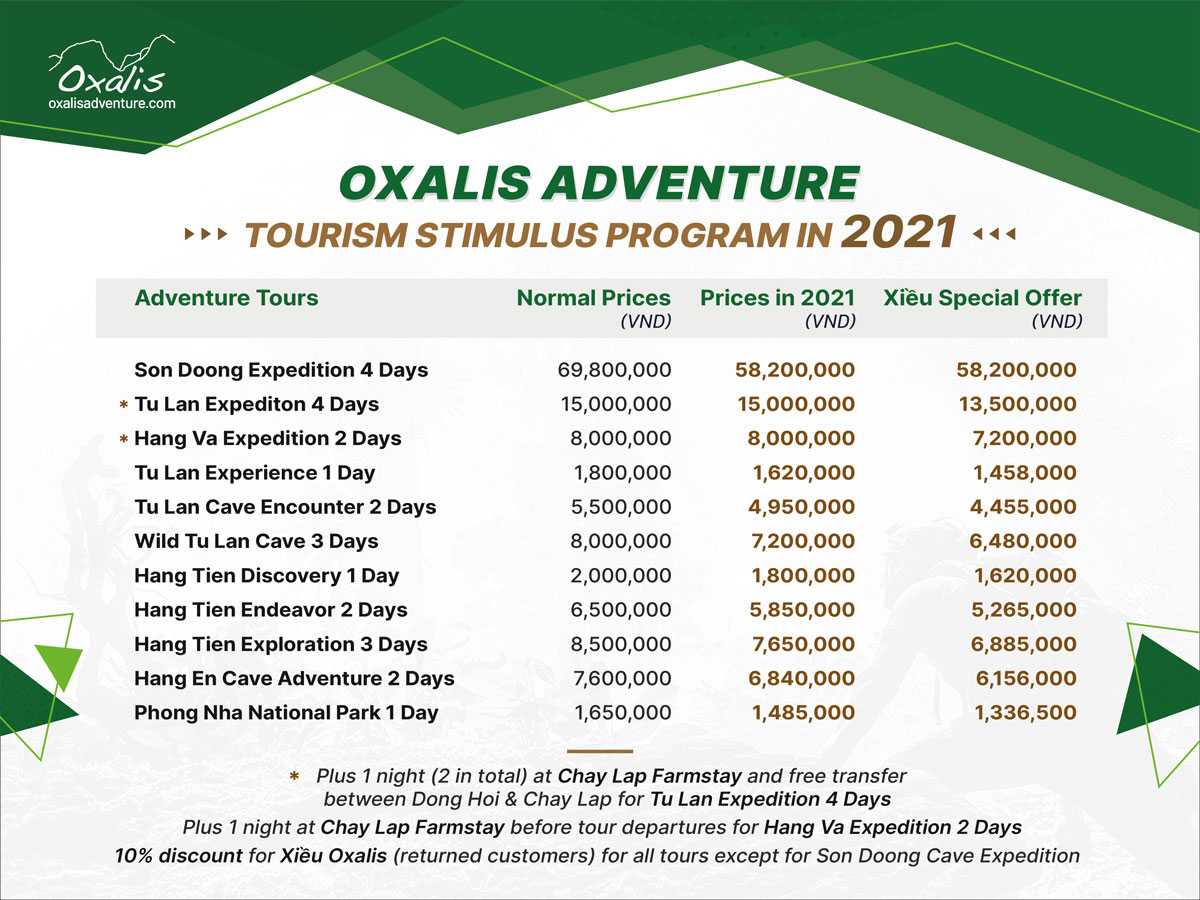 * In the new season, Oxalis provides more benefits for Hang Va Expedition 2 Days and Tu Lan Expedition 4 Days.
Accordingly, when booking a Hang Va Expedition 2 Days, you will receive a bonus of one night stay at Chay Lap Farmstay before the departure date. For the Tu Lan Expedition 4 Days, guests will be given 2 nights at Chay Lap Farmstay before and after the tour. In addition, you will get a free two-way transfer by Oxalis between Dong Hoi Center and Chay Lap Farmstay when participating in Tu Lan 4 Day Expedition.
Oxalis has also upgraded facilities using in tours, such as adding Jungle Steambath to help visitors enjoy steaming when arriving at the campsite in the afternoon; improving the environment-friendly toilet with the pedestal raised 10cm above the metal frame surface, ensuring a comfortable experience for customers when using. We organized coaching time for staff to improve safety and professional skills including improving photography techniques for guides, adventure consultants, and safety assistants to assist guests on tour; operate training courses for chefs to improve the quality of meals in tours.
Hopefully, we will meet again with many memorable adventures in Phong Nha. See you soon in 2021!
Whether you prefer long treks, camping in a cave, sleeping under the stars in the jungle, swimming underground in river caves, explore the huge dry caves or just taking an exploratory day trip, Oxalis Adventure Tours can provide the right amount of adventure just for you.