Oxalis Big Promotion For The 2021 - 2022 Season
In early 2021, many terrible waves of Covid-19 outbreak had directly impacted tourism in Vietnam. As result, the number of visitors from major cities decreased dramatically, affecting the province's recovery and tourism development.
To make a strong comeback, the People's Council of Quang Binh province has approved the request to reduce entrance fees for tourism destinations, which takes effect from 1/1/2022 to the end of 31/12/2022. Thanks to this support from the Quang Binh tourism industry, Oxalis Adventure decides to implement a tourism stimulus program for our adventure tours for 2021-2022 seasons as follows: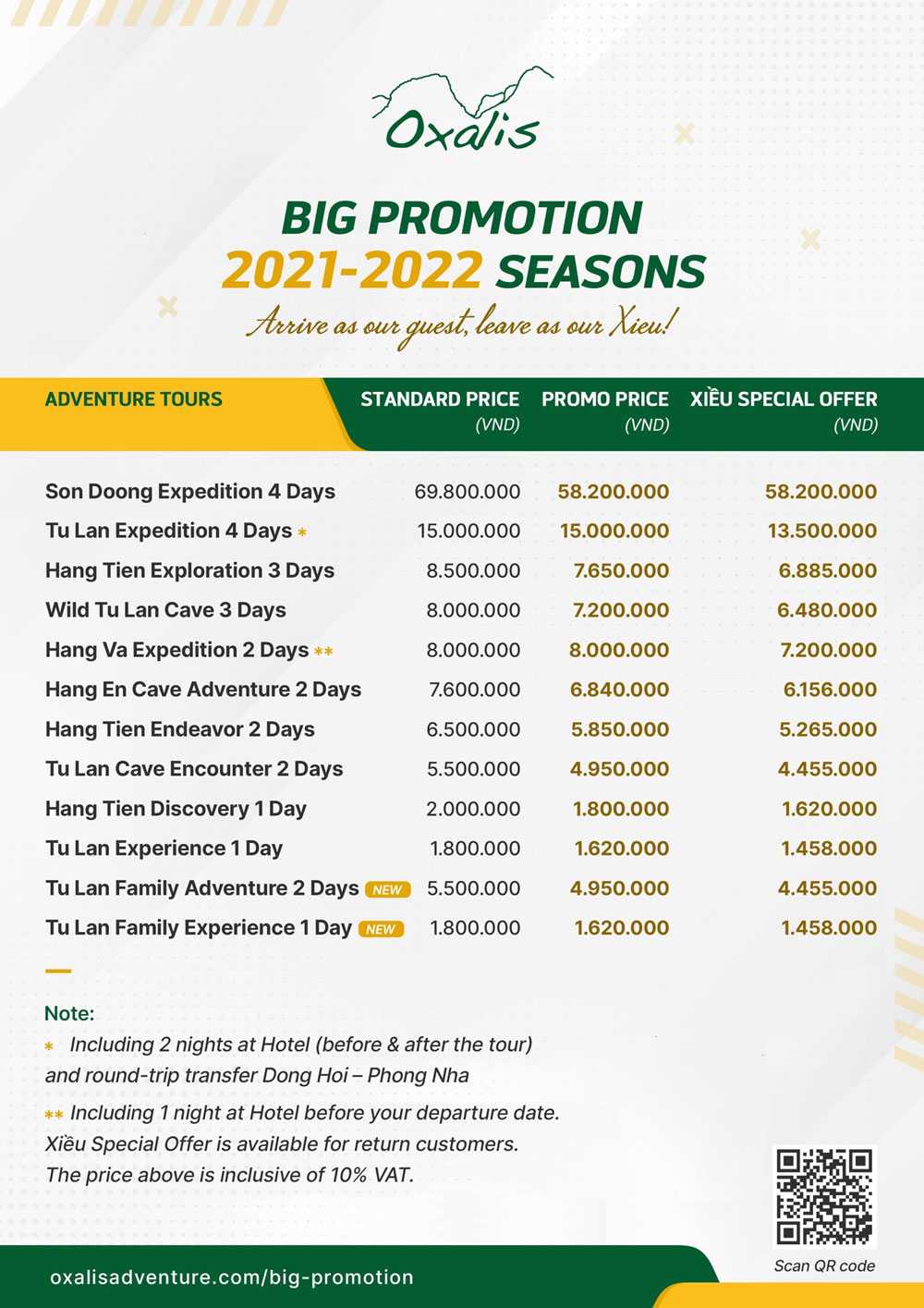 Oxalis will refund the difference or convert it to a voucher for the next booking for guests who have already paid Full Price in advance. Please contact your Oxalis tour consultant for assistance.
The Son Doong Expedition price has dropped to $ 2,500 per person (from $3,000) and other tours of Oxalis are also discounted from 10% to 20% in 2021 - 2022 season. Also, Oxalis is committed to providing customers with the best experience and we are constantly improving service quality under the Quality and Safety principle.
When you book Son Doong Expedition and Tu Lan Expedition 4 Days, you will get a bonus of 2 nights at Chay Lap Farmstay or Son Doong Bungalow (before & after the tour). For the Hang Va Expedition, you will get one night stay at Chay Lap Farmstay before the departure date.
In the new season, families with kids will be able to participate in tours such as Tu Lan Family Experience 1 day and Tu Lan Family Adventure 2 days. These itineraries are entirely tailored for your children aged 8 and above (at 6 - 8 years old, please contact us for advice), resulting in long-lasting and unforgettable family memories. When kids interact with nature, they will gain some exercise, boost their ability to learn, and develop new skills.
Furthermore, Oxalis also ensures the safety of our participants during the tour. All staffs strictly adhere to the 5K message from the Vietnam Ministry of Health. Oxalis has prepared a timely and specific strategy for preventing and responding to Covid-19 (learn more about our Coronavirus Prevention Measures). Our guides and cave experts have so far received two doses of the Covid-19 vaccine, and the rest of the staffs will soon get their second dose. That allows us to safely welcome guests to exciting caving expeditions in 2021 - 2022 season.
Oxalis Team looks forward to welcoming you to Phong Nha & Tu Lan for an amazing adventure with us.
Whether you prefer long treks, camping in a cave, sleeping under the stars in the jungle, swimming underground in river caves, explore the huge dry caves or just taking an exploratory day trip, Oxalis Adventure Tours can provide the right amount of adventure just for you.